Probably, you've already got familiar from our previous articles with the history and description of the Armenian national cuisine and the most popular dishes. Now it's time to pay special attention to the Armenian sweet delicacies, which are unlikely to leave indifferent the real sweet tooth. So, without which sweets is it impossible to imagine any Armenian festive table? And what delicacies should you take after the trip around Armenia to treat your family and friends? Keep reading and you'll learn the answers to these questions:
Armenian sweet dishes: Baked goods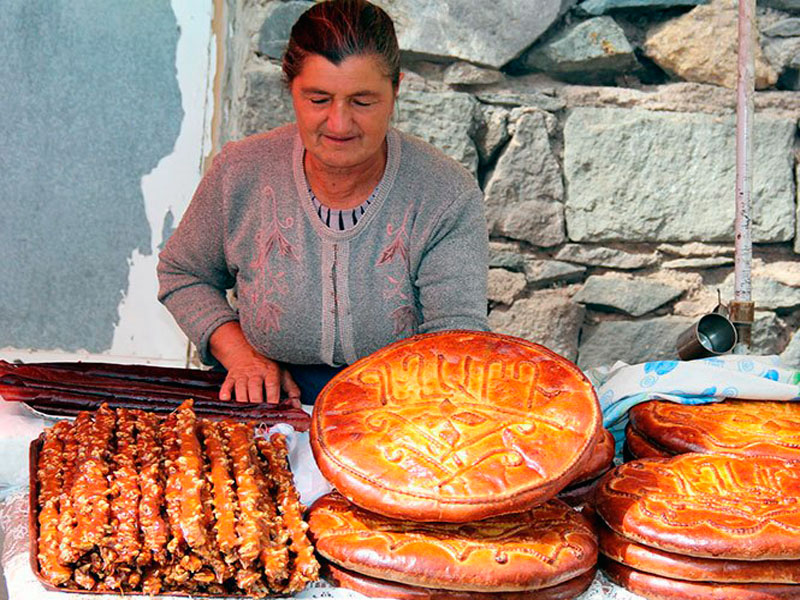 Soft cake gata is one of the most favorite and popular in Armenia. Probably, no festive table is considered complete without this on the one hand simple, but very tasty dessert. There are many kinds of gata in the country: the pastry can be puff, yeast or even unleavened. For example, Yerevan and Leninakan gata are prepared of puff pastry which is cut into small rhombs; Artsakh and Stepanavan gata are prepared of sponge dough which is given a round shape and then beautifully decorated. The cooking process is simple enough: first, you should prepare the dough and then a special filling that is called in Armenian «horiz». For the filling, you need to mix butter with some flour and powdered sugar until the mass gets homogeneous. And at the last stage the dough is rolled, greased with the filling, formed into the desired shape and sent into the oven. The recipe is quite simple but in the end it turns into the soft cake with delicious unique taste. If you got interested in this Armenian delicacy and want to try it yourself get acquitted with one of the detailed recipes here. And once in Armenia visit almost any grocery store, supermarket or market and you will be able to buy any kind of gata you like the most.
The other favorite Armenian delicacy is nazuk which by its taste and recipe resembles a little Yerevan gata. This gentle crumbly pastry is flaky rolls with oily flour filling. But what gives it a special refined taste, it's nuts, which are often added to the filling.
Armenian sweet dishes: Dried fruits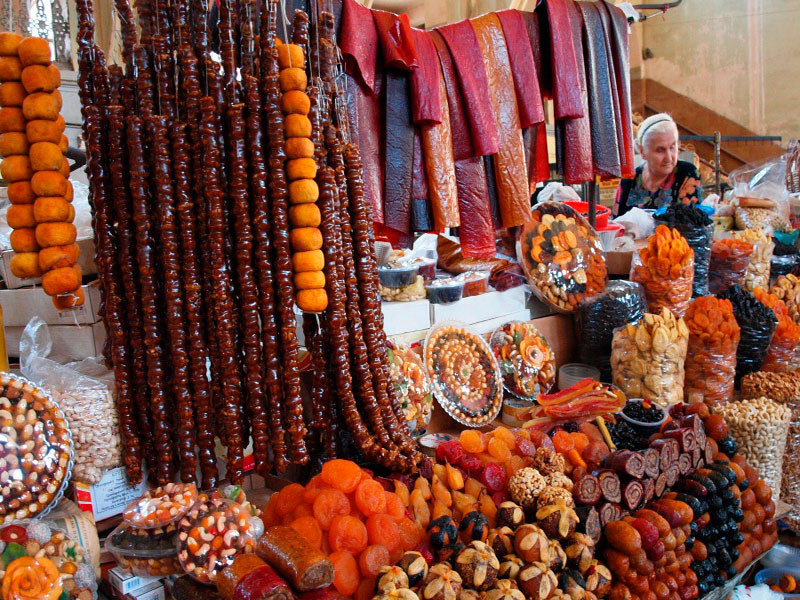 It is well-known that the fruits grown in Armenia differ from those in other countries by their appearance and taste. And it is not an exaggeration: scientists explains that fact by a very good geographic position, favorable climatic conditions and an abundance of sunlight. That is why the Armenian dried fruits have become so popular around the world. They are special and have their own unique taste saturated with Armenian sun. And there are many varieties of dried fruits in Armenia: you can come across classic dried fruit slices or interesting beautifully decorated candied fruits, or fruits filled with tasty walnut fillings.
For example, one of the unique dried delicacies is alani, which is prepared from dried peaches and tasty walnut filling. For the filling preparation, crushed walnuts are mixed with sugar, cinnamon, and cardamom. And then stuffed with the filling peaches are strung on a thread and then hung for the final drying. As a result, you will have a kind of unique delicacy which no doubt many will like.
Armenian sweet dishes: Sweet lavash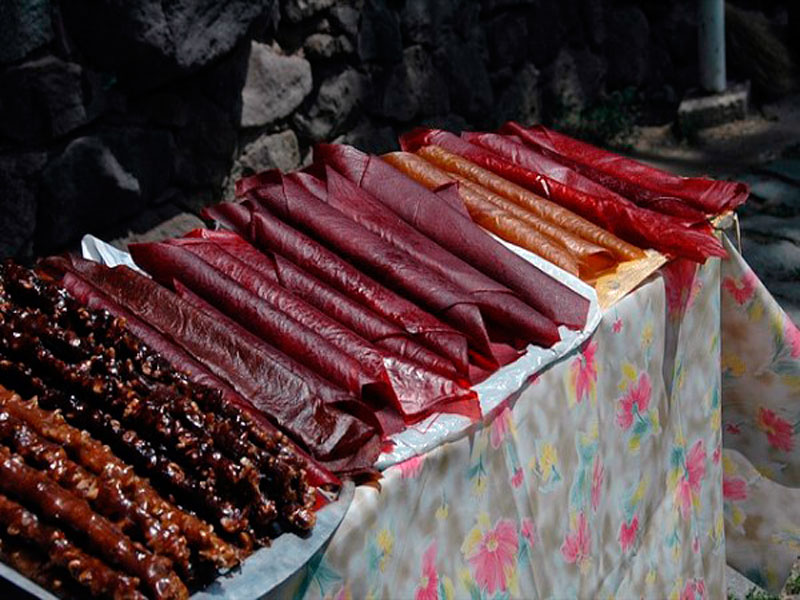 To process the fruit harvest for а long-term storage, in addition to preserves, jams, and dried fruits there are other interesting recipes in Armenia. We mean fruit lavash or "ttu lavash" (sour lavash) as they say here. Traditionally it is made from plum, dogwood or cherry, though fans of sweet often use apricots, peaches, and apples. Analogs of this delicacy can be met in Georgia and Syria, Russian pastila is somewhat similar to this delicious product, although it is sweeter. For fruit lavash, you should first prepare fruit puree, which is poured by a thin layer on a tray and then dried in the sun. The process takes about three days, after which lavash is rolled and stored. It is a versatile product that can be eaten as a dessert, serve as a base for nut rolls or be added to sauces for meat.
Armenian sweet dishes: Jam and marmalade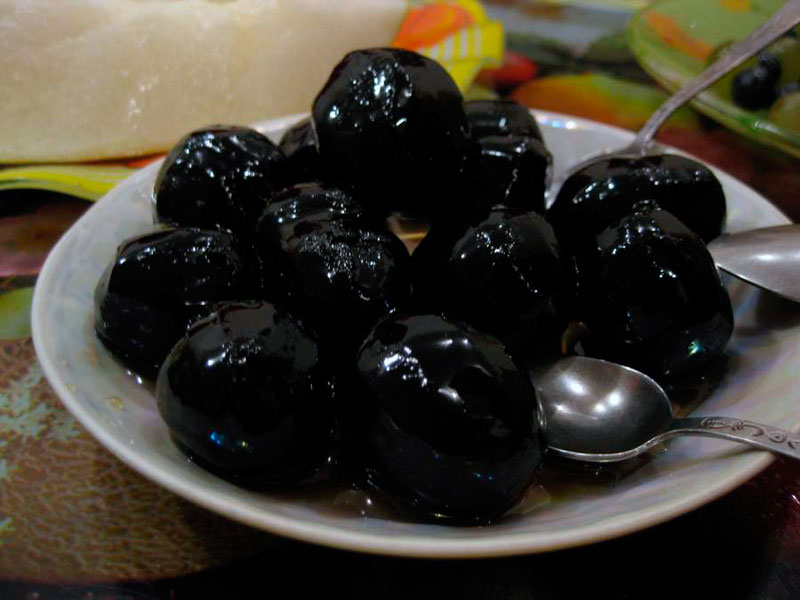 As it was mentioned above, fruits, vegetables, and berries are strong suits of the Armenian gastronomy. Almost from anything that grows on the Armenian land locals prepare delicious flavorful jams and marmalades. One of the most common is, of course, apricot jam. Probably, nowhere on earth there are such juicy and flavorful apricots; and the preserves made of them are no less delicious: Armenian apricot jam turns out tender and golden – what could be better for a cup of tea in a winter cold day?
Armenians also prepare jam from quince, white mulberry, dogwood, fig, pumpkin, rose petals, and even eggplant!
As you know, most of the Caucasian countries are abound in walnuts. They are added to various desserts and even are used for jam preparation! If you've never tried walnut jam then be sure to try – it has an absolutely unique taste. Armenians have their own special recipe for the preparation of this delicacy – they add cinnamon, cloves and cardamon to the sugar syrup. It turns out very fragrant jam with a completely unique taste and aroma!
Armenian sweet dishes: Sudzhukh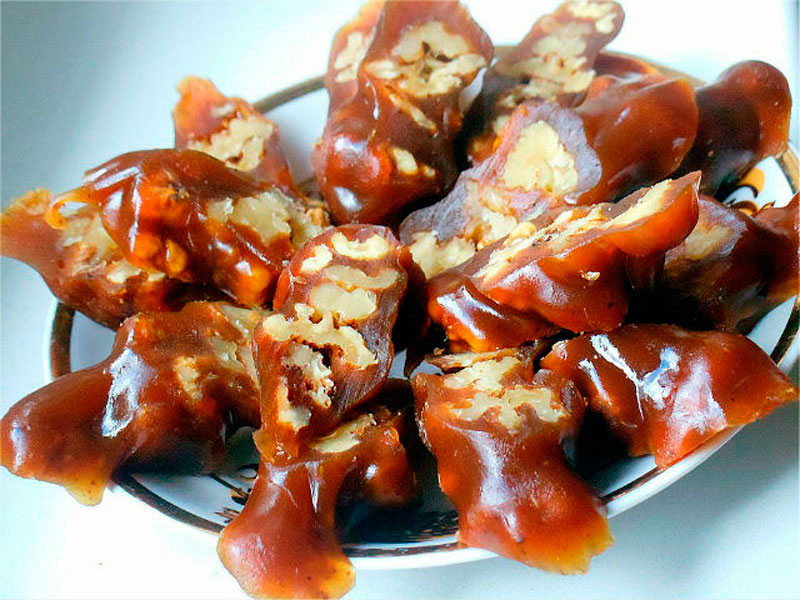 Sweet sudzhukh is another popular sweetness prepared of walnuts. It is a decoration of any festive table in Armenia. So, how is it prepared? To begin with, walnuts are peeled and strung on a long thread. Then it's time to prepare thick syrup of grape or apricot juice, flour, and spices like cinnamon, cloves, and some others. When the syrup starts boiling it's time to dip nut threads in it, after which the delicacies are hung for drying and the can be kept the whole winter. Visiting any food market in Armenia, you will be able to buy sudzhukh and take it with you to treat family and friends. Just buy a lot – such tasty goodies will not remain for a long!
Choose the Tour to Armenia you like most and tour-operator Arara will organize your amazing Holiday in Armenia. Travel to Armenia with the local agency.
Thank you! You have succeeded your payment. Our tour coordinator will contact you the nearest working