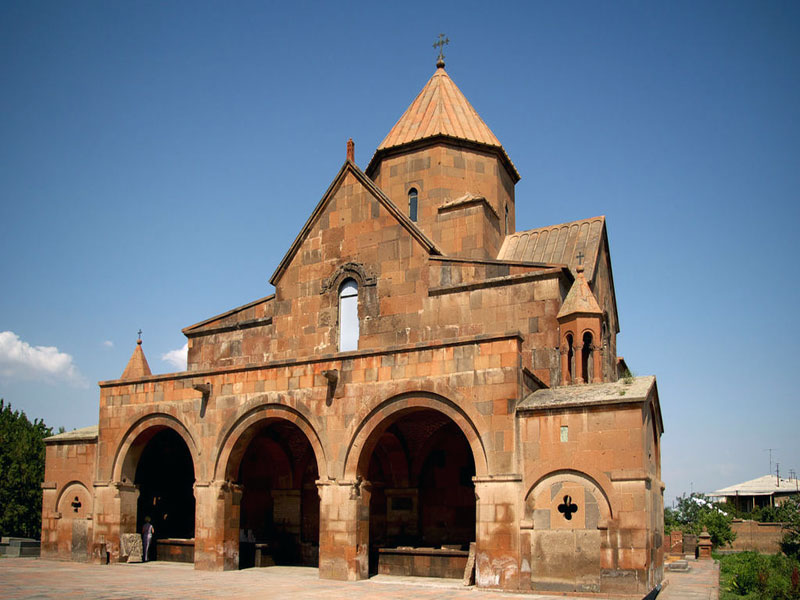 The Church of Saint Gayane is another architectural masterpiece of Echmiadzin town along with the temples of Saint Hripsime and Saint Shoghakat.
Historical Facts
The church was built by the order of Catholicos Ezra in 630. The place for the church was not chosen randomly. In this very place, there was a chapel in which Gayane, the abbess of Christian virgins, was martyred by the hands of Armenian King Trdat. Gayane was later elevated to the rank of saints. Now the relics of Saint Gayane are buried in the southern part of the church.
The Church of Saint Gayane is located to the south of the Etchmiadzin Cathedral. Simple dome basilica has the characteristic style of the architecture of the VII-th century. The dome is located on four columns, which gives the church the shape of a cross. Despite the fact that the church does not have decorative elements, it looks no less luxurious on the background of the main cathedral.
In 1652 the church was reconstructed, and in 1683 a gallery was added to the western façade. Here is located a necropolis with the buried hierarchs of the Armenian clergy.
Saint Gayane Church, like other churches on the territory of Etchmiadzin, is listed as a UNESCO World Heritage Site.
How to get
Saint Gayane Church is situated 25 km far away from the capital city of Yerevan. To reach the church you can take a taxi, a bus or join a travel group. You can take bus number 202 or 302, which stops at Mashtots Avenue, or a minibus from the Kilikia bus station with a fare of about 500 AMD ($1). If you travel by a taxi from Yerevan, it will take 25 minutes with the cost of 2000-3000 ($4-$6).
Get acquainted with our tours to Armenia and visit other no less unique sights of the country!
Thank you! You have succeeded your payment. Our tour coordinator will contact you the nearest working