Paragliding is the recreational and competitive adventure sport of flying paragliders: nonmotorized, lightweight, free-flying, foot-launched glider aircraft with no rigid primary structure. What it feels like to fly a paraglider? This is an unforgettable feeling that can't be compared with parachute jump or flying on a plane. Paragliding in Armenia will be interesting for those who can't imagine their pastime without the intense feeling of adrenaline and those who enjoy spectacular flights.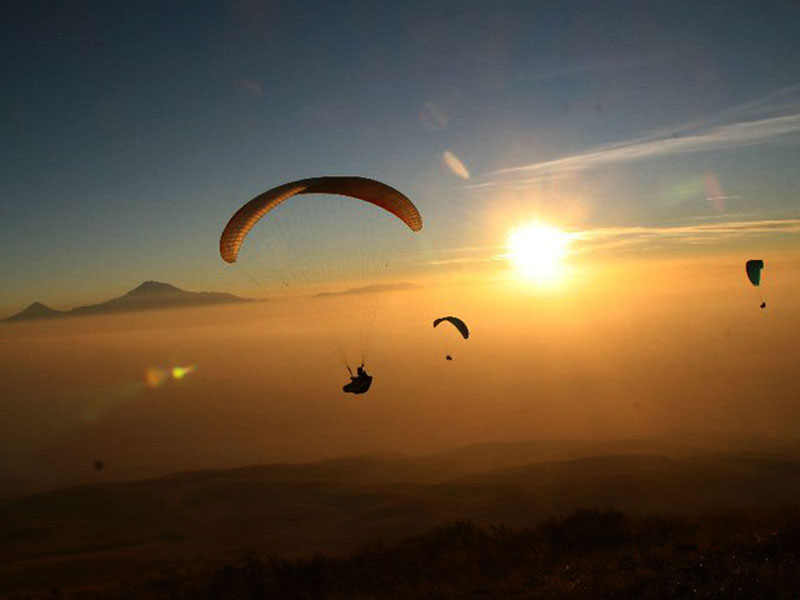 Paragliding in Armenia: History
In Armenia first flights with paraglider were held by members of "Small Aviation club of Armenia" in 1996. In 2008 was founded The Armenian Paragliding Sport Federation. Its members organize paragliding and teaching courses.
Paragliding in Armenia: So how does it work?
If you are not experienced and you hardly dared to paraglide, the best option for you will be tandem paragliding. Tandem is designed for two people: pilot and the passenger. They usually fly faster with higher trim speeds, are more resistant to collapse. In this case, the glider is managed by the experienced pilot while tourists will enjoy their flight and admire the beautiful views of the Armenian Highland. You don't need any special physical skills or training to paraglide. The key to your safety is the ability to listen and execute the pilot's commands. The instruction takes only 5 minutes after which the passenger and the pilot are attached securely together, within their own harness. The passenger will only have to make a take-off run for 5-10 meters (depends on the wind strength) to start the flight and as all your fears and doubts will remain on the ground, you will enjoy the feeling of weightlessness. If you want to diversify your flight, an experienced pilot will show you different tricks, such as wing over and deep spiral slides.Depending on weather conditions and the concurrence of the pilot, you can take the controls and steer the glider to experience the ease and joy of the flight. The pilot will safely bring you to the launch site to your friends, who will be waiting for you with camcorders and cameras. Don't be upset in case you forgot to bring your camera, because during the flight on you will be provided with the GoPro camera.
More experienced and fearless participants can do solo flight. Basically, Armenia has favorable conditions to fly a paraglider by yourself. Here you will have the opportunity to do a short flight, cross country. Duration of the flight depends on wind direction and strength and can last from 10 minutes to several hours (the passenger request). Generally, tandem paragliding lasts about 15-30 minutes.
Flying season is quite long in Armenia. It starts from May until the end of November (winter flights are very rare). Basically, paragliding flights are held on the territory of Hatis (Kotayk region), Aparan (Aragatsotn region), in the village of Tsovagyugh.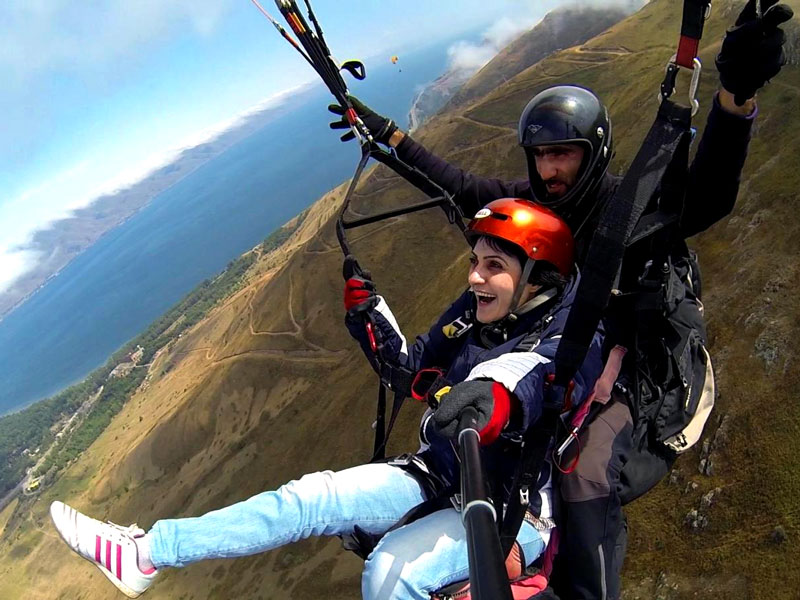 Paragliding in Armenia: Restrictions
Flight is not recommended for people who recently had surgery, for people with diseases of the musculoskeletal system, the cardiovascular or nervous system, as well as for pregnant women. Excluding those, the flight may engage absolutely everyone who weighs between 40 and 100 kg. On the day of your flight, you need to bring hiking boots or running shoes and warm clothes and sun protection.
Paragliding in Armenia: Paragliding Tours
Those who wish to fly on a paraglider in Armenia can take advantage of the special exclusive tour packages of Arara Tour. The Paragliding Tour includes tandem flights with experienced instructors, as well as excursions to the most famous landmarks of the country. If you want to participate only in a flight, you can book Paragliding Flight in Armenia, which will be no less interesting and exciting. The company also offers Paragliding Training, which is a 10-day training course corresponding to the 2nd degree of the international PARA PRO standard.
Choose the Tour to Armenia you like most and tour-operator Arara will organize your amazing Holiday in Armenia. Travel to Armenia with the local agency.
Thank you! You have succeeded your payment. Our tour coordinator will contact you the nearest working