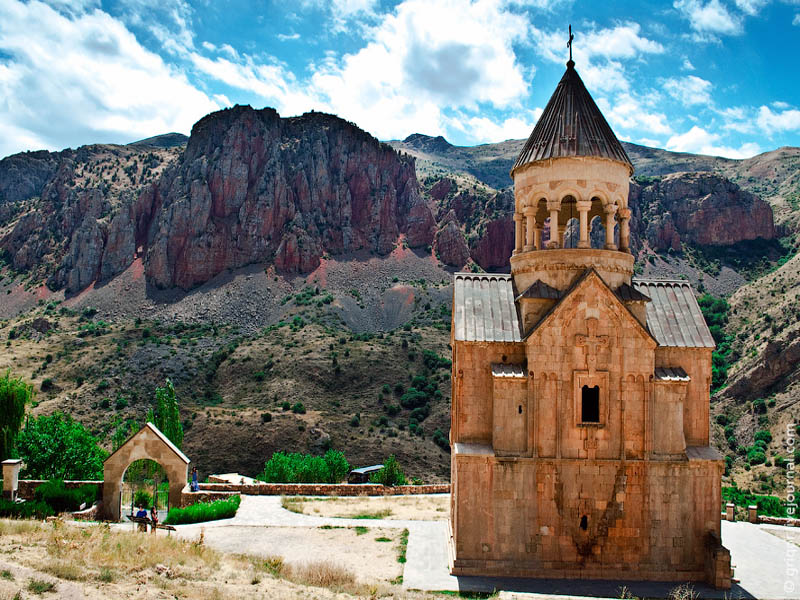 Armenia, as the world's first Christian country, is extremely rich in monuments of spiritual culture. The monastery of Noravank – the pearl of Armenian medieval architecture – is one of the most admired shrines in the country.
Location
The monastery complex is located 10 km south of the village of Areni, in the Vayots Dzor region, in the picturesque gorge of the Amaghu River.
Historical Facts
Noravank Monastery was founded by Bishop Hovhannes in 1105, and in the 13-14 centuries, thanks to the ruling Orbelian family, Noravank flourished and became a spiritual, educational, and cultural center of Syunik province. The complex consists of two chapels and three churches: St. Karapet, St. Stepanos the Precursor and the Holy Mother of God. In 2002 Noravank Monastery was included in the UNESCO World Cultural Heritage list.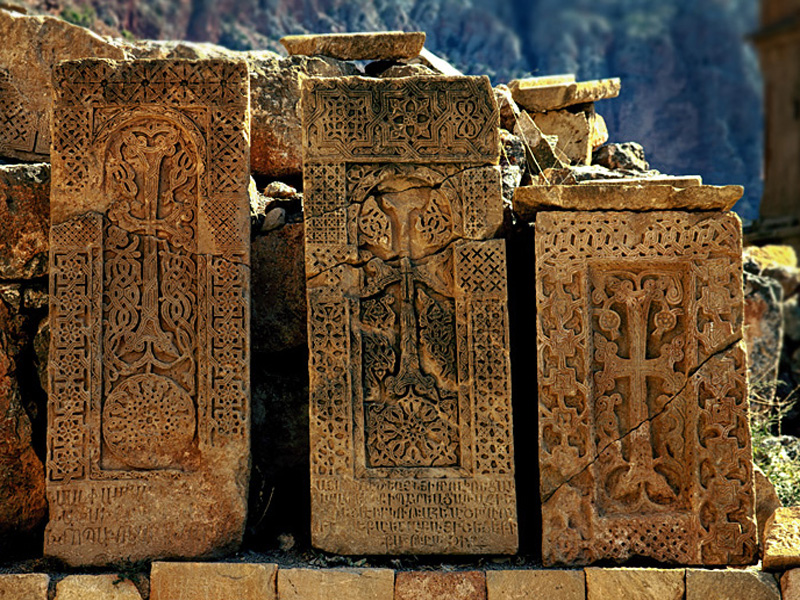 The main church of Noravank is St. Stepanos the Baptist, built-in 1216-1221. The churchyard gradually became a cemetery for Orbelian family, on behalf of which the church was built. The ancient church of St. Karapet (IX century) is located on the south side of the complex. It is a simple rectangular hall with a bell-shaped altar and a tomb. The church was opened during the excavations of 1982-83. The neighborhood is rich in ancient tombstones, on which you can see some holes that were intended for smoking incense.
The most influential structure of the complex is the Church of the Blessed Virgin Mary of the 14th century, which belongs to the group of two-tiered three-stage churches, widespread in medieval Armenia. The Church of the Blessed Virgin belongs to the well-known medieval architect and sculptor Momik and is considered one of his masterpieces due to the elegance of architectural forms and the highest quality. Here you can also find the ancient khachkars belonging to the hand of the master. Delicate stone carving, cross-stones, sculptures and bas-reliefs of the master Momik, which adorn the monastery of Noravank, are recognized as one of the finest in Armenia.
How to get
Noravank is located 122 km far away from the capital of Armenia – Yerevan. You can reach the monastery by your car, by taxi, or as a part of a tour. There is no public transport to reach the monastery. However, there is a way out. Any route bus can be taken from the central bus station of Kilikia in Yerevan with the following directions of Yeghegnadzor, Vayk, Sisian, Tatev or Goris. Get off on the highway near the turn to Noravank. To reach the depth of the picturesque canyon is about 8 km from the central highway. This distance can be walked, or try to catch a ride. The trip cost is 2000-3000 AMD ($4-$6). If you take a taxi from Yerevan, the trip will take two hours and will cost about 11500 AMD ($24).
You can get acquainted with this impressive architectural monument by choosing our Christian Tour and Tour "Uncover Armenia".
Thank you! You have succeeded your payment. Our tour coordinator will contact you the nearest working