Armenian Carpets: General information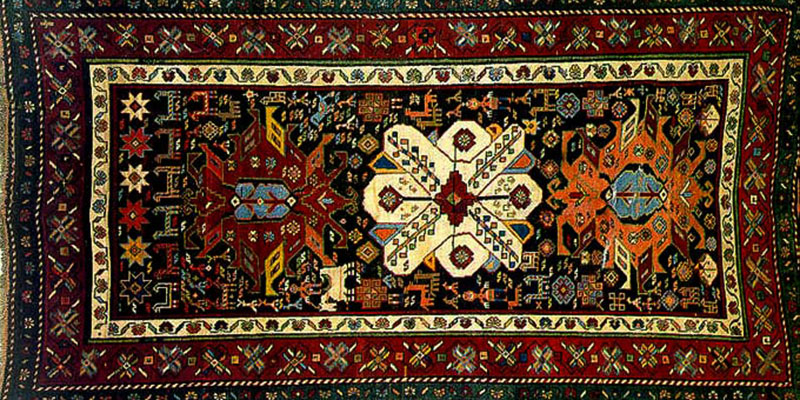 Carpet weaving is a traditional craft, which is widespread in all Armenian regions. It is so hard to imagine an Armenian traditional home without national carpets. Since ancient times, they have been considered necessary household items for everyday life. People laid carpets on the floors, chests, seats; they also served as a profitable commodity exported and sold abroad.
Due to the archeological excavations it was proved that the carpet weaving in Armenia had appeared in II – I millennium BC. It is also interesting that the ancient technique, design, and colors are very similar to those used in our days.
Carpets in Armenia were made of wool, silk, cotton, and linen. For coloring only natural dyes were used. Ornaments of Armenian carpets are diverse. Great popularity had the ones depicting the tree of life, as well as vegetation geometric carpets with floral decor and images of birds and horses (17 cent.) "An eagle" and "a cross" are the other popular medieval symbols of Armenian national carpets.
Armenian Carpets: Carpet weaving in Nagorno Karabakh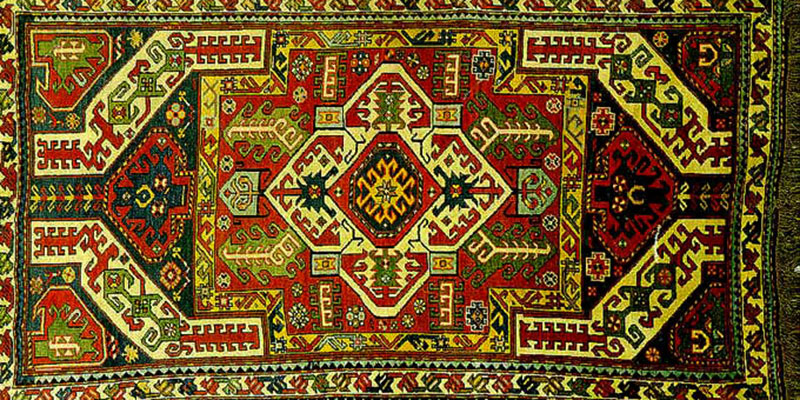 Karabakh carpets differ from the others; they belong to a special variety and are very popular. One of the most popular symbols of Karabakh carpets is a medallion. Most likely this symbol originates from the posters of famous Armenian princes. Another common symbol is a crowned bull, which in ancient times was a very revered animal.
One of the largest and most sophisticated is famous "Goarkarpet" woven in Karabakh in 1700.
In 2013, "Karabakh Carpet" company was founded in Karabakh, which produces the typical Artsakh handmade carpets.
Armenian Carpets: Where to see
If you want to see Armenian carpets or get acquainted with carpet making we offer to visit the following places.
The Museum of folk art is situated on Abovyan Street 64. It contains 12 thousand exhibits, which include jewelry, silverware, wood showpieces, and, of course, Armenian national carpets. Here you will also have an opportunity to get acquainted with the process of carpet making.
The Museum of Armenian carpet weaving was recently opened in "Mgeryan Carpet" company. Here all the visitors can see both old carpets of 16-19centuries and contemporary ones. The museum also demonstrates both contemporary process of carpet making and old technologies. Most of the exhibits belong to the collection of Mheryan family.
Some famous and classic samples of Armenian carpets are also stored in National History Museum of Armenia in Yerevan.
Armenian Carpets: Where to buy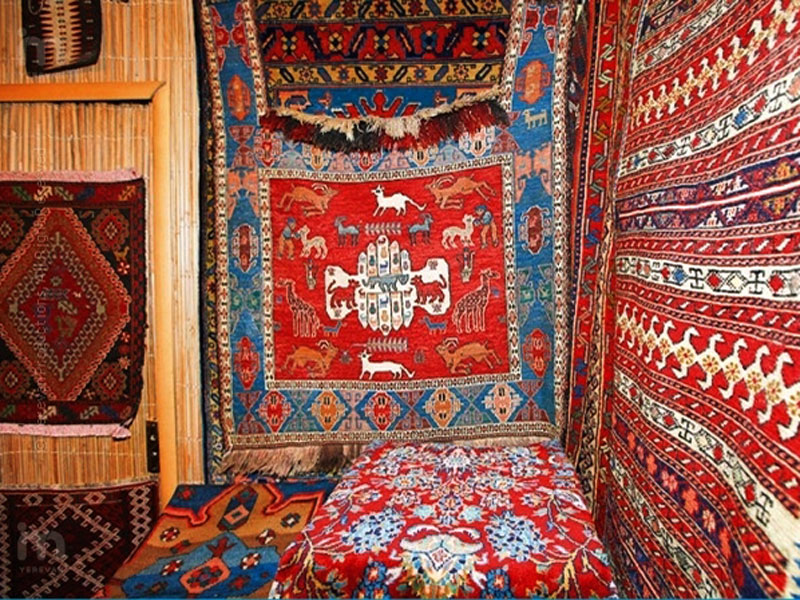 For those who wish to buy Armenian national carpets, we offer several interesting shops, where you will find both rare antique and high- quality modern ones. The prices on carpets are diverse, which depends on many factors. In general, the average cost of the "youngest" ones starts from 200-300 dollars and the most expensive or vintage starts from 1-2 thousand dollars.
"Mgeryan Carpet" shop is one of the most famous one in Yerevan. It is situated on Abovyan Street. This company has restored Armenian tradition of handicraft carpets. Due to its activities, Armenian carpets have appeared in the world market and world exhibitions. Here you will find carpets with both traditional and contemporary designs.
There is another carpet shop on Abovyan Street that is called "Antique carpets" and belongs to Postoyan family. The shop offers old and antique carpets brought from different corners of Armenia. All of them are about 40-50 years old. Shop owners themselves visit different villages and look for interesting works.
At the crossroads of Abovyan-Pushkin streets, the shop "Agaksak" is located. It sells various souvenirs, however the carpets here have a special place. Here you will find amazing antique carpets, many of which are 50 years old and even more. Most of them were once heirlooms.
On Tumanyan 38 an Armenian man Agad is selling beautiful national carpets, which are brought from different regions: Nagorno Krabakh, Zangerzur, Lori and others. The samples here have different patterns and symbols: flowers, stars, animals, plants and others. Besides carpets, the shop offers interesting bags and pillows.
At the crossroads of Pushkin Street father and son Vasilyans are selling carpets. Here you will find mainly Armenian ones, however from time to time the shop offers Persian carpets as well.
For those who are interested in Karabakh carpets, we offer "Karabakh Carpet" shop located on Mashtoc Street.
Choose the Tour to Armenia you like most and tour-operator Arara will organize your amazing Holiday in Armenia. Travel to Armenia with the local agency.
Thank you! You have succeeded your payment. Our tour coordinator will contact you the nearest working