Right in the center of Yerevan near the Republic Square, there is a colorful fair "Vernissage" – the favorite place of all the tourists and guests visiting Armenia. Artists, craftsmen, jewelers, potters and seamstresses bring their amazing works here and every weekend from 10:00 am you can buy any souvenir you like. So if you want to buy something that will remind of your trip to Armenia, do not hesitate and visit Vernissage since you are unlikely to leave it empty-handed. The fair offers paintings, jewelry, woodwork, magnets, musical instruments, national souvenirs, carpets, costumes, semi-precious stones, rarity, and many-many other unique things.
You can get to the fair rather simply: just take the Yerevan underground and get off on the station «The Republic Square». Coming out of the subway, turn left, go through the charming little park with fountains and cross-stones, and directly at the end of the park you will see Vernissage.
Below we offer an interesting photo walk around the fair, which will acquaint you with the most interesting works and prices.
Vernissage in Yerevan: photo reportage
Vernissage begins with the traditional Armenian weaving. Here you can see various handmade hats, bags, jackets, shoes, tablecloths, cushions made of natural materials and dyed by completely natural paints.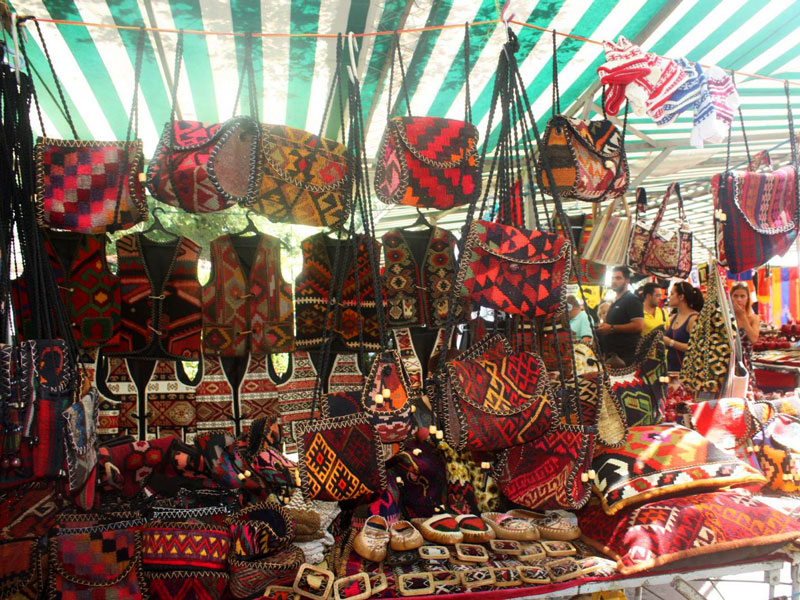 The ornaments are traditional Armenian. The prices differ, however, on average, one medium-sized bag will cost about 15000 drams ($ 31).
We continue the path. On the way, you can meet a lot of different shelves with the silverware: chains, pendants, cups, dishes, knives.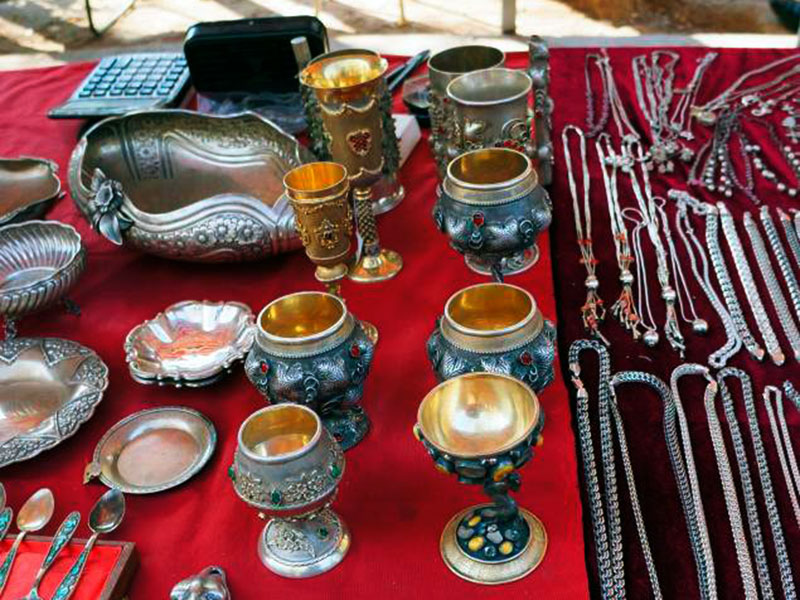 There is much woodwork at Vernissage – as Armenians are the real masters in this field! Here you will see unique Bibles in amazing handmade wooden covers. The sizes differ, the medium one can be purchased for about $ 30. Pay your attention at the Armenian crosses as well: they are characterized by beautiful branches and widen ends. This ornament symbolizes the life-giving power of the cross which differs from the cross as an instrument of punishment.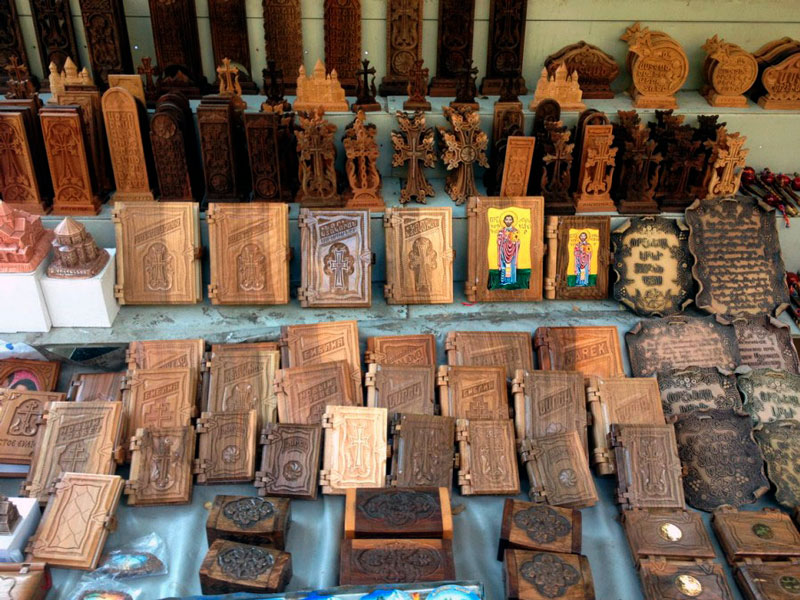 And of course, the national souvenirs are of great interest for tourists. They let remember the trip around Armenia for a long time, and for friends and relatives – an excellent colorful gift. For example, you can purchase an Armenian flag, which is in abundance at the fair. A small one will cost only 500 AMD ($1) and the bigger one – 1000 ($ 2). There are several different interpretations of the color meaning of the flag, but the most common is the following: the red color symbolizes the blood of Armenian soldiers, blue – sky over Armenia, orange – fertile land.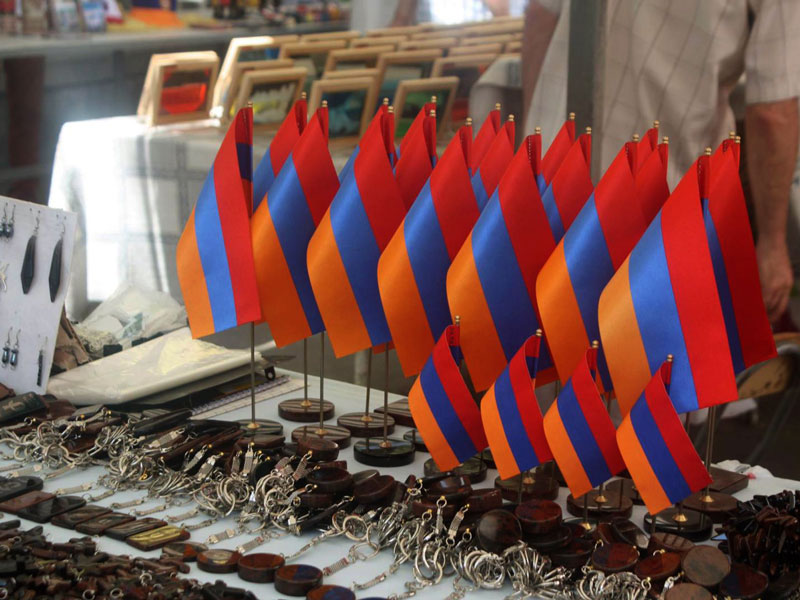 As it is known the living symbols of Armenia are Mount Ararat, apricot, and pomegranate. At Vernissage, they can be met everywhere! Here you will find pendants with pomegranate, key chains with pomegranate, still-lives with pomegranate, in one word, this fruit is the favorite symbol of Armenian masters. Ethnographers proved that since ancient times in the Armenian tradition pomegranate has been considered a symbol of fertility and prosperity.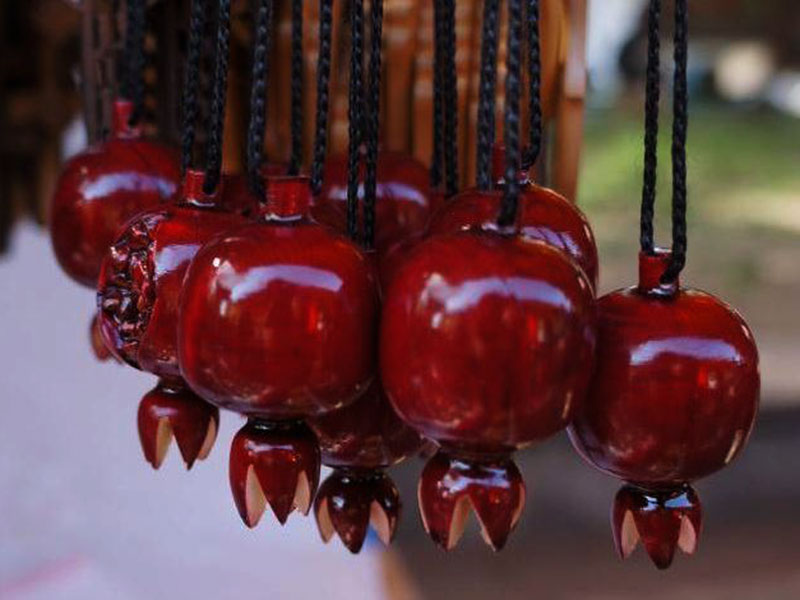 The motives of Biblical Mount Ararat are also very loved and common. For 300-800 AMD ($ 0,6 – 1,7) you can purchase very nice magnets with a picture of Armenian mountains and other beautiful landscapes and attractions. And if you visit the department of art, you will see a huge selection of paintings, where the main theme is devoted to Mount Ararat, churches and monasteries.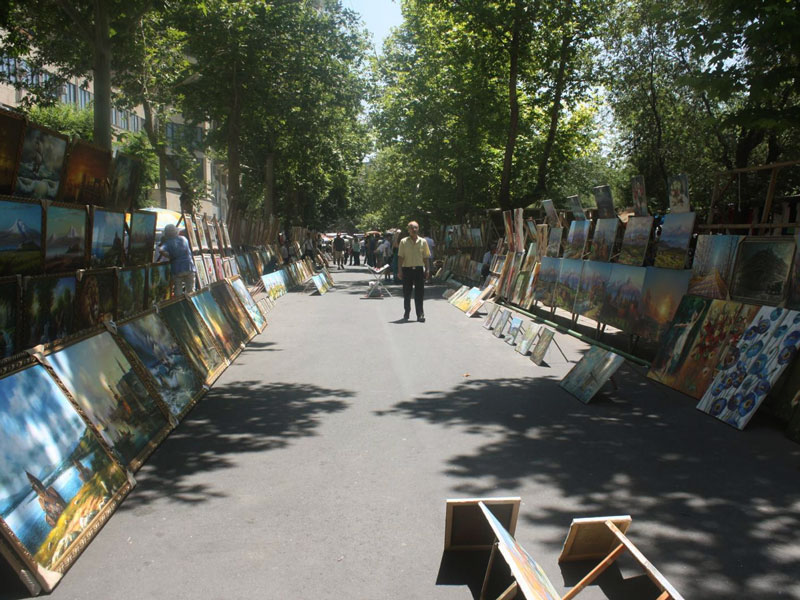 You can also buy wonderful still lives and other works of the talented Armenian artists. The prices differ, on average the large canvas will cost about $ 100, and there are some magnificent works the price of which can reach up to $ 300.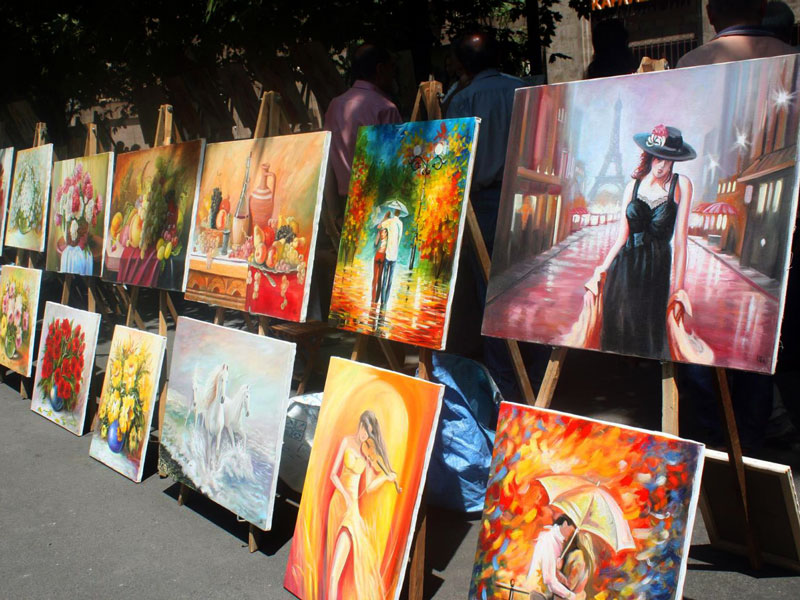 For those who appreciate a good sense of humor, there are lots of funny and interesting things. Pay attention to the colorful magnets with the image of the Caucasian barbecue or a traditional lunch: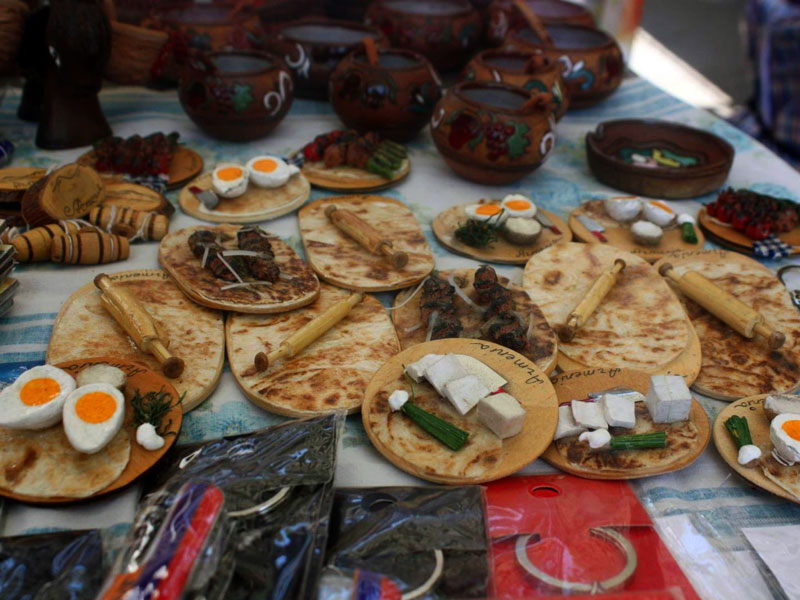 And the souvenirs depicting the Armenian funny donkeys are unlikely to leave anyone indifferent: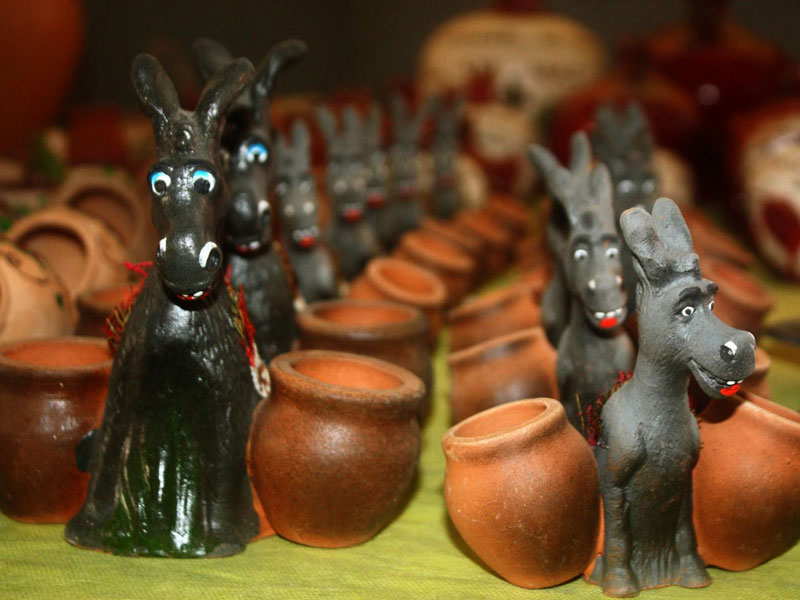 It is also difficult to imagine that someone visited Vernissage and didn't buy unique handmade dolls in Armenian national costumes. They are so unique!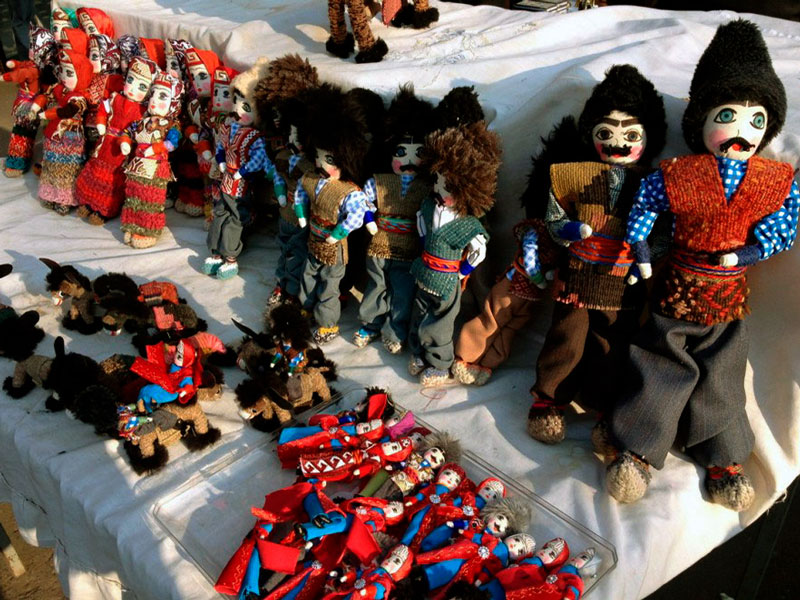 Collectors and rarity lovers will not be bored at Vernissage as well:
Just look at these amazing things, preserved from Soviet times!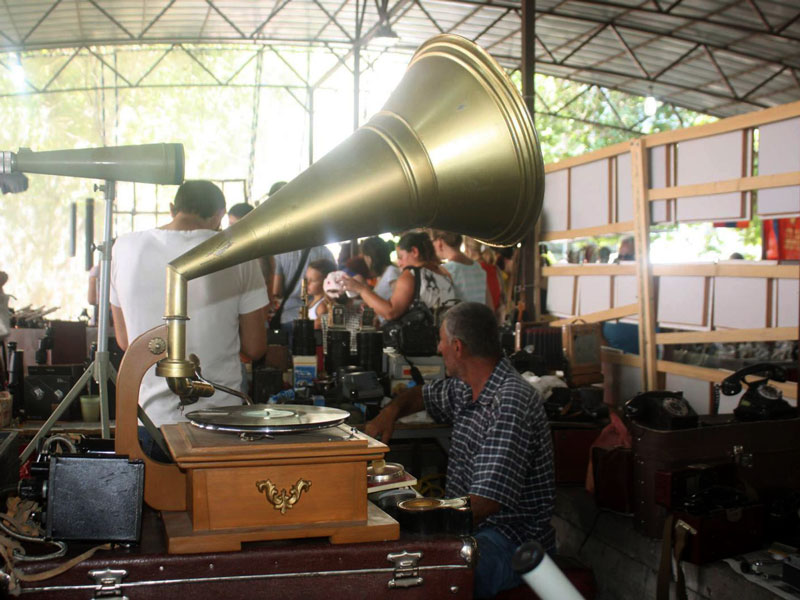 In the very end of the fair, there is a section of pets: kittens and puppies of different breeds. For example, this cute husky puppy waiting for its owners costs $ 500.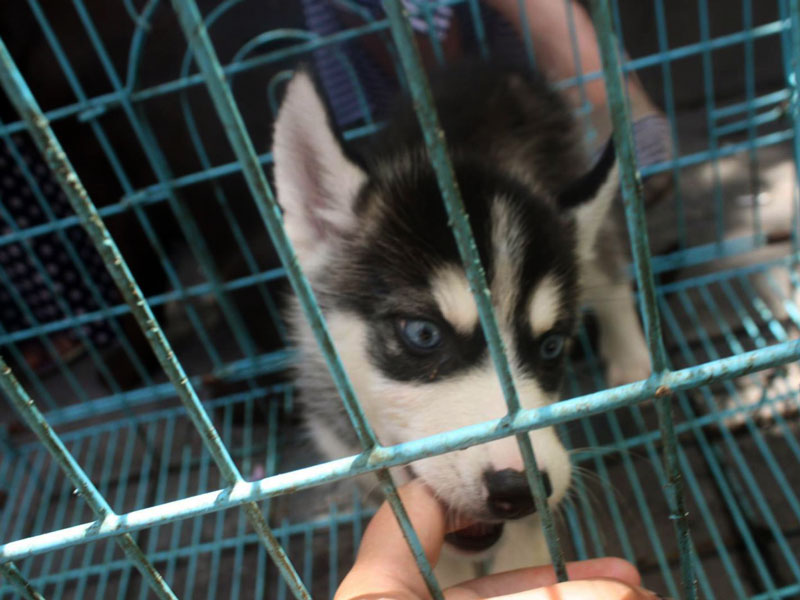 Vernissage is a definitely wonderful place worth visiting for all the tourists. The whole day won't be enough to explore and get acquainted with all the colorful works of Armenian masters. Once in Yerevan, try not to miss this place and you will get a lot of vivid and unforgettable impressions!
Choose the Tour to Armenia you like most and tour-operator Arara will organize your amazing Holiday in Armenia. Travel to Armenia with the local agency.
Thank you! You have succeeded your payment. Our tour coordinator will contact you the nearest working