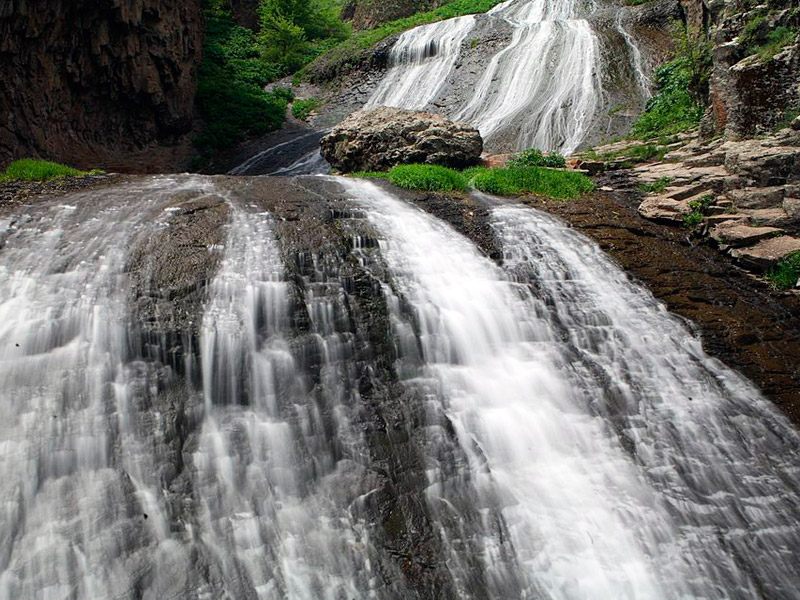 The most picturesque waterfall in Armenia is Jermuk Waterfall located in the health resort of Jermuk. The waterfall is located at an altitude of 2000 meters above the sea level. Jermuk Waterfall is of 70 meters height and it is considered the second highest waterfall in Armenia.
There is one interesting legend relating about the origin of the waterfall. Once upon a time, there was a nobleman who built a castle on rocks above the gorge. The nobleman's daughter was so beautiful that the bridegrooms from all over the world wish to marry such Armenian beauty. However, her heart belonged to the son of a shepherd.
Every night the girl threw a rope in the gorge, and her lover climbed the rope and got through the window to his beloved. One day a nobleman found the rope and cursed his daughter with the words: "I curse you to become a mermaid and never get out of the water if you meet that peasant again". At night, the girl threw the braid instead of the rope and turned into a mermaid, and her hair turned into a waterfall. From that day people have called the waterfall "the hair of the mermaid".
Jermuk Waterfall is a unique phenomenon. Even on the hottest summer day, its waters are icy. In addition, the water of the Jermuk waterfall is used to produce the most popular mineral water Jermuk.
Get acquainted with our tours to Armenia and visit other no less unique sights of the country!
Thank you! You have succeeded your payment. Our tour coordinator will contact you the nearest working