Well, this is the most pleasant moment of our trip to the South Caucasus. We are going to experience the real explosion of bright tastes, and feel the aromas of spices. From Armenia to Georgia and Azerbaijan, you will try traditional national dishes, find something in common and distinguish little details.
Gourmet Guide to the South Caucasus: gastro tour in Armenia
National cuisine is one of the most important components of the culture of the people for the preservation of history. Armenian traditional cuisine is mostly of fat high-calorie meat dishes. In a mountainous region with a harsh climate, such food helped withstand the winter cold. However, this does not mean that there are no vegetable dishes in Armenian cuisine.
Traditional meat dishes
Armenians love meat. The festive table is all about tasty meat dishes. That is why vegetarians and vegans often question "what to eat in Armenia". We will talk about vegetable dishes, but now let's get back to real meat dishes. Armenian barbecue of lamb, pork and veal are in the centre of the table. Armenian khorovats (barbecue) is made in tandoor and served with lavash and onions. Traditional dolma is placed near BBQ. It is made of grape leaves stuffed with minced meat. You can also try summer dolma prepared from stuffed vegetables or with cabbage leaves.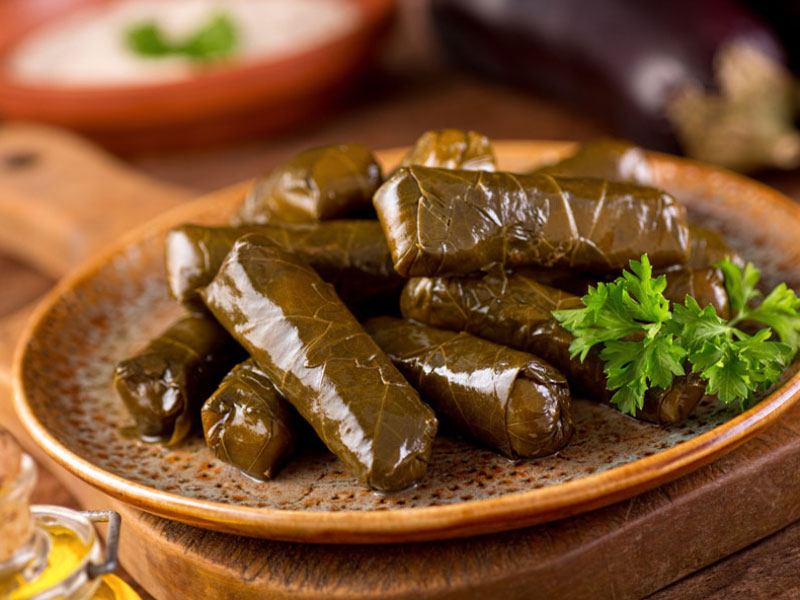 If you plan to visit Armenia from September to April, you should definitely try khash - broth from beef legs. Well, that sounds pretty wild, but it is worth a try at least once in a lifetime. Khash is served early in the morning in large clay bowls with garlic, radish, dried lavash, and homemade fruit vodka.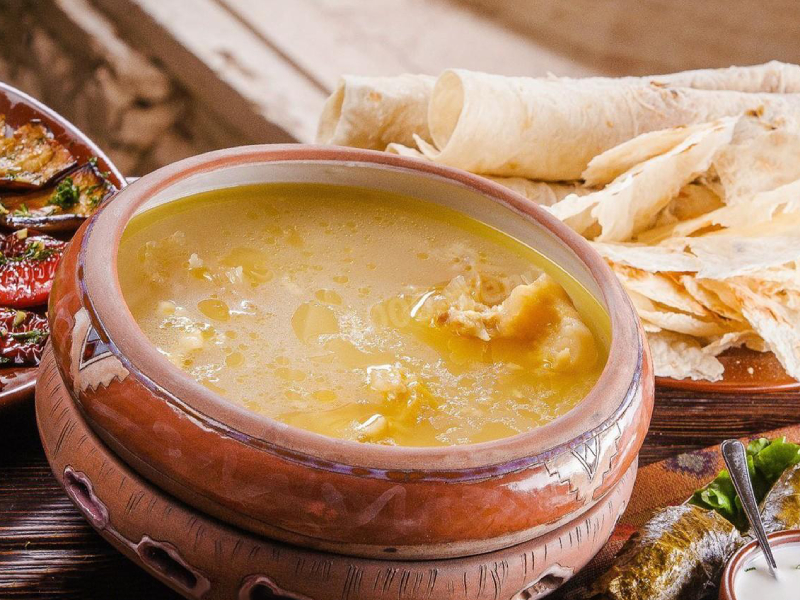 The festive table is also decorated with qufta, boiled beef. The cooking process is quite long and complicated. Thin slices of meat are pound for several hours then mixed with eggs, flour, milk, cognac, and spices. In the end, the tortilla is boiled and served with achar pilaf.
Traditional vegetable dishes
Soups and vegetable dishes are placed next to the aromatic meat dishes. The crown dish in autumn is ghapama. This colorful dish is prepared from pumpkin stuffed with rice, dried apricots, raisins, nuts, and spices. By the way, raisins and dried fruits are often used in Armenian dishes. Thus, traditional rice pilaf with raisins is served for Easter, it is made from rice and raisins.
Of vegetable dishes, you should try the "vegetarian dolma" pasuts. The dish is mainly prepared during the Lent. Instead of grape leaves, the filling of lentils, peas, beans, and wheat grits is wrapped in sauerkraut leaves.
Traditional sweets and drinks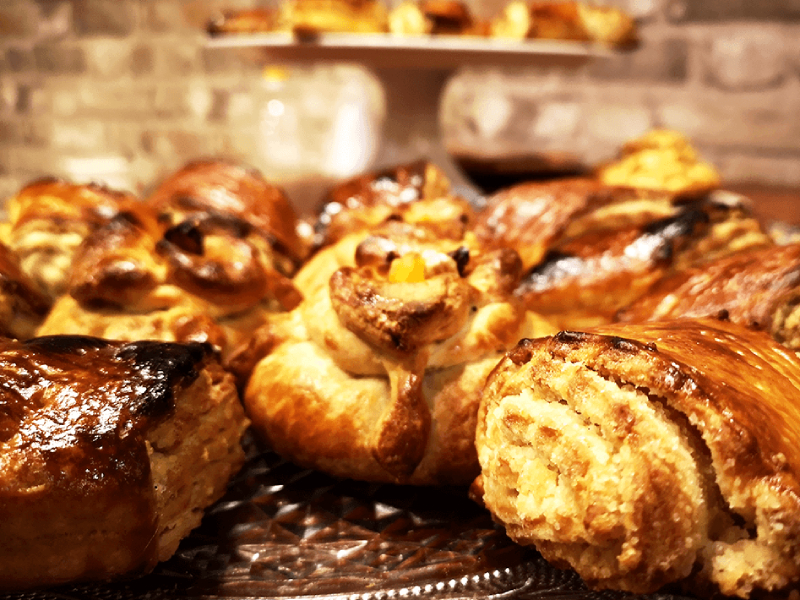 The tastiest and most popular pastry is gata, the oldest and, of course, the most delicious pastry. Each region has its recipe of gata, and each is incomparable. Filling of gata is called "khoriz", it can be sweet or salty. Gata is prepared both in the oven and in the tandoor. Round whole gata is prepared for the holidays. Traditionally a lucky coin is hidden in gata and the one who finds the coin will have good luck the whole year. Of traditional sweets, it is worth trying sweet sujukh and dried fruits. Sujukh is often called Armenian snickers; the sausage is made from nuts, cinnamon, cardamom, cloves and grape juice and of course, it is much healthier and tastier.
From traditional drinks, you can taste tan (similar to kefir) that goes well with fatty meat dishes, tarragon lemonade, homemade compotes, Armenian wine, and homemade fruit vodka.
Gourmet Guide to the South Caucasus: gastro tour in Georgia
The national cuisine of Georgia the best reflects the hot temper of the people. Georgians use a lot of spices that make hot meat sauces and vegetable dishes even tastier and brighter.
Traditional meat dishes
We have our second table with the most delicious Georgian dishes and we will start with meat dishes. It is difficult to choose a crown meat dish. It can be barbecue, khinkali and satsivi. BBQ in Georgia is served with tkemali, a sour plum sauce. Khinkali is cooked in every house, in every cafe and restaurant; it is depicted on magnets and guidebooks. It is served without any sauces and additives, in its pure form, so that you can enjoy the aroma.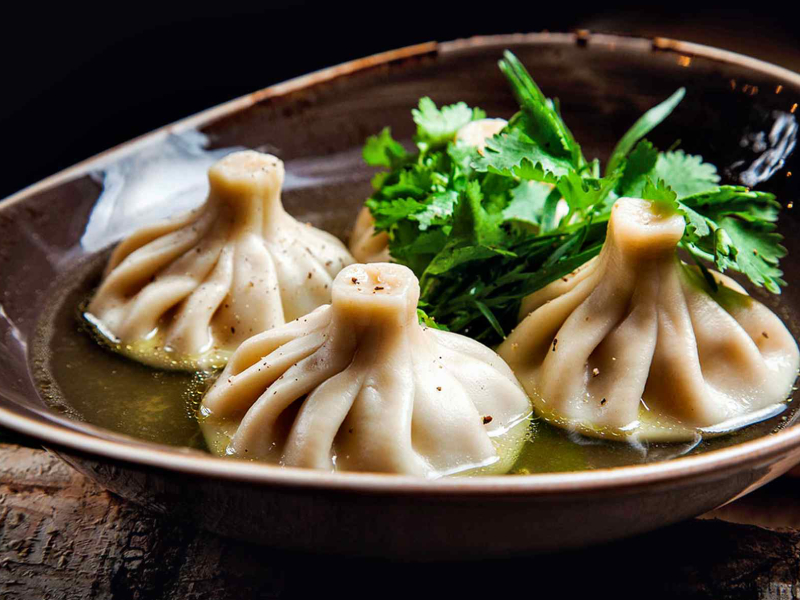 Satsivi is another traditional dish on the Georgian festive table. The chicken is cooked in a creamy sauce with nuts, saffron, cinnamon, and cloves. This is the main dish on the New Year's table.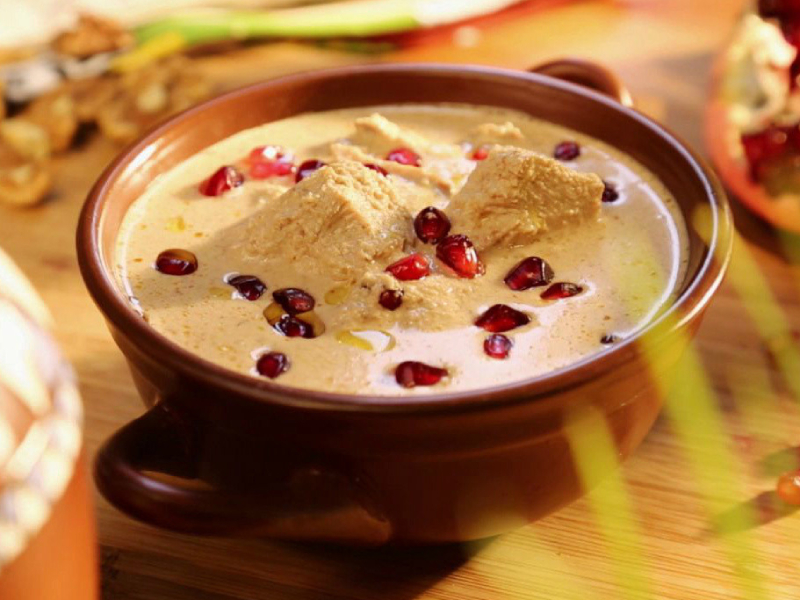 Of meat sauces, you should definitely try ostri, chanahi, kuchmachi, guruli, chakhokhbili and buglama. Sauces are prepared from lamb, veal, and chicken with vegetables and spices.
Traditional vegetable dishes
Vegetable snacks and dishes are served along with the meat ones at the traditional Georgian table. The main vegetable snack is eggplant rolls stuffed with nuts, sour cream, and garlic. Colorful balls of pkhali made of spinach and beets, lobiani (flat cakes with beans) and assorted Georgian cheeses are must on the traditional table. By the way, nuts are a common ingredient in dishes, salads, and pastries.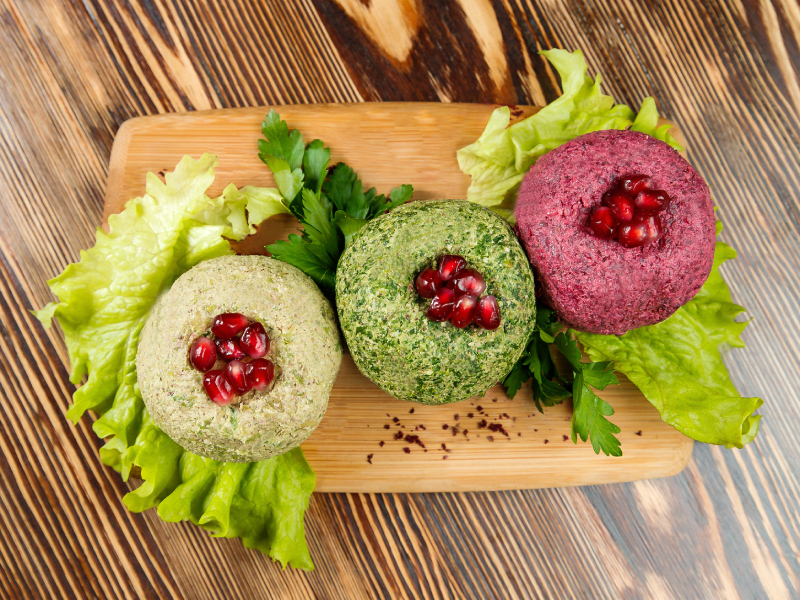 Let's not forget about Georgian khachapuri, another visiting card of Georgia. Like khinkali, Georgian khachapuri has a lot of varieties like khachapuri in Adjarian, Imeretian, Megrelian khachapuri, khachapuri with cottage cheese, meat, etc.
Traditional sweets and drinks
Georgian dishes suit perfectly real Georgian wine. We can talk about the traditions, history, storage, and types of Georgian wine for hours, but it is best to try once than hear a hundred times. If you want something stronger, chacha will be a great aperitif. Chacha is served before meals in small glasses or clay goblets. The effect of 45 degrees will not keep you waiting.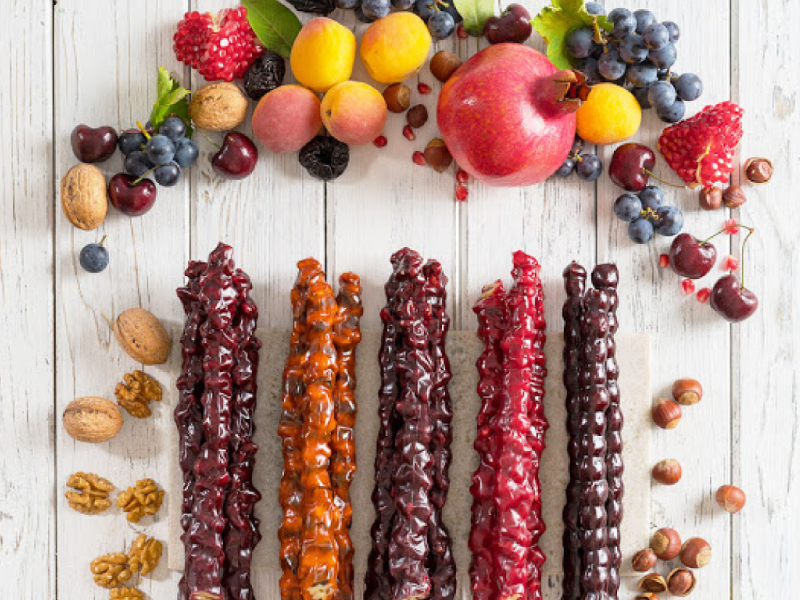 Churchkhela is considered the traditional sweetness of Georgian cuisine. It looks very similar to the Armenian sujukh, but they are completely different in taste. Sujukh is made only from walnuts and with aromatic gruel, Georgian churchkhela is made from hazelnuts and walnuts, while grape juice has a brighter fruity taste.
One of the traditional sweets of the Georgian New Year's table is gozinaki. You can certainly buy sweets in the store, but only Georgians make real gozinaki. The dessert is made from peanuts, hazelnuts, walnuts, and honey. It turns out very tasty, satisfying and healthy.
If you got interested in the national cuisine of Armenia and Georgia we can offer you to choose our bright and saturated Gastronomic – Gourmet Tour to Armenia and Georgia.
Gourmet Guide to the South Caucasus: gastro tour in Azerbaijan
Azerbaijani cuisine presents a unique mixture of traditional Armenian, Turkish and Georgian cuisine. The main dish of the traditional table is rice pilaf. It is cooked with saffron, lamb, nuts and dried fruits.
Traditional meat dishes
Azerbaijani national cuisine boasts a variety of meat and fish dishes. This is mainly lamb and veal with lots of herbs, spices, and seasonings. The traditional cuisine of Azerbaijan is often called "men's cuisine" due to hearty and high-calorie meat dishes.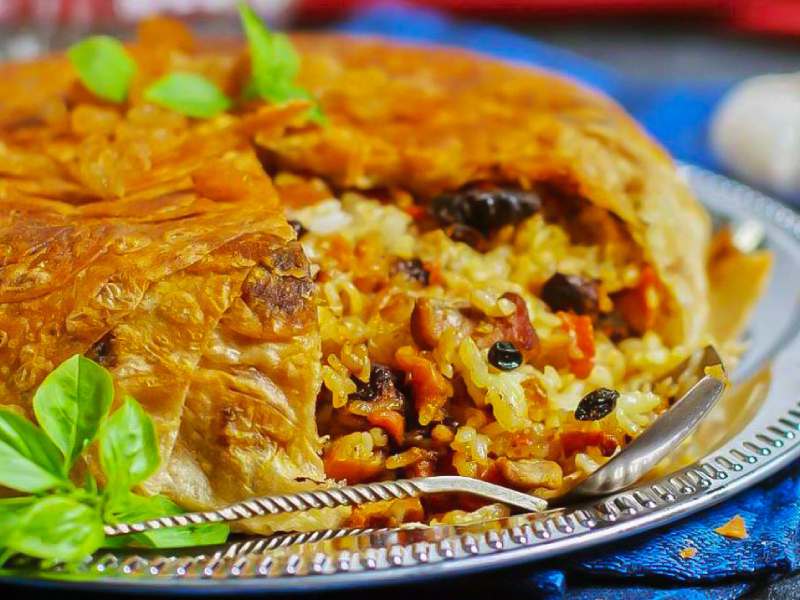 The main dish of any Azerbaijani table is pilaf with lamb with saffron. In various regions, pilaf is also made with fruits, milk, and nuts. If you have already tried barbecue in Armenia and Georgia, you can taste kebab, sham-kebab, and tava-kebab in Azerbaijan. You can hardly resist the aroma of kebabs.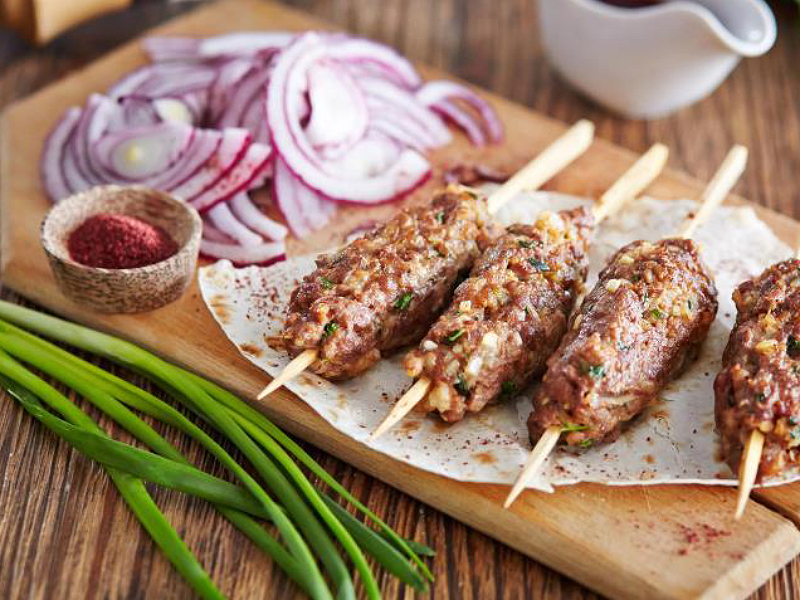 Azerbaijanis also have their own dolma, khingal, qufta - familiar dishes from Armenia and Georgia. Of course, Azerbaijanis added their signature to each dish, and they may differ in appearance and serving.
Traditional vegetable dishes
The most popular dish is keta, a tortilla stuffed with greens. You can also try a similar bread in Nagorno-Karabakh and it is called zhengyalov khats. They are very similar in taste.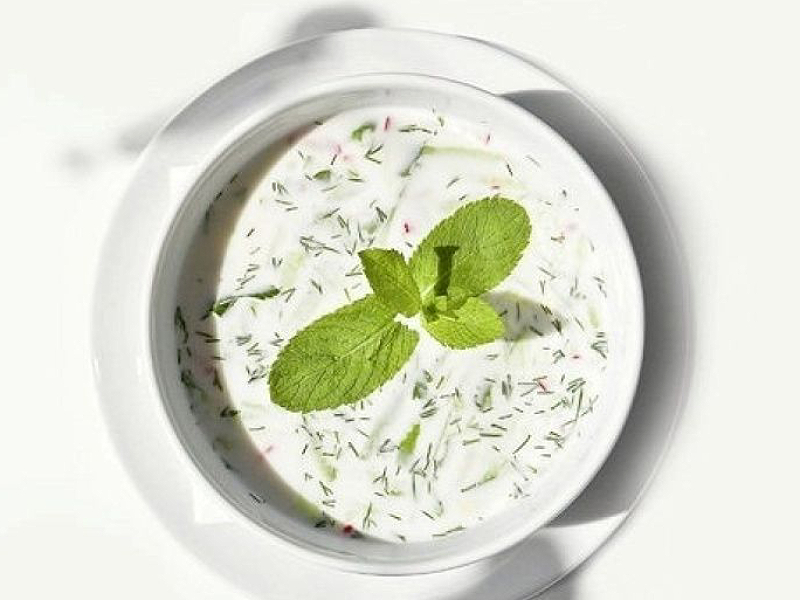 From vegetarian dishes, you can try dovga, kefir soup. In different regions, it is prepared and served in different ways. Traditionally, dovga is made from matsouni, rice and herbs (cilantro, dill, spinach, and mint). The traditional Azerbaijani snacks are pickled vegetables, olives, and fresh herbs.
Traditional sweets and drinks
The most interesting part of Azerbaijan is sweets and drinks. Traditionally, a sweet sorbet made from fruits is served with pilaf. Usually, it is made of lemon, saffron, basil, and sugar with the addition of various fruits. Sherbet perfectly quenches thirst and refreshes in the summer heat.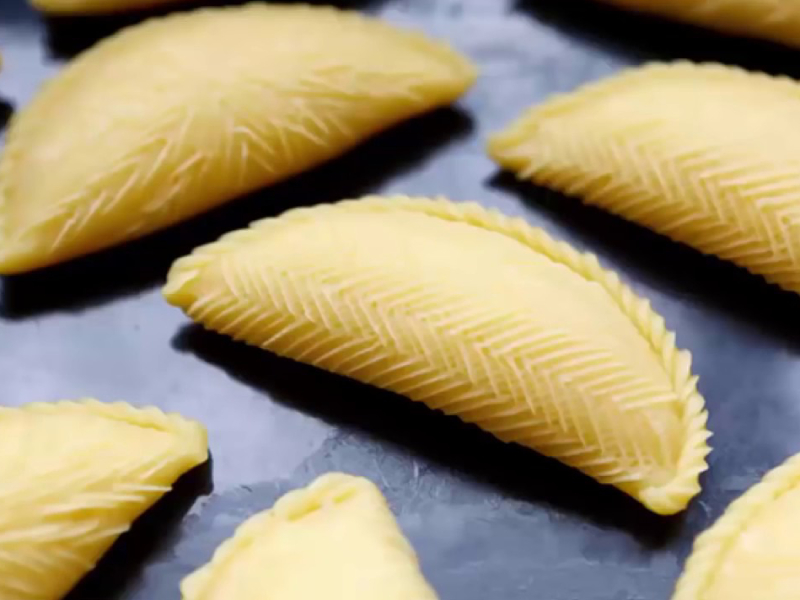 After a hearty lunch, before dinner, at lunch, and at any time of the day, Azerbaijanis drink tea. Azerbaijani tea is served with jam, pressed sugar, nuts and traditional pastries. By the way, in Azerbaijan, there are more than 30 varieties of pastries like baklava, kurabye, shekerbura, badambura, lokum, mutaki, etc.
Choose the Tour to Armenia, Georgia and Azerbaijan you like most and tour-operator Arara will organize your amazing Holiday in the Caucasus.
Thank you! You have succeeded your payment. Our tour coordinator will contact you the nearest working