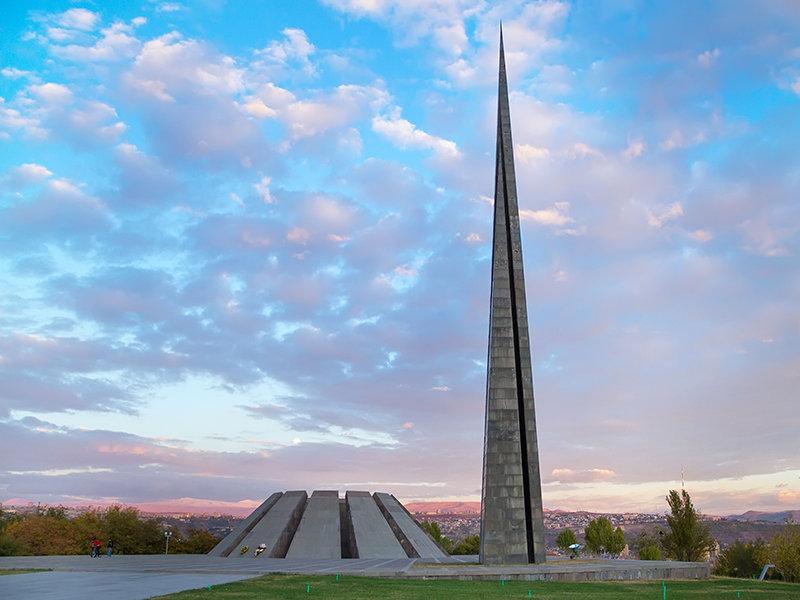 The Tsitsernakaberd memorial complex is associated with the bloody history of the Armenian people. The genocide, the greatest tragedy of the people, took the lives of over 1.5 million Armenians, whose memory will always be in our hearts.
Tsitsernakaberd is located in Yerevan, on a small hill with an impressive view of Mount Ararat.
The idea to build a memorial complex had its origin in 1965, and in two years the main part of the complex was built. The main component of the complex is the Temple of Eternity, which consists of 12 slabs standing in a circle, representing 12 lost provinces. An eternal flame burns in the center of the circle dedicated to the 1.5 million people killed during the Armenian genocide.
The second part of the memorial complex is the Obelisk "Restored Armenia". The obelisk is 40 meters high and is divided into two parts. The monument symbolizes the stem of the plant, which breaks out of the ground and grows, despite all the obstacles.
The third part of the Tsitsernakaberd complex is a memorial wall, on which you will see the names of cities where 1.5 million Armenians were killed. On the other side, there are urns filled with the ground from the graves of foreign public figures who spoke about the Armenian Genocide.
The complex also includes the Genocide Museum, where all the documentation and photos are presented as an indisputable fact of the bloody actions of the Turkish government of those times.
Every year, on April 24, thousands of Armenians all over the world and foreign guests pass through the alley to the memorial complex to honor the memory of innocent victims.
Tsitsernakaberd is a symbol of a very important part of our history. Visiting this place is a sign of respect, which might bring you closer to our culture and history.
Get acquainted with our tours to Armenia and visit other no less unique sights of the country!
Thank you! You have succeeded your payment. Our tour coordinator will contact you the nearest working