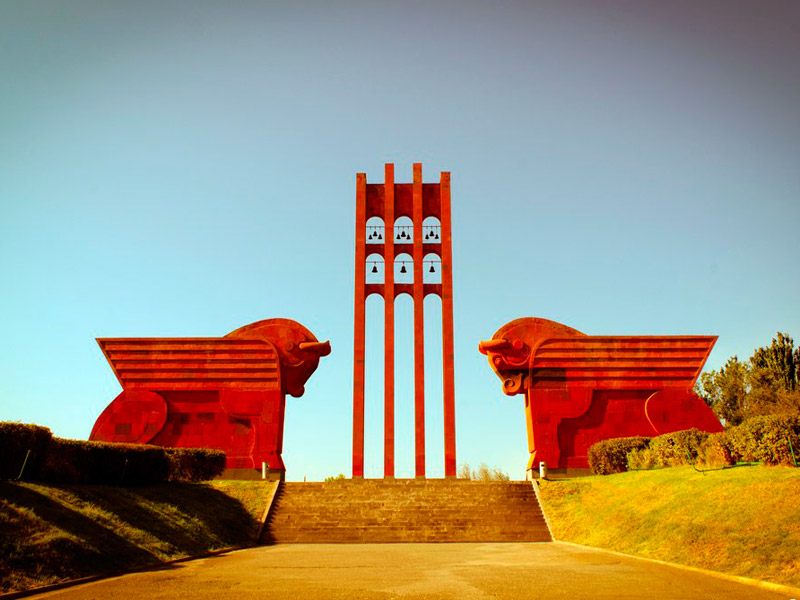 Rising high above the ground bell tower, winged bulls, proud eagle-guards, semi-circular memorial wall with sculptures and engravings, a bakery and a museum: it was in this epic symphony of stone that the architect Rafael Israelian immortalized the memory of the heroes who fell in the historic battle against the Turkish invaders near Sardarapat in May 1918. The Battle of Sardarapat was decisive and crucial for the whole Armenian people. The young and old, women and children together with the soldiers came to the defense of the motherland. This was a manifestation of truly national heroism, fortitude, selfless struggle for the sake of the Motherland. The Sardarapat memorial ensemble, built of red tuff, embodies all the unbreakable spirit of the Armenian people, which numerous enemies have not been able to break down for many centuries.
Each detail of the complex carries a special meaning and significance. The 35-meter bell tower erected on the burial site of the fallen heroes symbolizes the memory of the hard struggle days when the bells rang for six tough days, raising the people to a war of liberation. It is said, the bell ringing echoed throughout the Ararat valley. Today bells also ring, but already on solemn days of May holidays, symbolizing the victory over the enemy.
Two winged bulls, located on both sides of the bell tower, embody masculinity, fertility, unwavering will and indomitable spirit of the Armenian people. Five eagle-guards with sharp beaks were originally supposed to look towards Turkey, but the Soviet government, according to its ideology, did not allow the architect to realize his idea. Nowadays sharp-eyed eagles overlook the biblical Ararat. These proud birds are called to keep the peace of the Motherland.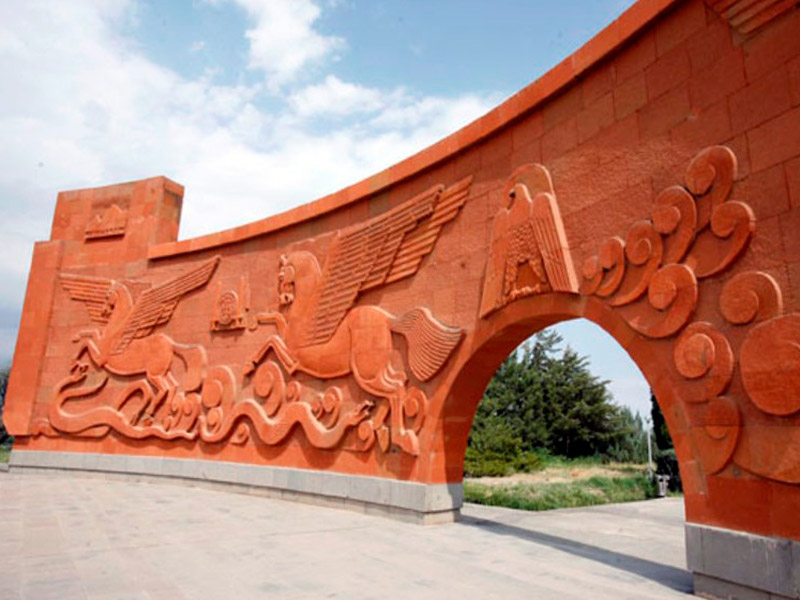 On the memorial wall of the ensemble are engraved bas-reliefs of soldiers, women, and girls who not only fed soldiers but along with them took weapons and went into battle. A little later, architect Rafael Israelyan designed the construction of the museum and bakery. The idea of the bakery was that people would come here and talk at a common table sharing food. The memorial also includes an ethnographic museum, representing the country's culture from ancient times to the present day. The museum building resembles a castle with two small windows: one window faces Aragats and the other one overlooks Ararat.
Sardarapat is located 55 km from Yerevan, 10 km from the city of Armavir, near the village of Araks, near the state border with Turkey. The architectural and memorial complex of Sardarapat is one of the pearls of Soviet architecture with elements of modern and classic styles at the same time. Today, the memorial is not only a monument but also a venue for solemn state events and military parades.
Get acquainted with our tours to Armenia and visit other no less unique sights of the country!
Thank you! You have succeeded your payment. Our tour coordinator will contact you the nearest working