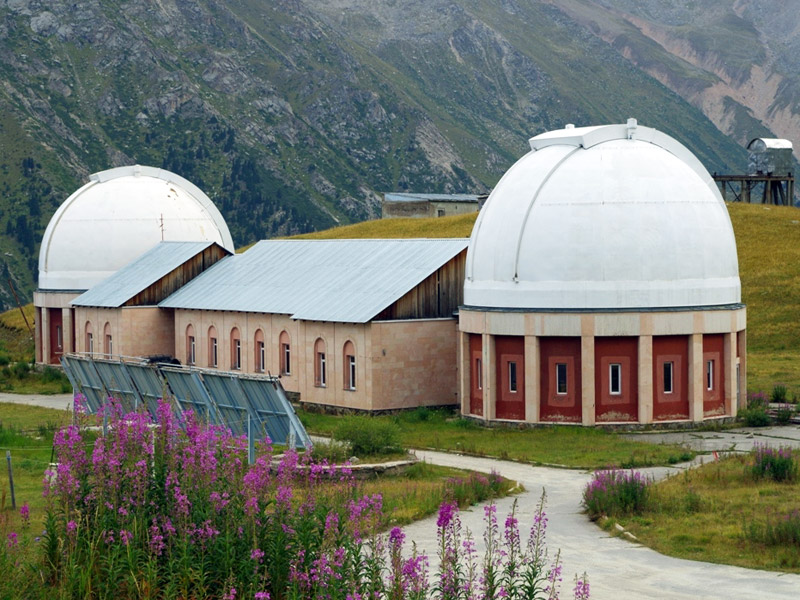 The Byurakan Astrophysical Observatory after Viktor Hambardzumyan is considered one of the most important scientific institutions of Armenia. The observatory is located in Byurakan, in the Aragatsotn region, on the slope of Mount Aragats, at an altitude of 1500 m above sea level and covers an area of 0.2 km2. The building itself is considered an architectural monument and landmark.
The observatory was opened in 1946 at the head of the scientist Victor Hambardzumyan, the president of the Armenian Academy of Sciences, one of the founders of theoretical astrophysics.
Byurakan Observatory is a complex of buildings of pink tuff. There is the main laboratory building, pavilions, radio astronomy observatory, the museum of Victor Hambardzumyan, observation pavilions, a botanical garden and utility rooms on the territory. There is also a hotel near the observatory.
Now the observatory owns ten telescopes: the largest telescope was installed in 1976, which is considered one of the largest in the world. Thanks to the location in Byurakan, one can observe the stars even without the telescope. Summer nights in Byurakan are cloudless, and the air is clear.
Get acquainted with our tours to Armenia and visit other no less unique sights of the country!
Thank you! You have succeeded your payment. Our tour coordinator will contact you the nearest working