Khachatur Abovyan is considered the founder of a new literary language in Armenian literature. His short creative activities, however, left a deep mark and rich heritage in the history of Armenian literature.
The new monument to Khachatur Abovyan, situated in Abovyan Park, in the heart of Yerevan, was erected in 1950. It is included in the list of immovable monuments of history and culture. The monument is built from bronze and granite, and the height is 9 meters. The architect of the monument is George Tamanyan and the sculptor - Suren Stepanyan.
Additionally, the first monument was built from bronze and granite in 1933 and erected in Abovyan Street, then moved several times. In September of 1964, it was removed in front of Khachatur Abovyan's house-museum and included in the list of immovable monuments of history and culture. The architect of the monument is Mark Grigoryan and the sculptor - Andreas Ter-Maroukian. In September of 2020, the public exhibition of Enlightener's reconstructed monument took place in the house-museum, dedicated to his 215th anniversary.
Abovyan Khachatur Avetiki was born on October 15, 1809, in the village of Kanaker. He belonged to the ancient family of Abovents. At the age of 9, Abovian begins his studies at the Echmiadzin Monastery, where he takes holy orders. In 1926 he finishes Nersisyan school in Tbilisi. Abovyan dreamed of getting higher education in Europe, but the Russian-Persian war changed his plans.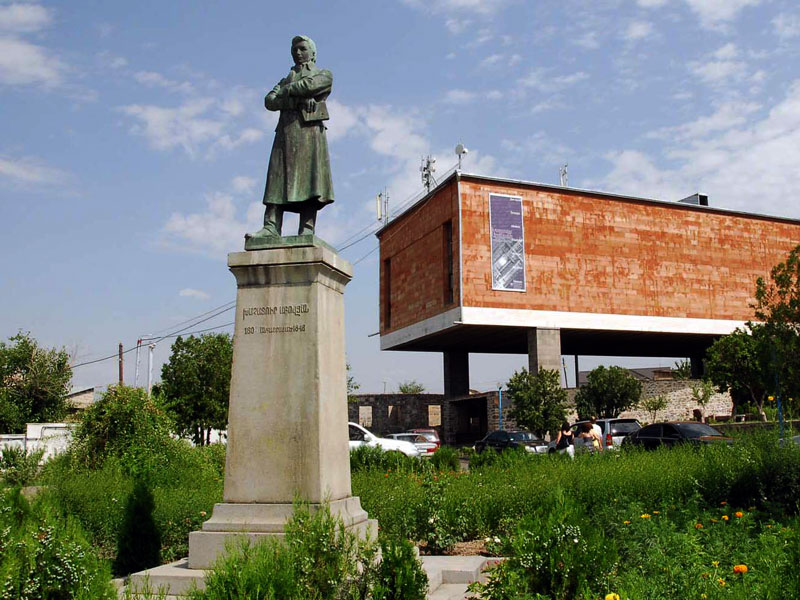 During the war, he taught at the Sanahin Monastery, later he returned to the Echmiadzin Monastery and became secretary of the Catholicos.
In 1829, Khachatur Abovyan took part in the expedition of the University of Dorpat and climbed to the top of Ararat. After that, he studies at the same university. These years were the creative revival for Khachatur Abovyan, but his talent and diligence were not appreciated in his homeland. Moreover, the officials began to hinder Abovyan's educational activities in all ways.
In 1848, Abovyan decided to move to Tbilisi and accept the position of school director Nersisyan. On the morning of April 2, Abovyan left the house, and no one has seen him since then. The mysterious circumstances of the disappearance of Abovyan have not yet been disclosed.
Khachatur Abovyan's legacy is numerous literary works in Armenian, Russian and German. The works reflect his world view, the romantic perception of reality, his experiences about the fate of his homeland, dreams, and hopes.
Get acquainted with our tours to Armenia and visit other no less unique sights of the country!
Thank you! You have succeeded your payment. Our tour coordinator will contact you the nearest working