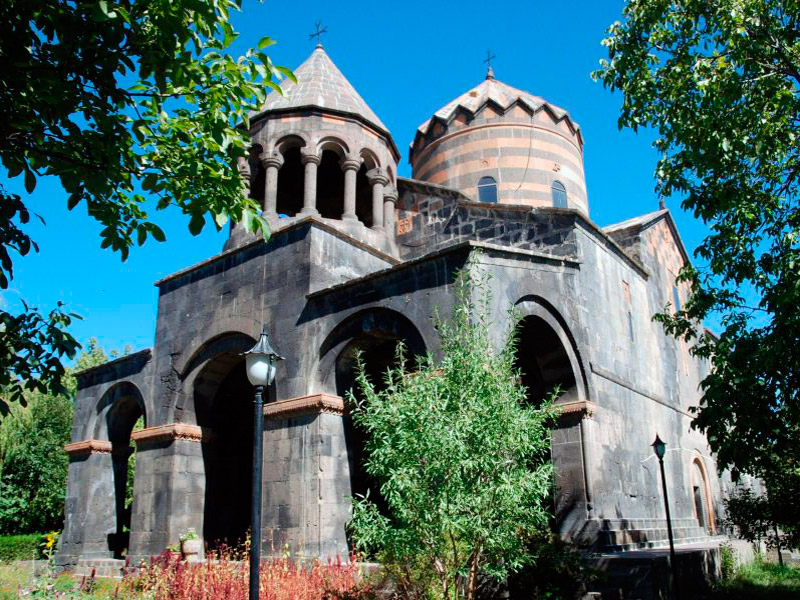 At the distance of 2 km from Ashtarak town, in the village of Mughni, there is a monastery of Mughni, a small paradise hidden from the eyes. The monastery was built in the XIII-th century by the founders of the Ovanavank monastery, from where the relics of St. George were moved to Mughni. The part of the relics was sent to Georgia to heal the Georgian prince. After that the church of St. Gevork Mughni was built in Tbilisi to store the relics.
The monastic complex is surrounded by a wall and a beautiful garden. Behind the wall is the main Surb Gevork Church built in 1661-1669. The church represents architectural value: it is considered the truly unique structure of its time. The walls are built of black and orange tuff and have the different layout. On one side you can see a chess layout, on the other side walls, are built in a strip. On the interior walls, frescos of the 17th-century have been preserved.
The grave with the relics of St. Gevork is located to the left of the altar, under the marble slab. It is believed that the relics can cure diseases that's why the monastery is a place of pilgrimage for believers. The last Saturday of September is considered the day of pilgrimage to the monastery. In addition to the relics of St. Gevork other relics are kept in the monastery. Here is kept a particle of the Life-Giving Tree, the right hand of St. George, the mansions of the Virgin of Barbara, the relics of the Apostle Thaddeus and St. Kharityan, and two Gospels (1321 and 1351).
From the monastery to the river leads a secret path, which once served as a way to extract water, a refuge and a retreat path during the attacks.
Get acquainted with our tours to Armenia and visit other no less unique sights of the country!
Thank you! You have succeeded your payment. Our tour coordinator will contact you the nearest working