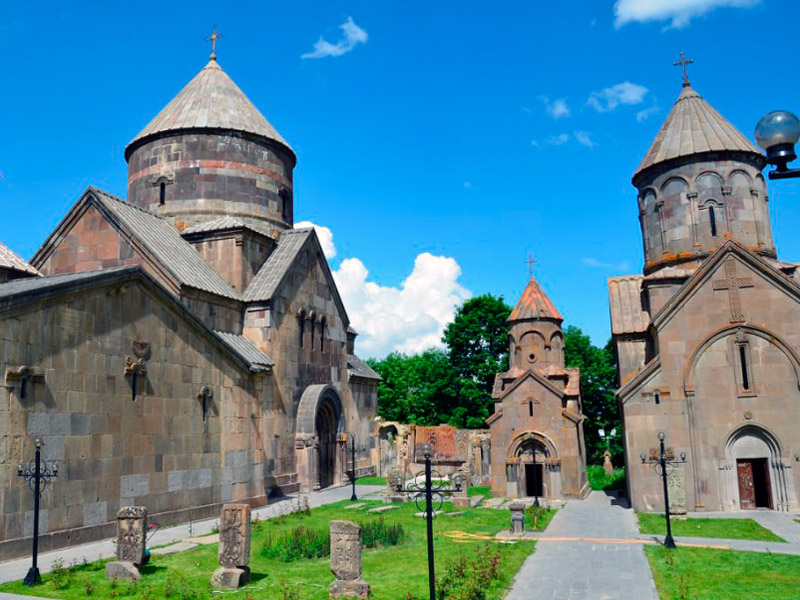 One of the most important medieval attractions of Armenia – the monastery complex of Kecharis – is hidden in the high picturesque mountains. It is located on the slope of the Pambak Ridge, in Kotayk region, in the resort town of Tsakhkadzor that is the most popular resort in Armenia. Kecharis was founded during the reign of the Pahlavuni dynasty in the 11th century. The next few centuries the complex was a major cultural center of the country.
The very first construction of the complex was the St. Gregory Church, founded in 1003. It is one of the best architectural examples of the developed civilization of feudal Armenia. The chapel, built next to the church, served as the burial vault of Grigor Magistros Pahlavuni, the founder of the monastery.
To the south of the church of St. Grigor there is located the church of St. Nshan, built later than the main building. The complex also includes the church of Katoghike (the first quarter of the 13th century), as well as the church of St. Arutyun, which is located away from monastic buildings and churches. It was built in 1220 and served as a burial place for abbots of the monastery. On the whole territory of Kecharis, you can see unique medieval khachkars and tombstones.
In the 13th century, the complex was destroyed by the Mongol-Tatars, but in the second half of the century, it was completely restored. The monastic complex was restored in 1990 and is now in excellent condition.
Get acquainted with our tours to Armenia and visit other no less unique sights of the country!
Thank you! You have succeeded your payment. Our tour coordinator will contact you the nearest working