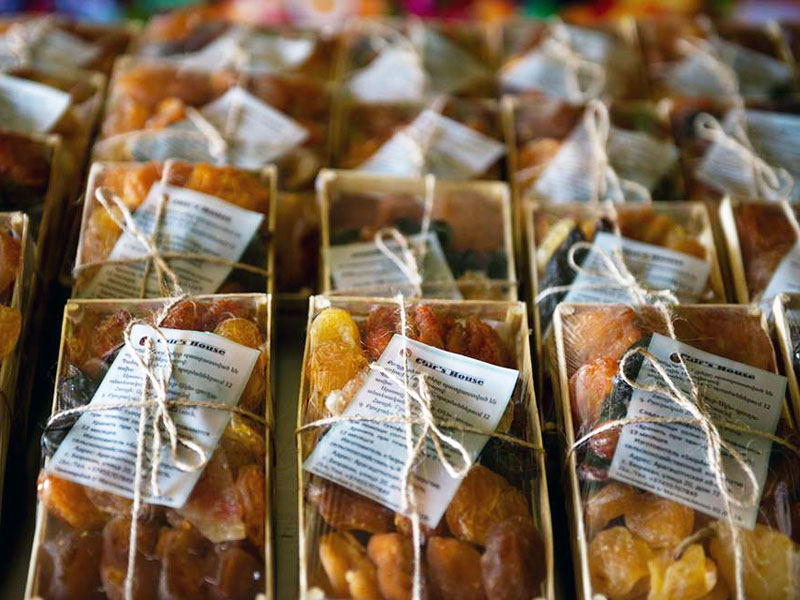 20 years ago, after buying a dump at the outskirts of the Byurakan community the Hovhannisyan family began to develop the area for a fruit garden. All members of the family have higher education, two girls even studied abroad (Greece, Italy), but all returned after completing their studies to develop their native community. The family uses all their knowledge to cultivate the orchard by modern agricultural methods. They have drip irrigation, and next to the old trees have planted new ones, which are more fruitful and the fruits are of higher quality.
4 years ago they took part in "Create Your Business" United Nations Assistance Program and won. After that with the help of professionals, the Hovhannisyan's built a solar dryer and got engaged in dried fruits production. For drying, they use both fruits from their own garden and from the villagers' gardens.
The fruits used for dried fruits are from their own garden, and the rest are taken from the villagers, freeing them from the burden of selling fruits. The family is also specialized in the preparation of sweet sudjukh which is unique in its kind and is considered as the brand of Hovhannisyans.
2 years ago the Hovhannisyans founded the 1st certified organic strawberry greenhouse in Armenia. Strawberries are sold both in fresh condition and in dry as organic tea raw.
For already a year the Hovhannisyan family has been trying to develop agro-tourism, enabling visitors to enjoy ecologically clean products, get acquainted with the rural life, participate in the process of cultivation and production of dried fruits. Thanks to this, the Chir's House has soon become a favorite place for Armenians and tourists. The example of Hovhannisyans can be considered as a story of an Armenian family that has managed to record a success story.
Contact Information
Tel. +374 77 707 849
Thank you! You have succeeded your payment. Our tour coordinator will contact you the nearest working