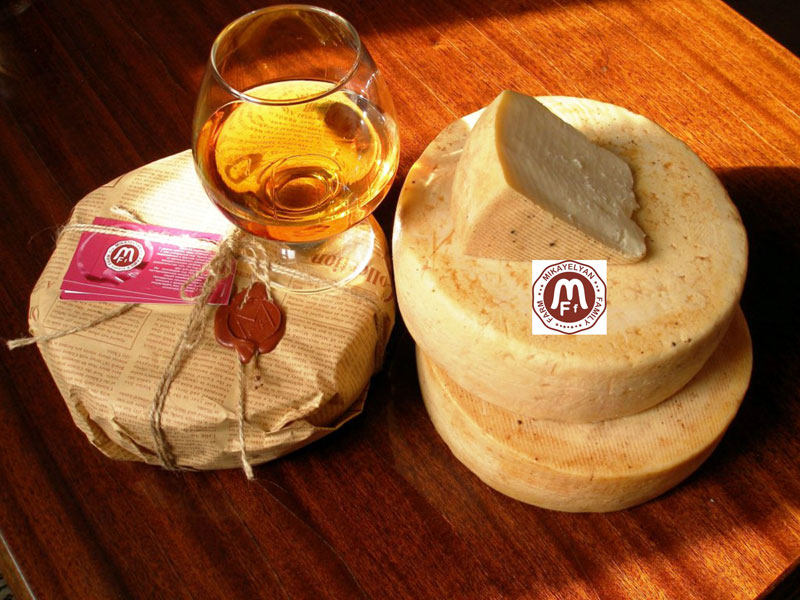 Would you like to taste unique and ecologically clean Armenian cheese and combine this pleasure with a nice pastime in the lap of fascinating nature? You will have such a chance in Gegharkunik Province in Mikaelyan Family Farm, where the unique Armenian cheese has been producing for several years by Mikaelyan's family.
The family left its home and work in the capital and in 2012 moved to Noratus village to start the production of new unique kind of eco-cheese. They turned the former apple and potato cellars of the village house into a cheese factory and began producing cheeses with exclusive tastes, which became the only ones in Armenia. The company is specialized in the production of wine-cheese, cognac-cheese, "horac" and parmesan-type cheeses.
The process of brewing cheese in Armenian brandy, cinnamon, grape leaf and wine lasts a long time. The cheese is processed for 4-6 months, thanks to which it receives particular taste and smell and has a natural peel. As a result of the daily work of family members, the range of cheese today is about 10.
The fame of Mikayelyan eco cheese soon spread across Armenia as well as beyond its borders. From all over the world, tourists come to the country to visit the Mikayelyans family farm, taste their products and participate in the cheese-making process. However, not only tourists are interested in the company's activity. Even ancestral (tribal) cheesemakers from the USA, Switzerland, and other European countries come here to get acquainted with this Armenian cheese production and to exchange experience.
The Mikayelyan's family can serve as an example for anyone who is thinking of creating something new and interesting but still hasn't dared.
Contact Information
Tel. +374 98 505 027
Thank you! You have succeeded your payment. Our tour coordinator will contact you the nearest working