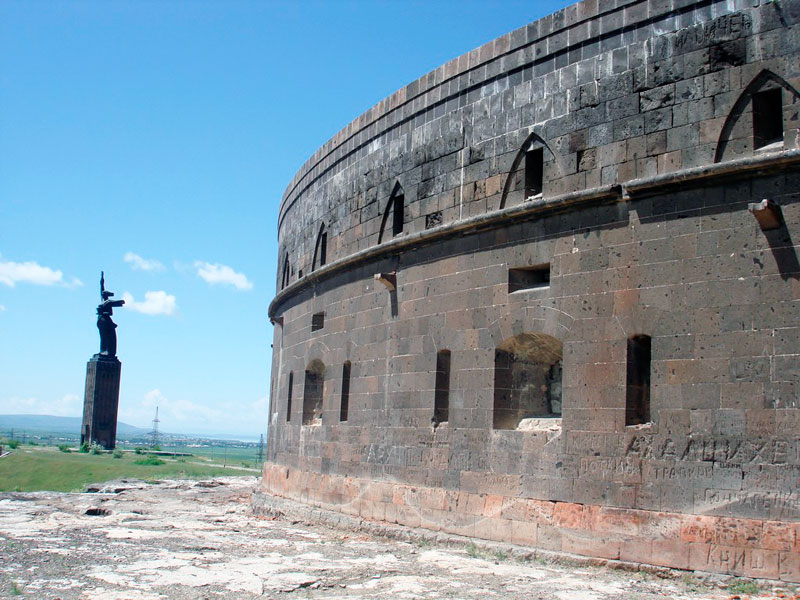 The beautiful city of Gyumri, the second largest and most significant city in Armenia after the capital, is distinguished thanks to its rich historical and cultural heritage, original Armenian architecture and color. The Black Fortress, or "Sev Berd" in Armenian, is one of the most famous historical buildings of the city and a unique hallmark of Gyumri. Today, the Black Fortress is included in the state list of historical and cultural monuments of national importance.
The history of the fortress founding dates back to the reign of Emperor Nicholas I, to be more precise, the construction of the stronghold was completed in 1834. The fortress had a protective and defensive importance for the city and belonged to the Russian Empire. According to historical facts, the need to build a fortress arose after the end of the Russian-Persian war. Taking into account the possible war against Turkey, the Russians began to pay special attention to strengthening Gyumri. Underground paths leading to the Mother Armenia Monument and the Red Fortress were dug from the fortress. The Black Fortress was originally a defensive structure and served as a military prison. Only after the Russian-Turkish Balkan war (1877-1878) did the citadel become an artillery repository.
The fortress over the past few years has been restored and part of it turned into a big stage arena, where various events, forums and concerts are held. At the entrance to the castle, you will immediately see this huge amphitheater. Walking through the fortress, you clearly feel the spirit of antiquity, which is transmitted by the black stones of the castle, torches on the walls, an ancient well 30 meters deep, from which soldiers used to take water. On the walls of the fortress, there are several engravings that were made by Russian soldiers, with inscriptions of their names and the names of the cities where they were born. As a result of excavations in the area, it turned out that this is the oldest part of the city ever inhabited by people. The first studies were carried out here in the second half of the XIX century, in 1875. Archaeologists claim that the entire valley, from the tower to the end of the fortress, is a magnificent archaeological monument, mainly consisting of ancient graves and tombstones.
Get acquainted with our tours to Armenia and visit other no less unique sights of the country!
Thank you! You have succeeded your payment. Our tour coordinator will contact you the nearest working