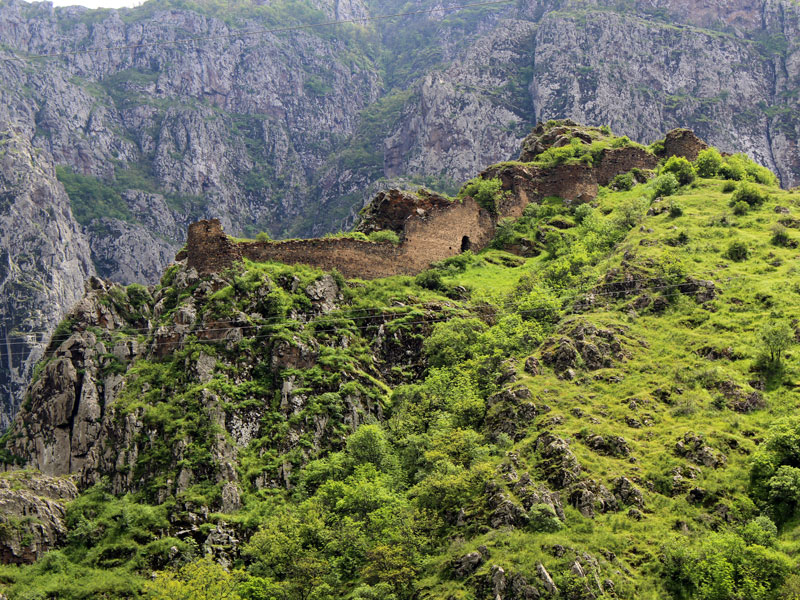 Baghaberd Fortress is located in Syunik Province, on the bank of the Voghji River, near the town of Kapan. Once the fortress was the largest defensive object in Armenia. The unapproachable location and powerful walls of the fortress could withstand any attack.
According to one theory, the fortress was built in pre-Christian times. According to another version, the fortress dates back to the III-IV centuries. In history, Baghaberd is mentioned as a defensive structure during the war of Shapuh II. In 1103 Baghaberd became the capital and cultural center of the Syunik Kingdom. The fortress was destroyed, and the capital fell in 1170 during the invasion of the Seljuk Turks. War and destructive raids led to the loss of more than 10,000 valuable manuscripts, all treasures were stolen from the capital.
The structure had double walls with towers. There were also tunnels, which were used during the siege, rock storages and a channel for supplying the fortress with drinking water. Now only part of the fortress wall and half-ruined towers are left from the once-powerful fortress.
This sight attracts visitors due to its unique history and landscapes of unimaginable beauty.
Get acquainted with our tours to Armenia and visit other no less unique sights of the country!
Thank you! You have succeeded your payment. Our tour coordinator will contact you the nearest working