What are you hiding in your closet? A box of dried greens and spices, dried fruits to sweeten your heart and a bottle of wine that tells the story. And here, the story of Trinity begins.
On one of the shelves with Armenian wines, we found one exotic name that immediately captured attention. The exquisite taste of Trinity wine took us to the Vayots Dzor region, searching for the roots and people standing behind the name. Today our guide is Hovakim Saghatelyan, Executive Director of Trinity, civil engineer, entrepreneur, poet, singer, game inventor and writer.
The story of Trinity goes back to times when two of the founders, being engaged in the restaurant business in the United States for years, decided to take the mission of presenting authentic Armenian wine.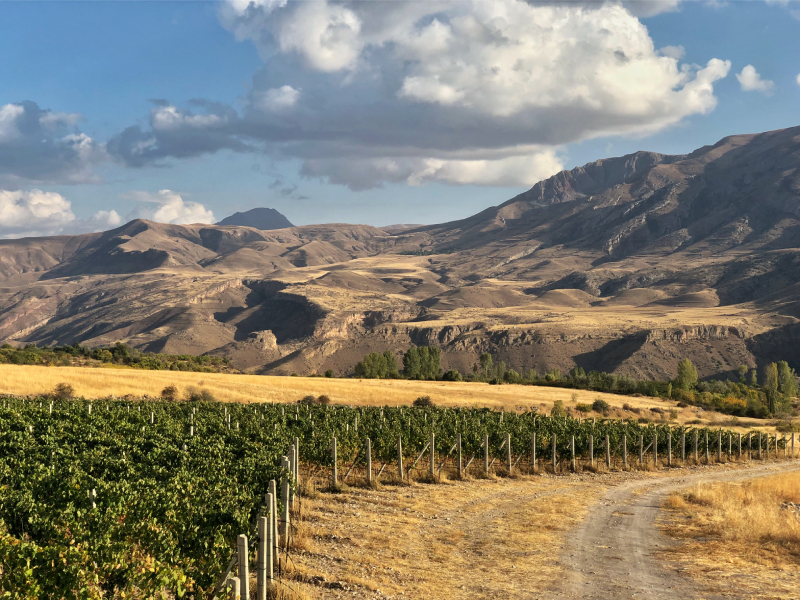 "We tried and tested hundreds of wines, and most of them missed something. The idea of starting its own winery wasn't born overnight, but it was just in time.
The love of wine and winemaking finally got shapes and exquisite taste of wine. In 2009-2011 we established vineyards in Vayots Dzor. At first, we tried to cooperate with local producers to get the quality we wanted. Soon we realized that none of them met our requirements, and finally, in 2014, we started the production of wine, enlarged the gardens, and established our company."
Wine is always romantic, evoking warm feelings and memories. We started thinking of the story behind the name "Trinity". Was it as unique as the atmosphere of the venue?
"The brand was established by three friends, the young winemaker Artem Barseghyan, who was educated in the leading universities of Europe - the University of Montpellier, master of oenology, and our consultant Jean Luc Isnard, who was involved in the development of Trinity Canyon concept since 2011. Jean Luc, being also the Director of Organic Winegrowers of Rhone Valley region, is delivering the concepts of organic viticulture to Trinity Canyon Vineyards. Jean look suggested the name in honor of our three founders. And, he was then a fan of Matrix Trinity. The idea of naming is trivial though it turned out to transfer the part of the vision and the philosophy of the brand. Getting engaged in winemaking more professionally, we started working on reviving the traditions of winemaking. We approached the whole process with great responsibility and eventually became a part of this culture with our modest contribution."
We started feeling the philosophy with each sip of wine, so deep in taste that opens new horizons to the views of Vayots Dzor vineyards and the horizons of the mind.
"The core value of Trinity that makes the brand stand out in the market is the eco-friendly approach. We are proud to announce that we have created the first organic certified vineyards in Armenia with an assortment of certified wines. Our first wine participated in the World Organic Wine Exhibition in Montpellier, receiving the highest award.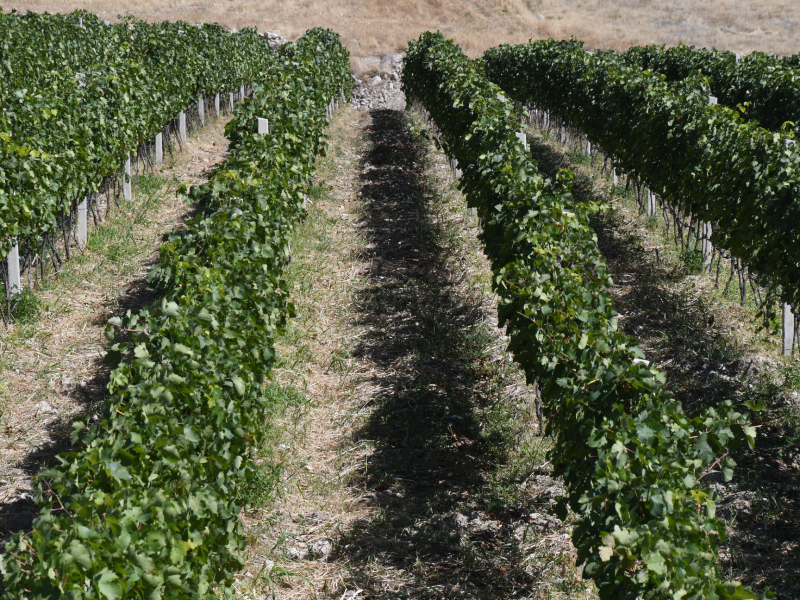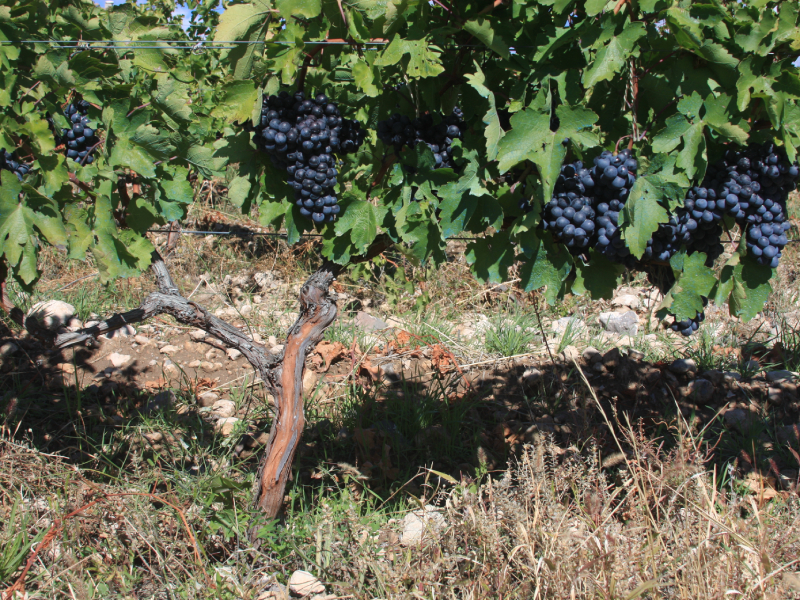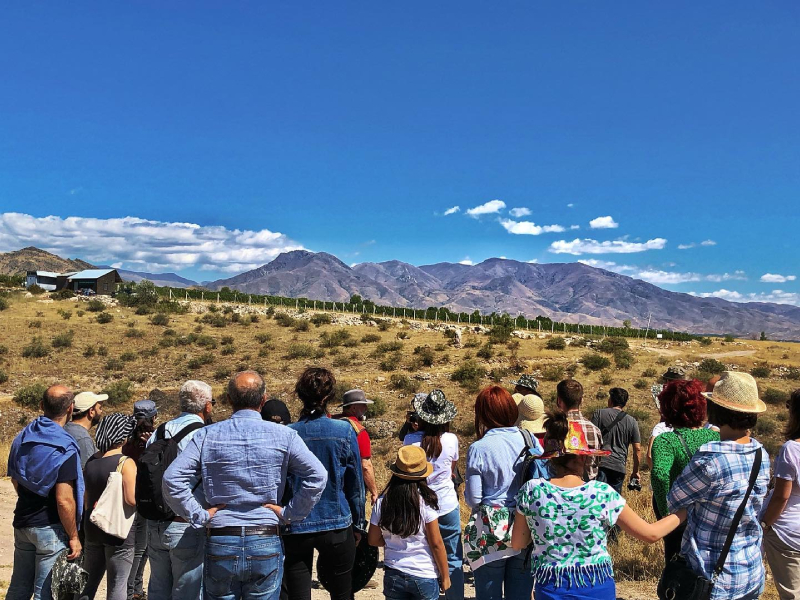 The philosophy is very simple. Respect for nature, which includes two factors: the modern approach and the reintroduction of traditions. With this approach, we use two directions of wine production: classic and natural wines. The latter is carried out with traditional technologies, reproducing the millennial winemaking traditions, keeping wine in the jars without yeast and additives. Terroir is essential in winemaking, as 80% of the quality of the wine depends on the quality of the grapes. The quality of wine is a priority for us because we like to drink wine, and we strive to maintain its purity.
Our team had its contribution in one of the first wine shops in Yerevan. We became an In Vino bar and shop partner that presents more than 900 thousand names and remains the only specialized shop in Yerevan."
Our next stop was the degustation hall with the mind-altering bouquet of wine aroma. The degustation of more than 10 was spiced up with stories of Hovakim and Trinity.
"As a small-scale producer, we still have quite a large selection counting 14 labels of wine. The main line is called 6100, produced from Armenian endogenous grapes: Khatun Kharji, Areni Noir, Rosé Wine, Orange Wine.
Our innovative approaches and restoration of traditions already inspire the whole winemaking culture in Armenia. For example, our Rosé and orange wines seem to have inspired local producers to create a variety of these two wines".
Trinity is more than a winery and wine production. We felt its atmosphere in the air, touched its culture and got inspired by its energy. So why is Trinity so special?
"Trinity is an eco-farm, where California worms work to make manure compost. Here our guests have the opportunity to see the process of wine production in the factory and even try to make wine. As advocates of Armenian culture, we reproduce traditional rituals in detail and present the sustainable culture of wine. We also organize a feast with our wines for the guests. All the products are grown on our land without fertilizers and are eco. We have a production of authentic vinegar, honey, doshab and ecologically clean dried fruits. All the products are also available for sale.
Inspired by traditional winemaking, in 2019, we opened a degustation hall where we host winemakers from all over the world. This new initiative even inspired me to write a book".
Sounds of music took us to another hall.
"Music is a part of Trinity and winemaking. Our teammates are musicians and degustation and feasts are always combined with a small live concert. Trinity has already become a crossroad of cultures".
Our journey is slowly coming to an end. One last question to our friend was to share plans for the future.
"We are planning to add new orchards, grow new varieties of grapes and get homogeneous orchards. Being involved in winemaking and wine history, we have learned much about the wild types of grapes, used the most interesting of them for new gardens and new labels. In the future, we plan to open a wine stock, In Vino concept in Vayots Dzor, where tourists can taste and buy wines. The next step will be the BB hotel chain, which will also contribute to the development of the region as a tourist destination.
Recently, we have started a new initiative with local small wine producers in Vayots Dzor to promote their activities not only as suppliers of raw materials but also to become independent producers."
It is time to say goodbye to Trinity, hoping to come back here, have a walk in new vineyards and try new wines.
Contact Information
Tel. +374 91 227 337
Thank you! You have succeeded your payment. Our tour coordinator will contact you the nearest working