The conceptual venues have become the new trend in Armenia. The places that tell a story and bear culture leave history behind themselves, promising to become valuable sites. Angar, one of the names spotted on the map, is a real treasure hidden in a hangar. The multi-functional complex is located in a beautiful Lori region, surrounded by historical and natural touristic sites.
On our way to Angar, we enjoyed the beauty of the Lori region, the lush green shades of mountains, and flower meadows. No wonder why we had so many stops to soak up that beauty. We are almost there; the Angar is already visible in the distance on the horizon.
We started our walk about the Angar with Yuri Sarukhanyan, CEO of Angar, who talked about the venue's story and how everything started.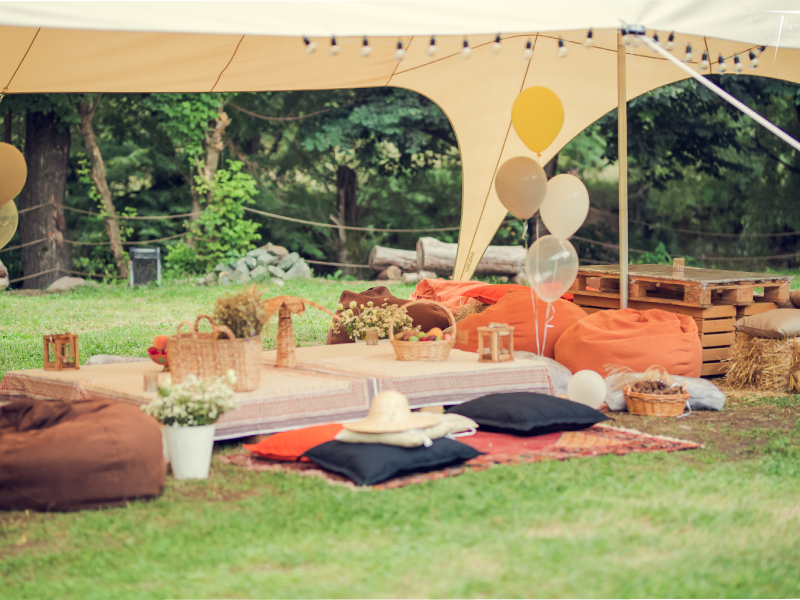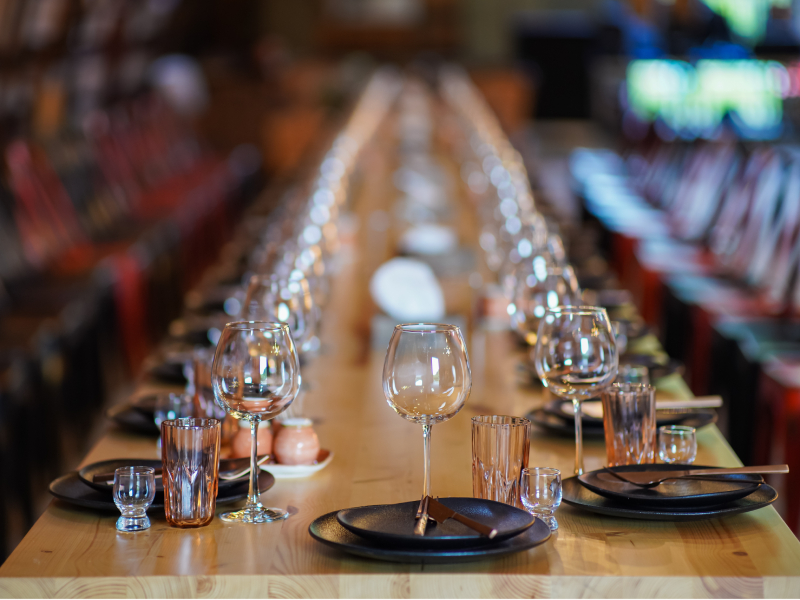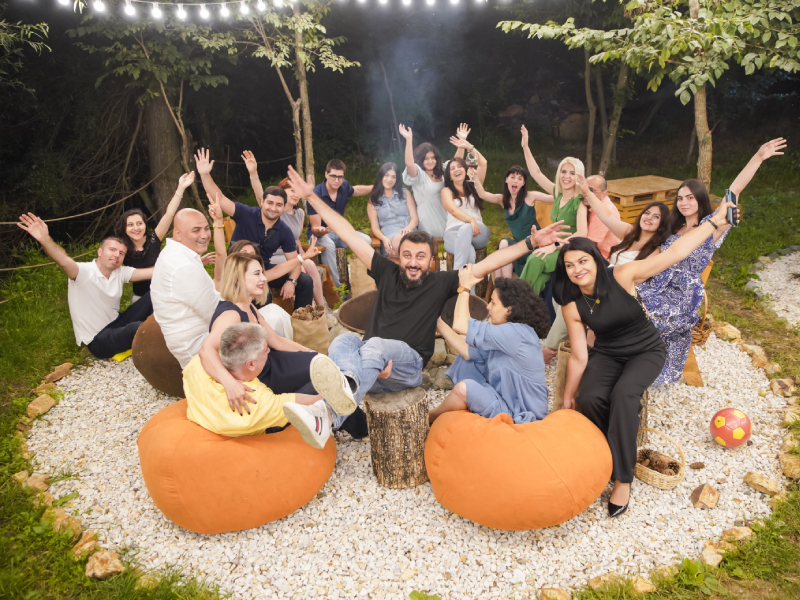 "I am an Horeca entrepreneur from Moscow closely engaged in IT and real estate segments. Living the lifestyle of a person who visits different restaurants, bars, and other venues, I have always thought of starting my own project. Closely related to the real estate business, I noticed that industrial buildings in Moscow city were reconstructed into entertainment areas. The tendency got a real hype, and gradually all the big factories were rebranded into contemporary venues in loft style. Those buildings were located out of the city center and perfectly worked as bars, restaurants, event places, clubs, co-working, and different chill-out zones. The tendency was mutually beneficial for abandoned buildings and the restaurateurs looking for new concepts.
I came up with the Angar idea in the right place at the right time. The trend was too cool and attractive to stand aside, so I decided to realize my ambitions in Lori. As a lean startup methodology supporter, I decided to start from one hangar to test the hypothesis of a new trend in the Armenian market, particularly in Lori province — the industrial and touristic center since the USSR. We started slowly; first, we got several tables and degustation of Samela — the alcoholic beverage produced in the site. The concept proved to be working in the region, so we started expanding Angar with new zones — more tables, fire zones, BBQ zone, fishing zone, and outdoor tents".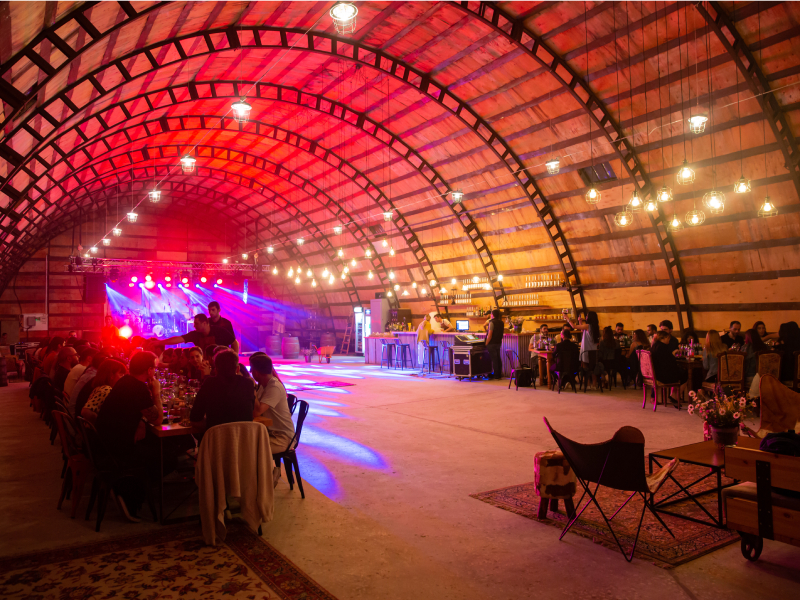 Walking about the territory, we were struck by the beauty and harmony of nature and Angar. The part of the building, left from the previous generation, managed though to become a part of the new world with stylish decorations and people making up the whole atmosphere of Angar. The next question was evident. What is Angar?
"The concept of Angar is not just a venue where you can chill or have fun. The idea is to take urban residents out of cities and show that they can have a party lost in Lori. Angar's configuration itself is suitable for any activity. It has a stage, dance floor, tables for 100+ people, sound systems, artspace, all kinds of installations and decorations, all facilities for infinite fantasy to create, act and enjoy. We are a very flexible platform for any event: teambuilding, product presentation, meet-ups and panel discussions, weddings, birthday parties, concerts, exhibitions, touristic events, etc. Angar has an equipped kitchen and staff for serving about 300 people right off. The cuisine is traditional and continental, served by a professional chef from Moscow. The bar was set up by professionals who also made a special cocktail menu of our distillates.
Three hangars were used as a production base for weaving factories, a sawmill, and a mill. Before we took the buildings for Angar, it was used to produce fruit and berry distillates. We still make it there in small quantities to show the production process to our guests during the tours."
Everything looked perfect, being so far away from urban life and still being a part of it. Was it challenging to get to this point?
"The main challenge was to find professional staff to deliver high-standard service that I visualized for Angar. It was pretty challenging to find experienced managers, bartenders, waiters, and administrative staff in Lori. To get the quality, the staff practiced in one of the best places in Yerevan. Today we lead Lori in terms of service and food quality provision, and we are still working on improving the service. We suffered a lot from the pandemic and war. We had to close Angar for more than a year. Fortunately, we are back with greater enthusiasm and energy".
We are almost there, feeling the vibes and energy of guests enjoying the blues of Angar and nature. What about the guests? Who are they, what are they looking for in Angar?
"Our guests are mostly people from different parts of Armenia, who travel about the country. We also host weddings, team buildings of leading Armenian companies, birthday parties, etc. Angar hosted two concerts of Aram mp3, Sona, and other artists that created the crazy super energy. Those parties were the highlight of Angar that gathered hundreds of guests. Angar has also become a favorite place for tourists and bloggers abroad, local people who value quality service and a good place to spend time with family".
With the most positive emotions and feelings, we are heading back to Yerevan one last time looking back at Angar to find out what we may see the next time.
"I believe that Angar can contribute to tourism activities in the Lori region. As a new concept, Angar has become a place where locals could explore the new standards, get opportunities and work with us on creating something unique. The territory is vast, and we are planning to use its potential. For the future, we plan to place geodesic domes for glamping so guests can stay overnight. I also plan to use the second hangar for a secret project. For winter, we plan exciting events and new concepts. Just follow us on social networks to keep up with the updates. Talking about the region and expansion, we plan to take an old factory nearby Angar for another fantastic project for entertainment. Also, I plan to open new glamping areas in different parts of Lori".
Contact Information
Tel. +374 98 686 890
Thank you! You have succeeded your payment. Our tour coordinator will contact you the nearest working