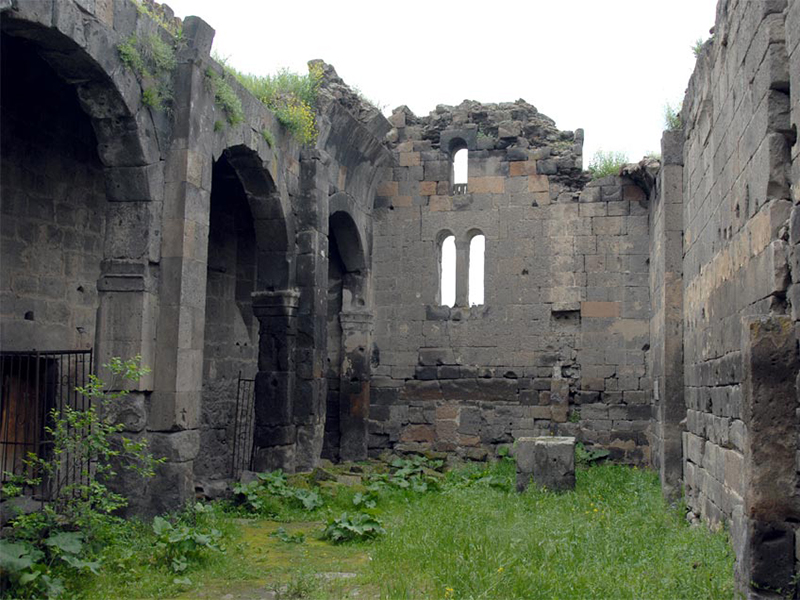 The church of Tsiranavor is located on a cliff, on the banks of the Kasakh River. It was built in the V century; unfortunately, the church is in ruins, and only stone supports hold the walls.
Tsiranavor is one of the churches of Ashtarak town which are connected with an interesting legend. According to it, there were three sisters in Ashtarak who fell in love with one young man. The older sisters decide to sacrifice themselves for the sake of the love and happiness of the younger sister. The elder wore an apricot dress, the middle one wore a red one and they both rushed to the gorge from a high cliff. The youngest of the sisters, after learning about their deed put on a white dress and also rushed into the gorge. A young man named Sarkis became a hermit. After the death of the sisters, three churches were built on the edge of the gorge – Tsiranavor (apricot), Karmravor (reddish), Spitakavor (whitish).
The church had powerful walls and once it served as a fortress (the second name is Pokaberd).
Get acquainted with our tours to Armenia and visit other no less unique sights of the country!
Thank you! You have succeeded your payment. Our tour coordinator will contact you the nearest working