Tashkent, the capital of Uzbekistan offers a luxurious stay for special guests who appreciate comfort and high-quality service. The five-star hotels of the capital present a unique mix of brand quality and exotic motives of Asian culture. Top 7 best hotels in Tashkent offer all the amenities for an unforgettable stay.
Luxury Hotels in Tashkent: Hyatt Regency Tashkent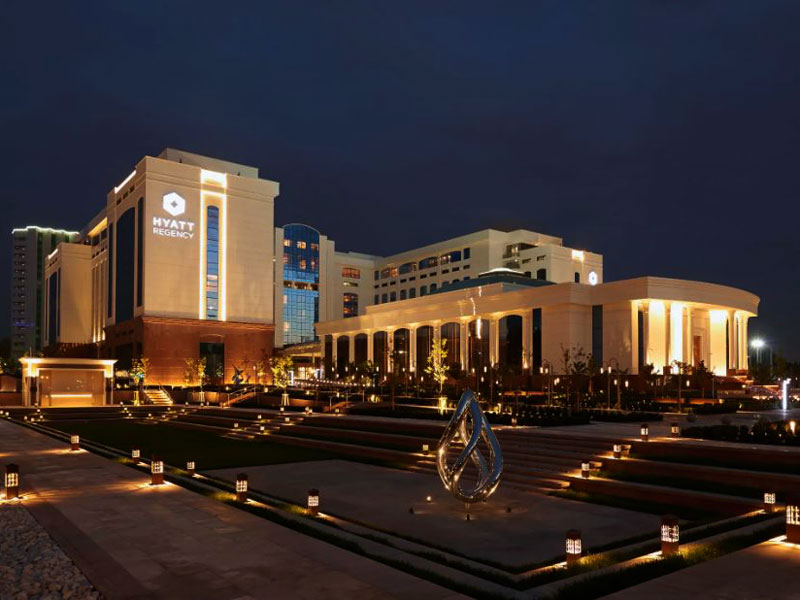 Hyatt Regency is one of the most luxurious hotel complexes in the heart of Tashkent. The location of the hotel is perfect both for business and leisure travellers. 7 floors of the hotel are occupied by 300 rooms of different classes; Presidential Suite, Diplomatic Suite, Regency Executive Suite, Regency Suite King, Deluxe Terrace King/Deluxe Terrace Twin, Club Deluxe King/Club Deluxe Twin, Deluxe King/Deluxe Twin, Club King/Club Twin, King Rooms/Twin Rooms.
On the huge territory of the hotel, there is a 20-meter indoor swimming pool with an amazing view of the poolside area with a lounge zone. Italian restaurant Setter Restaurant & Bar will please you with tasty traditional dishes. To enjoy evenings, you are welcome to Khiva café and Chai Lounge. Moreover, there is a spa centre, fitness room and gym, a beauty salon and seven conference halls.
Luxury Hotels in Tashkent: Wyndham Tashkent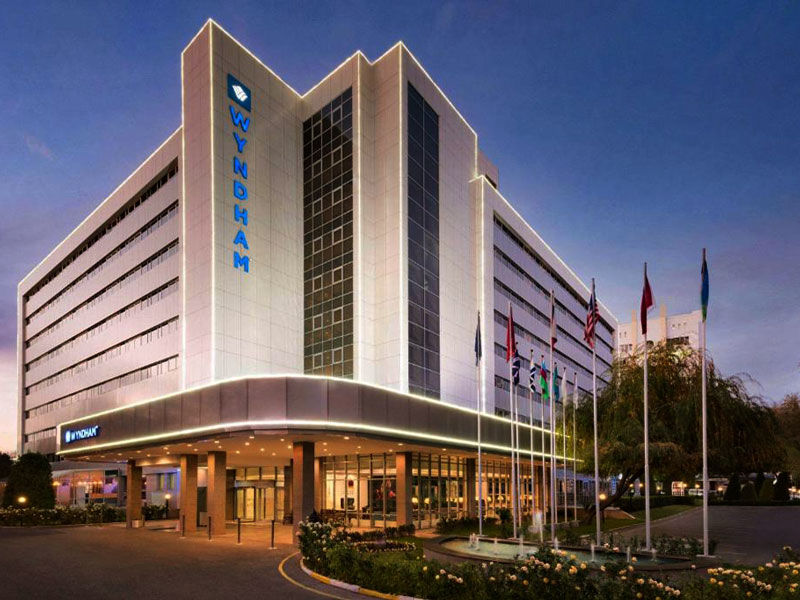 This five-star hotel is one of the best in the capital with world-class service. It is located in the heart of Tashkent, a five-minute walk from Alisher Navoi Metro Station and Alay Bazaar. The hotel is part of Wyndham international network, therefore, all the amenities and service provided meet world standards.
The hotel was renovated just recently offering even more comfortable rooms with a beautiful view. It has a classy minimalistic interior. The rooms are designed in warm tones for extra comfort. There are 100 standard rooms, 98 Junior Suites, 2 Suites, 5 Apartment-rooms, and 1 Presidential Suite.
On the territory of the hotel, there is a health zone with sauna and Hamman, spa centre, fitness room and gym, outdoor and indoor pools, tennis courts, 2 restaurants, lounge bar, and four conference halls.
Luxury Hotels in Tashkent: Ichan Qal' a Hotel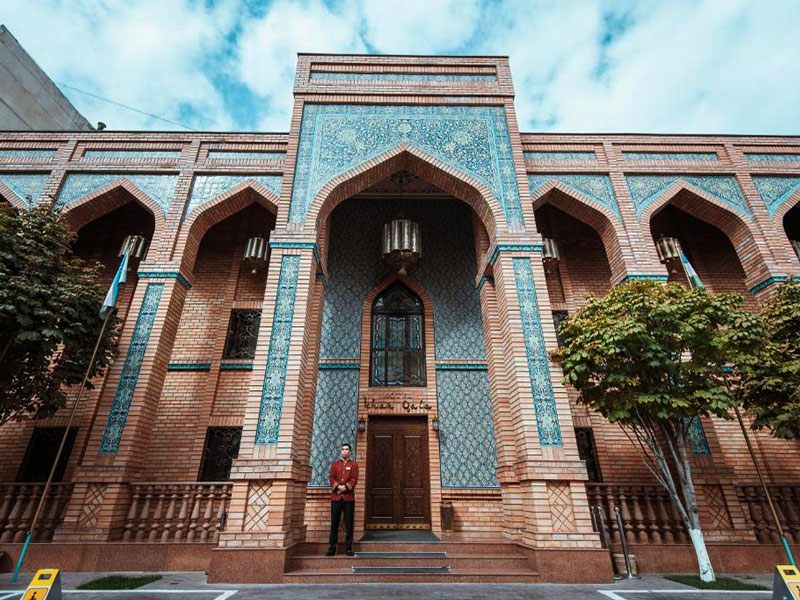 If you are looking for a luxurious Asian hotel with an authentic atmosphere, welcome to Ichan Qal' a Premium Class hotel. This architectural masterpiece is more than just a hotel; it is a city with the traditions and spirit of the ancient Khiva. The hotel is located in 10 minutes' drive from the airport and 15 minutes' walk from Alisher Navoi National Park.
For traditional Uzbek cuisine, there is Ichanqala Restaurant that offers the tastiest national dishes, in the open-air terrace of the lounge bar you can enjoy warm evenings of Tashkent. There are 206 rooms of five classes on the eight floors of the hotel; Deluxe, Junior Suite, Senior Suite, Premium Suite, and Royal Apartment. For relaxation, there are indoor and outdoor pools, spa centre, gym, and sauna.
Luxury Hotels in Tashkent: City Palace Hotel Tashkent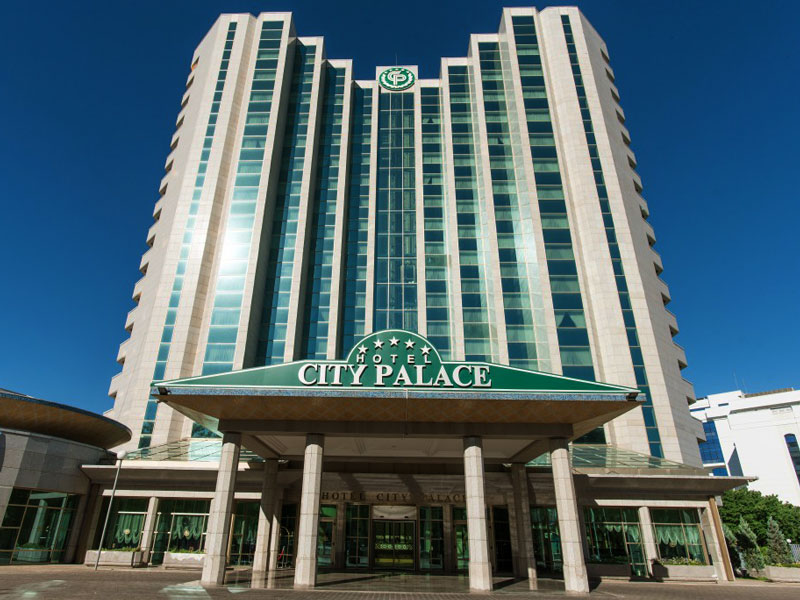 Luxury five-star City Palace Hotel Tashkent is the part of Sheraton Hotels network and meets all the international standards. The unique posh design of the hotel immediately captures attention. The eastern luxury is mixed with European classy details and modern technologies. Such a blended style looks even more attractive on the background of the walls with colourful mosaic.
City Palace Hotel has 259 rooms in Standard Single, Double, Twin, Triple, Studio, Suite and Presidential Apartment class. For parties and weddings, the hotel has "Ball Room" restaurant, smaller Marakesh restaurant with traditional and European cuisine, Amudarya Restaurant, lobby bar and "Lounge bar and Library". The most beautiful part of the hotel is "Summer Terrace" for 600 guests.
Luxury Hotels in Tashkent: Lotte City Hotel Tashkent Palace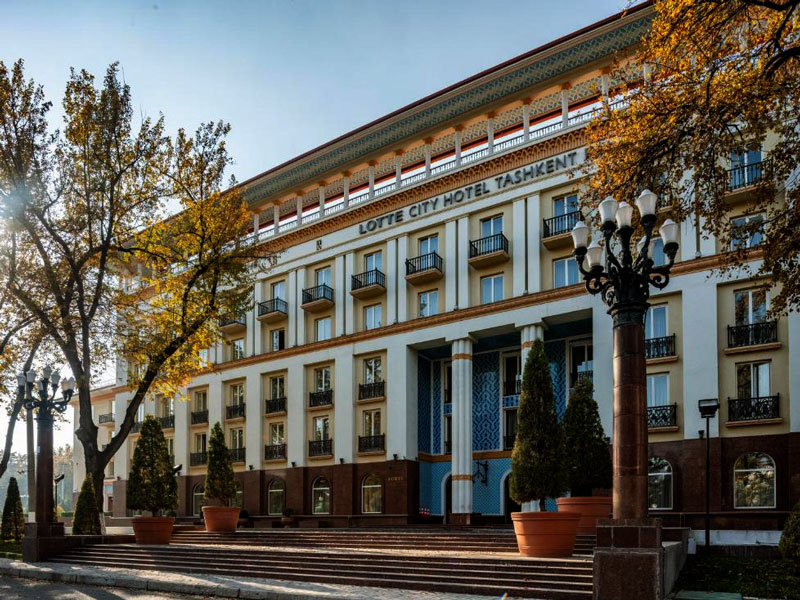 The building of the hotel was built in 1958. This beautiful architectural building is now one of the popular hotels of the capital with all the amenities for a comfortable stay. It is located in the city centre, close to Independence Square. All the major attractions of Tashkent are located nearby.
The interior of Lotte City Hotel is classy and elegant. The venue has two restaurants with European, Asian and Eastern cuisine, 24-hour bar, health club with fitness centre, yoga hall, gym, and an outdoor pool. Guests are welcome to enjoy dinner or cocktails on the rooftop terrace of the restaurant.
The four-star hotel offers 232 rooms including 119 Deluxe, 69 Deluxe Twin, 8 Junior Suite, 5 Superior Suite, 2 Suites and 29 Superior rooms.
Luxury Hotels in Tashkent: International Hotel Tashkent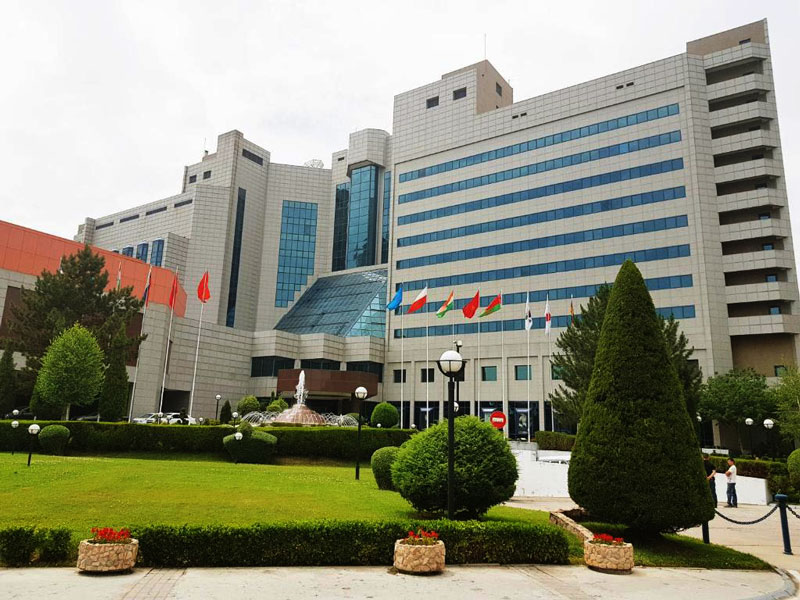 International Hotel Tashkent was the first five-star hotel in the capital that offered service meeting international standards. It is located close to the Uzexpocentre and International Business centre. It has a beautiful view of the lake and a Japanese Garden.
174 modern rooms of the hotel are designed in a classy and elegant style with light walls and high ceilings. The atmosphere is perfect for both work and rest. There are six classes of rooms including Standard, Superior, Junior Suite, Senior Suite, Vice, and Presidential rooms. The infrastructure of the hotel also includes six restaurants and lounge bars. The restaurants will please the guests with amazing panoramic view and exquisite dishes of European and Continental cuisine. Brasserie on the Park is a posh restaurant with the first-class service that has summer terrace for romantic dinners.
Luxury Hotels in Tashkent: Ramada Tashkent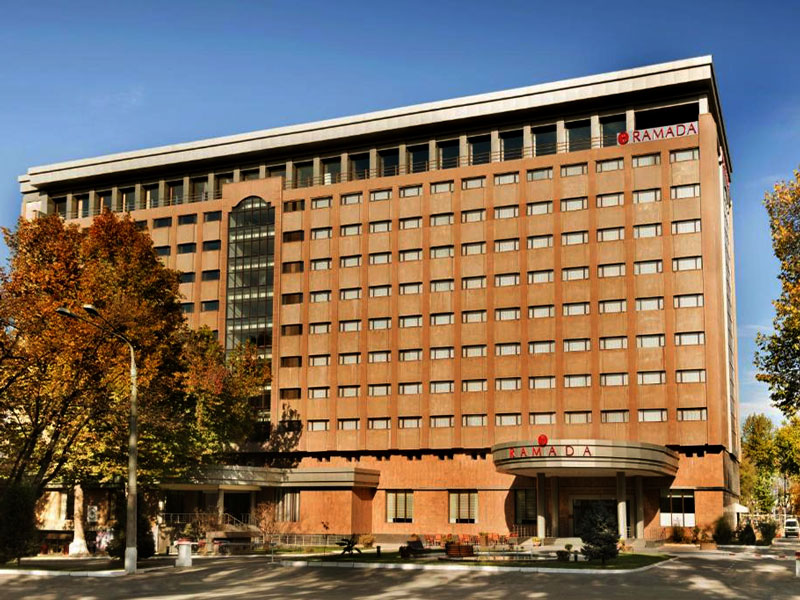 Ramada has opened its doors now in Tashkent to welcome guests seeking for comfort, luxury and exotic notes of the East. It perfectly combines modern facilities with a classy interior. Ramada hotel is located 8 km from the airport, close to the city centre. It is part of the rhythm of the urban city and its nightlife.
The venue offers 120 rooms of different classes on 10 floors; Premium Double Room, Premium King Suite, Double Room, King Suite, Superior Twin Room with a beautiful view to the mountains, Premium King Room. Hotel facilities include but are not limited to several restaurants and bars, an indoor swimming pool with sauna, massage rooms, and fitness centre.
Choose the Tour to Central Asia you like most and we will organize your amazing holidays in 5 stans.
Thank you! You have succeeded your payment. Our tour coordinator will contact you the nearest working