Armenia is a sunny country which every year pleases its inhabitants and guests with bright, juicy and fragrant fruits.
Fruit cultivation is one of the leading sectors of Armenian agriculture. Favorable climatic zone and good water contribute to the fact that Armenian fruits have a unique taste and are famous not only in Armenia, but also abroad. Here agriculturists cultivate apricots, peaches, apples, plums, grapes, figs, pomegranates, quince and others. However, there are several types of fruits which with their special incomparable taste are considered real living symbols of the country.
Armenian fruits: An apricot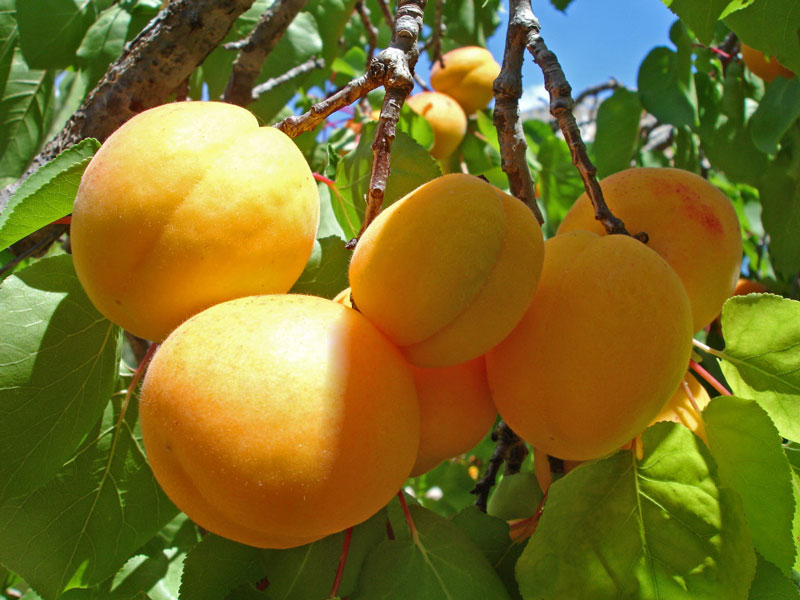 There are so many versions about the origin and the spread of apricot around the world. However, the most common states that this fruit has Armenian origin. In the first century B.C., one famous Roman commander took an apricot to Rome and called it "Armenian apple". After that Armenian origin was immortalized in science and in 1700 botanists gave a scientific name to the fruit – "Prunus armeniaca" (translated as "Armenian plum"). Some time ago due to archeological excavations some ancient apricot pits were found in Armenia which proved that apricots are grown in the country from the 4th millennium BC.
For many years, this golden fruit has been a symbol of Armenia. It absorbed the bright rays of Armenian sun and every year pleases all with its gentle taste and aroma. The apricot season doesn't last long: it begins in June and ends at the beginning of August. During the season it is impossible to imagine Armenian table without apricots: they are served for breakfast, added to hot dishes and desserts. By the end of the season, thrifty housewives select the best ones and dry them or prepare apricot jam, which by its unique aroma is difficult to be compared with anything else.
It is often said that an apricot contains gold. That's because it contains so many nutrients and vitamins important to human health.
However, an apricot tree is known not only for its unique fruits. Of its wood Armenians made duduk – the most beloved and well-known national musical instrument. It is also called "tsiranapoh", which is translated as "a pipe made from an apricot tree". Masters have tried to make duduk from other types of wood (plump-tree, apple-tree) however the right sound has only an instrument made of an apricot tree.
An apricot is also a symbol in the culture. If in Cannes Palme d'Or is awarded in Armenia – Golden Apricot.
Armenian Fruits: A pomegranate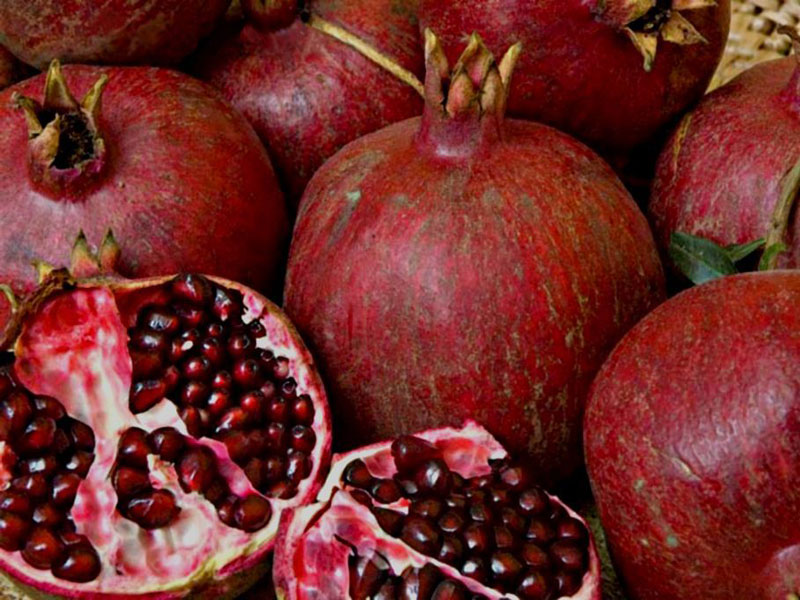 A pomegranate is another living symbol of Armenia. It can be met everywhere: on market and shop counters, as a souvenir or element of interior and architecture. And it is not by accident. Ethnographers proved that since ancient times in Armenian tradition, this fruit had been considered a symbol of fertility and prosperity.
Pomegranates ripen in fall and survive till New Year. The grains are added to various national dishes, particularly in pies and meat dishes. Armenians also prepare delicious pomegranate juice.
In Armenia, a pomegranate is first of all a souvenir. Yerevan souvenir fair "Vernissage" is just filled with it: figgeries, trinkets, parts of the interior, still lives etc.
Armenian fruits: Grapes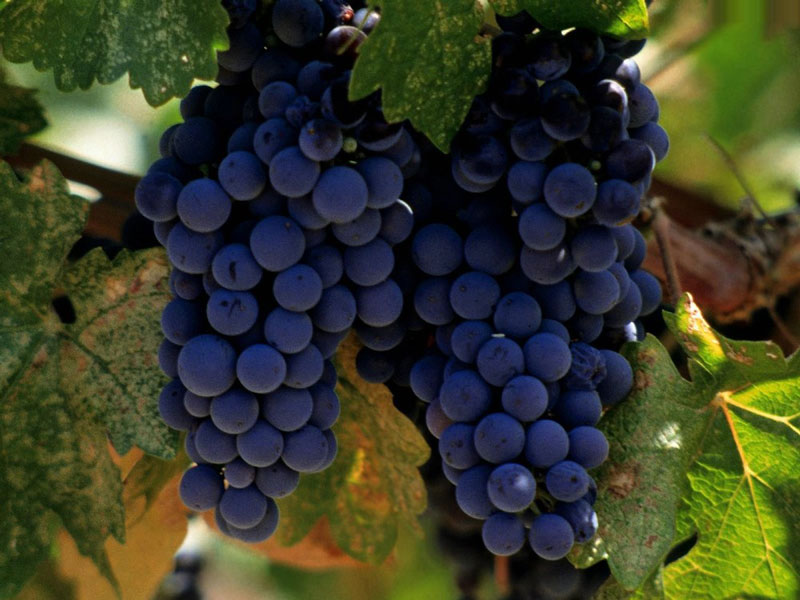 According to the Bible, Noah's Ark landed on the territory of Ararat Mountains and Noah planted there vine. It is believed that since that time the grapes are grown on the Armenian land. This amazing fruit symbolizes abundance and vitality.
Its season starts in fall. Due to the small amount of precipitation and lots of sunshine, grapes here are very sweet. From this fruit, Armenians make famous cognac and wine as well as juice. And one of the most delicious national dishes, dolma, is prepared with grape leaves.
The theme of grape is also found in the national art. This symbol is depicted in the cross-stones and is widely used in jewelry making.
One of the most famous places where the grapes are grown is the village of Areni. Some time ago archeologists here found the oldest winery in the world.
Armenian fruits: Where to buy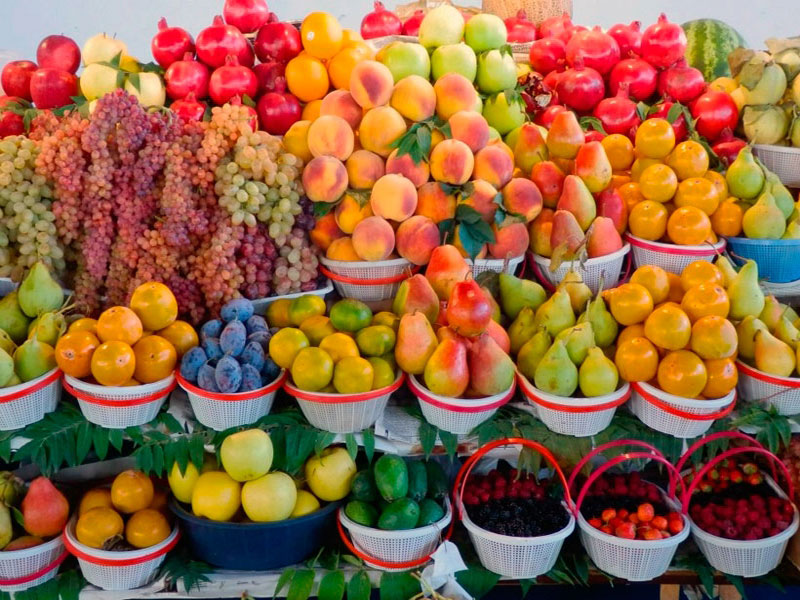 During the high season counters of Armenian shops and markets are full of bright and juicy fruits. Almost any grocery stores, supermarkets, or markets will offer you a wide range of both Armenian and foreign fruits.
Buying apricots is better in high season, from June to the beginning of August. Prices depend on the apricot harvest. If the harvest was plentiful, you have to pay just $ 0.5-2 per kilogram. If for any reason the harvest was poor, then the price will be high, from $ 5-10 per kilogram.
Grape season begins in fall, in September. Grape harvest in the country is always plentiful and prices are low. One kilogram will cost just $ 0.6-2.5.
Pomegranate in Armenia can be found all year round. But the season starts in late autumn. At this time, the prices are low, from $ 1.5-3 per kilogram.
The most famous market among tourists is "GUM", which is located at the intersection of Mashtots and Khorenatsi streets. It sells all sorts of national products, sweets, and, of course, vegetables and fruits. Here you can also buy high-quality Armenian dried fruit.
Our Summer or Autumn Tours to Armenia will let you enjoy a vivid variety of juicy local fruits!
Choose the Tour to Armenia you like most and tour-operator Arara will organize your amazing Holiday in Armenia. Travel to Armenia with the local agency.
Thank you! You have succeeded your payment. Our tour coordinator will contact you the nearest working