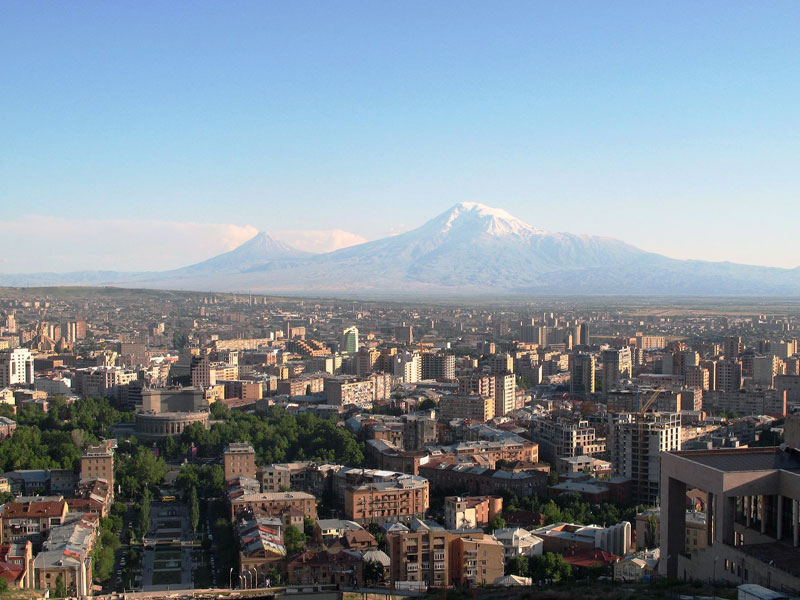 Yerevan is the modern capital of Armenia, one of the oldest cities in the world, and the largest city of the country. According to the cuneiform of the king of the ancient state of Urartu, Argishti I, Yerevan was founded in 782 BC. Historians say that the king built a fortress on Arin-Berd hill and called it Erebuni. It is around this ancient fortress has grown Yerevan.
Yerevan has always played a big role in the economic and political life of Armenia. But for a long time after its foundation, it was not the capital of the country. The city was proclaimed the capital only in the XX-th century in 1920. By this time the town was small in size and devastated after the earthquakes and invasions. Since 1930 began its intensive reconstruction.
The population of modern Yerevan reaches 1 million people 90 % of which are Armenians.
The architect of the modern capital is Alexander Tamanyan who was able to give this very unique and beloved face to the city. Yerevan is built on the principle of the circle with the streets branching out as rays.
Tumanyan applied in his urban planning the natural stone of Armenia – tuff. The most commonly used tuff with a pinkish tint, so Yerevan is sometimes called the "pink city".
On the project of Alexandr Tamanyan was constructed the main attraction of the city, the «heart» of Yerevan – the Republic Square framed by government buildings. His design was also used for the construction of the beautiful building of the Opera and Ballet Theatre after A. Spendiaryan.
Among the attractions, all the tourists are recommended to visit the Research Institute, Matenadaran Museum – a unique repository of ancient manuscripts in the world. You can also visit the museum of Erebuni and learn more history of the city.
Another attractive destination in the capital is a huge staircase Cascade – a kind of decoration of the city, connecting the center with the residential area. Around the stage, you can see the modern valuable sculptures of world-known sculptors. On the observation area of the Cascade one can admire the breathtaking views of Ararat Mount and the entire city.
The city infrastructure is well developed, it is gradually developing tourism. There are about 80 hotels that meet international standards were built. There are also representatives of global hotel chains: Marriot, Radisson, Golden Tulip, Best Western and others.
Thank you! You have succeeded your payment. Our tour coordinator will contact you the nearest working