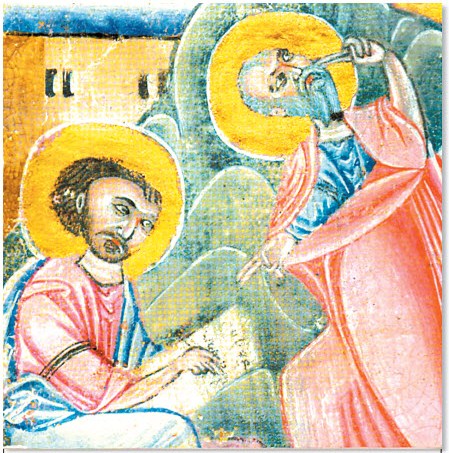 Anyone who has ever seen Noravank Monastery, in the gorge of Vayots Dzor, will attest to its unforgettably striking architecture. The monastery was designed and built by Momik the Architect, and guarantees to be recalled in one's memory, along with joy and serenity, long after leaving it. Even today the purity and tranquility of the miniatures and khachkars on the walls overwhelm visitors, because everything that the great Momik's hands touched turned to magic.
People back 700 years ago were aware of its magnificence, when it was built on the ledge of a winding river gorge, among the red cliffs.
If those cliffs could talk they would tell many great stories, including one about a man who did a good deed, but did not get a reward of fun and happiness.
Master Momik had fallen in love with the beautiful daughter of Prince Orbelian, the lord of Syunik province. The beauty returned his love and was completely smitten by the talented architect. When her father heard of their love, he requested Momik's company and said to him "I'll give you my daughter's hand in marriage, but only if you can build a temple of incredible and unmatched beauty, in less than three years."
Immediately, Momik went to work, cutting huge chunks of rock, carving them into building blocks. He met the deadline in time, and as he was putting the finishing touches to the dome, while crouching on the very top of the temple, he rejoiced in anticipation of seeing his beloved. Suddenly a man rode up to the temple, climbed up to where Momik was and pushed him off, as he had been instructed to by his master, the Prince of Syunik. Momik plummeted to the ground, clutching the last block of the dome in his hands. That stone became his tombstone.
The beauty of Noravank has never died—it has become only brighter and more brilliant. For seven centuries its praises have been sung to the blue sky, the eternal golden sun and red mountains.
Thank you! You have succeeded your payment. Our tour coordinator will contact you the nearest working