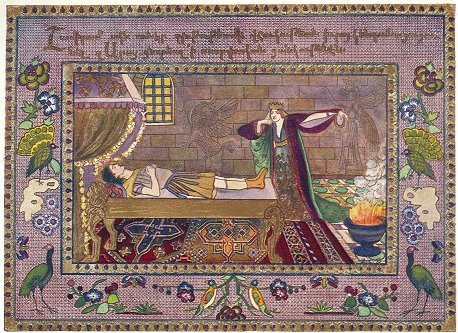 The powerful Queen of Assyria, Queen Semiramis, was infatuated with the Armenian King Ara the Beautiful. Her love for him was so great that she sent him countless gifts via her messengers, but each one was returned — Ara was not interested. She tried countless times to capture his heart, but to no avail.
As her heart was breaking, she got fed up and declared war on Armenia — her message to her soldiers was to conquer Armenia and capture its proud king, alive.
The battle happened in the Emerald Valley, at the foot of a mountain — a place so beautiful that it even death itself may not be able to enter.
But this was not so. As the sun set on the valley it was red with the blood of dead soldiers. The Assyrian troops had toppled the Armenian warriors. On hearing the news, Queen Semiramis immediately ordered for Ara to be captured. The last of the Armenian army put up a brave fight to protect their king — some died on swords in their last ditch effort to keep the Assyrians away. One of Semiramis' lovers deliberately shot the beautiful king with a bow to the chest, so as to finally get rid of his handsome rival.
The arrow was poisoned and Ara the Beautiful collapsed and died on the battle ground. Semiramis ordered for his body to be brought to her, so she could get one last look at the man she had loved for so long, and who had chosen to die rather than be by her side. Her soldiers brought her body after body, so many that the area was littered by the bodies of Armenian warriors. None were Ara.
Her men would say "Ar, znni; ar, znni" meaning: "Here, look; here, look." The queen stood still, transfixed, as tears of remorse ran rivers down her cheeks, their words ringing in her ears.
Today, the city of Arzni is in a valley at the foot of Mt Ara. When you visit it on a spring morning and look up towards the heavens, you may see a flock of birds form the shape of a young beautiful king in the sky.
Thank you! You have succeeded your payment. Our tour coordinator will contact you the nearest working