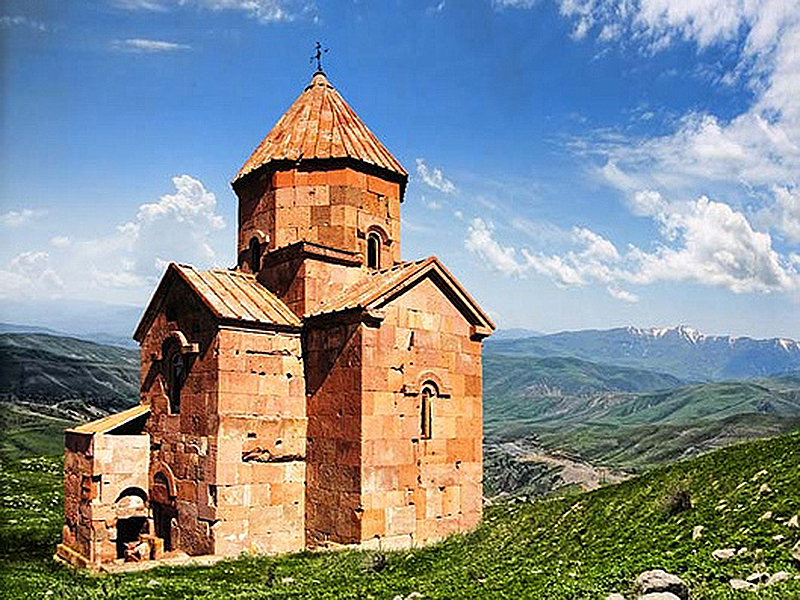 The church of St. Stepanos or Lmbatavank is located on the northwestern slope of the Shirak plateau, 2 km from the town of Artik. The cross-domed basilica with an octagonal tower was built in the VI century. The wall paintings of the church are considered the most valuable and well-preserved specimens of the 7th century. On the walls, there were preserved the donations of the XII century by the Pahlavuni clan. On the outer walls, there are partially preserved frescoes in which the scene depicting of the "Appearances of God", the fresco of the throne of Jesus Christ, the images of St. Gevorg and St. Sargis, the fragments of frescoes with twelve apostles and the Mother of God.
The octopus was built of tuff, which was mined on the spot. In winter, surrounded by white snow, Lambatavank seems pink, in summer and at different hours of the day the church is painted red, orange and yellow.
On the way to the church, there is a small gorge with a clean spring. According to locals, the spring water has a healing power.
Get acquainted with our tours to Armenia and visit other no less unique sights of the country!
Thank you! You have succeeded your payment. Our tour coordinator will contact you the nearest working