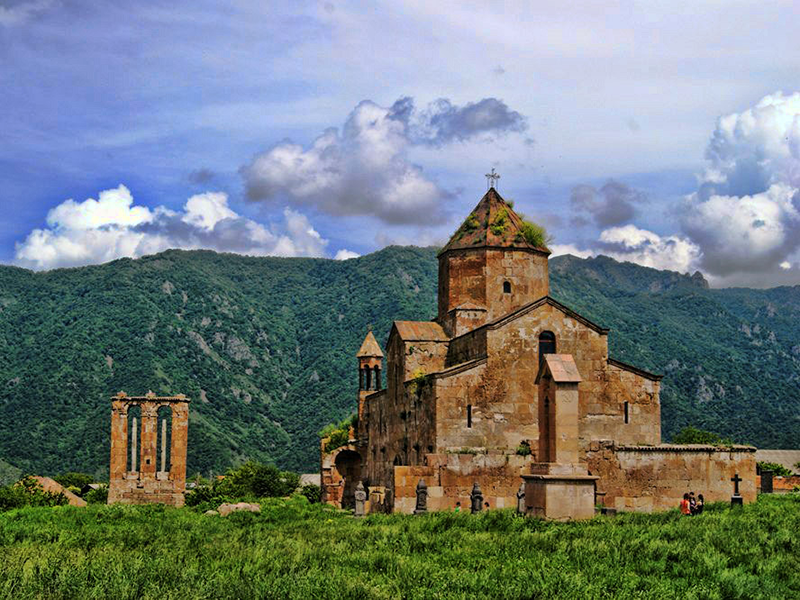 The monastery of Odzun is located in the north of the country, on the territory of ancient settlements. The region is famous for its historical monuments like Sanahin Monastery and Haghpat Monastery, medieval cemeteries and churches.
VI century monastery is located above the abyss of the gorge, Debed river flows in the gorge. The date of its construction is indicated approximately, proceeding from the architectural style of the monastery. The facade of the temple is decorated with beautiful ornaments, Christ with a book and the lines of the Gospel of John is carved above the window. The interior is also very unique, the walls of the temple are decorated with rich murals. On the south wall, there is a sundial.
Not far from the monastery there is one unique structure – high blue stone steles under the arches. According to locals, it is a monument to Hovhannes Odznetsi, Armenian Catholicos, who was born and grew up in a monastery. In his honor, the monastery was named Odzun.
Get acquainted with our tours to Armenia and visit other no less unique sights of the country!
1 Comments
Jan 06, 2019 at 01:03
Odzun
Thank you! You have succeeded your payment. Our tour coordinator will contact you the nearest working