The Armenian national cuisine is a subject of pride for Armenians and the subject of envy for its neighbors! Ethnic cuisine in Armenia has more than 2,000 years of existence, and fully reflects the traditions and customs of these ancient people. After all, in the preparation and recipe of each dish are enclosed thousands of years of traditions which the Armenians retained for centuries and preserved to our days. To visit Armenia and not to try Armenian national dishes – khorovats, khash, spas and dolma is simply unreal! Today we will tell you in detail about the national cuisine restaurants in Armenia, and you will no longer have the problem of choosing the venue where you can eat tasty food and spend an unforgettable evening!
National Restaurants in Armenia: Taverns and Fast Food Chains
For tourists who travel to a foreign country, the issue of dining out is always relevant, especially if the budget and funds are limited. That is why we believe that the best option to get acquainted with Armenian local cuisine is to visit taverns and local fast food chains. They are no way inferior to expensive restaurants, and even superior by the quality and quantity of served food. Many taverns serve native Armenian dishes such as khorovats, spas, harisa, khash, kebab, dolma, tzhvzhik, as well as sweets and variety of pickles. Almost all taverns are in the same price range and do not hit your wallet: a bill for an average dinner with a hot dish, soup, salad and a drink, as a rule, is from 4 000 to 5 000 AMD (8-10 USD). A portion of kebab is worth 700 – 900 AMD (1.5 USD), a portion of the Armenian soup "spas" made from yoghurt costs 500 – 600 AMD (1.3 USD), a portion of barbecue for 2-3 persons, depending on the type of meat varies from 1 500 – 3000 AMD (3-6 USD). An incredibly nourishing Armenian porridge with chicken called "harisa" you can try just for 800 AMD (1.5 USD), a portion of the national soup "khash" served with lavash and variety of pickles will cost from 1500 -2000 AMD (3-4 USD). A cheese plate with Armenian sorts of "chanakh and lori" will cost around 1500-2000 AMD (3-5 USD), and cold cuts with basturma and sudjukh will cost 2500 AMD (5 USD).
Most of taverns' interior design is decorated in the national style. In the evenings folk ensembles perform with songs and dances. You can also join in and spend a pleasant time, embracing the Armenian national cuisine accompanied by exciting national music!
«Yerevan Pandok» Tavern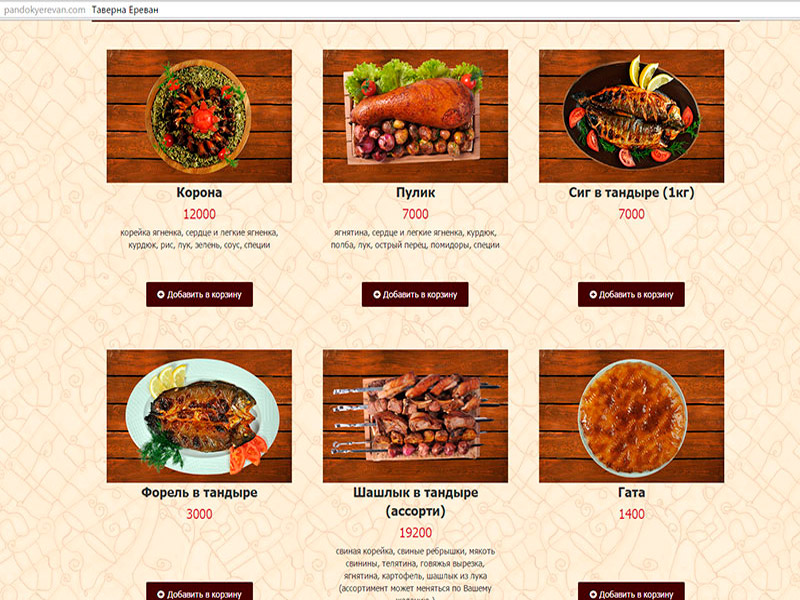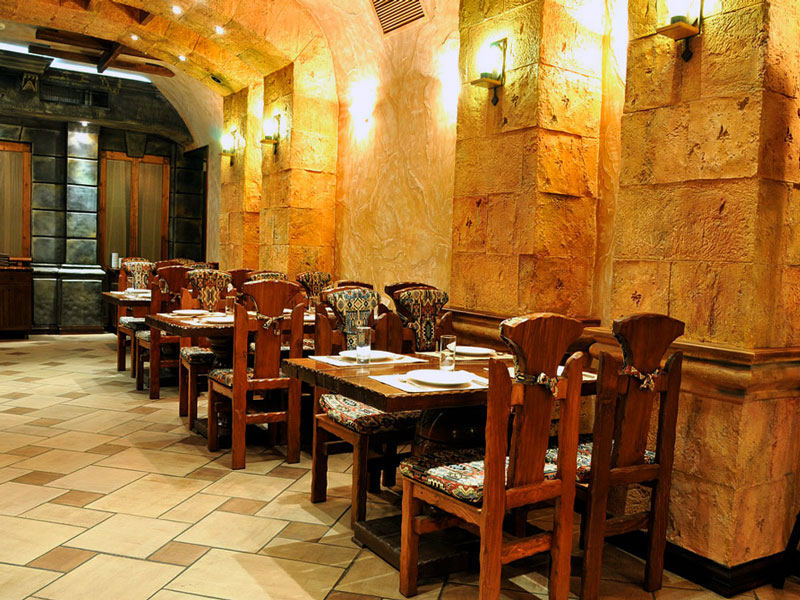 "Yerevan Pandok" restaurants can be found throughout the city center. It is a popular place for both residents and guests. Tavern offers a wide variety of dishes from local and Caucasian cuisine, coupled with the national styled interior and excellent service. In the evenings there is live music performed by folk bands. In restaurants, there are also VIP- halls for closed parties, events or business meetings. There is a service of delivery and reservation of tables and halls.
Address: Amiryan Str. 5; Teryan Str. 91/1; Paronyan Str. 7; Movses Khorenatsi Str.29/2
Phone: +374-10-600006 (delivery service)
Working hours: Mon – Sun 10:00 – 00:00
«Old Zangezur» Tavern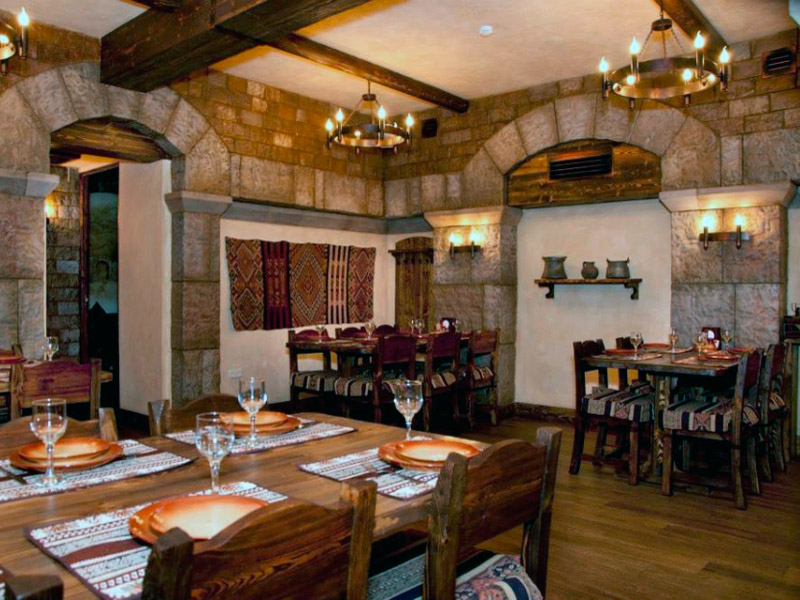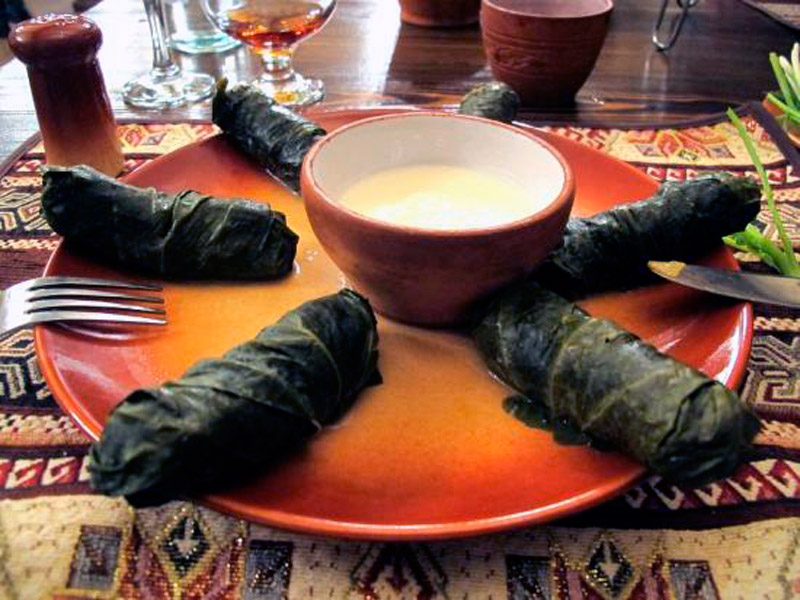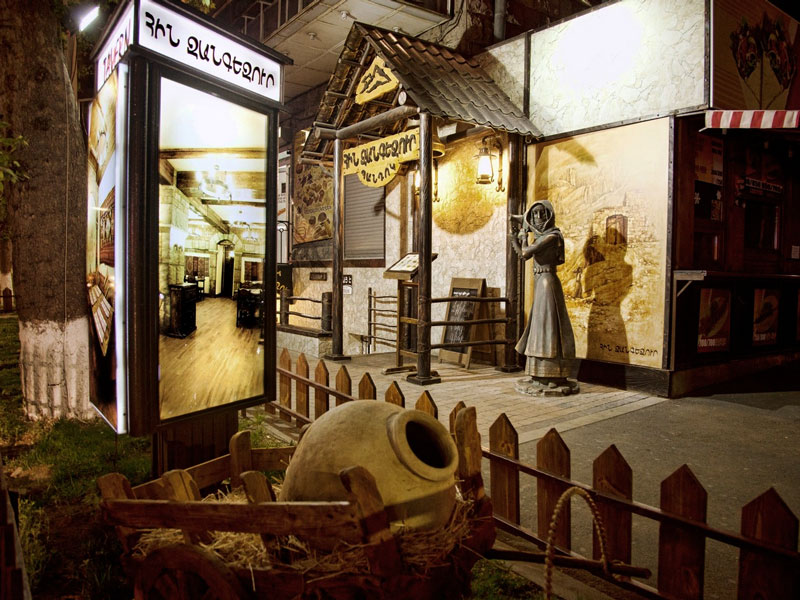 «Old Zangezur» tavern is located on Mashtots Avenue, next to the Blue Mosque. Tavern is ideal for tourists as here you can have a tasty and inexpensive dinner consisting of all the dishes of Armenian cuisine. Great choice on the menu, pleasantly surprising prices, excellent service and interior, designed in authentic Armenian style, will not leave anyone indifferent. In the tavern there is also a delivery service.
Address: Yerevan, Mashtots Ave, 3
Phone: +374-10-53-88-62, +374-91-538862 (mob)
Working hours: Mon – Sun 10:00 – 00:00
«Caucasus» Tavern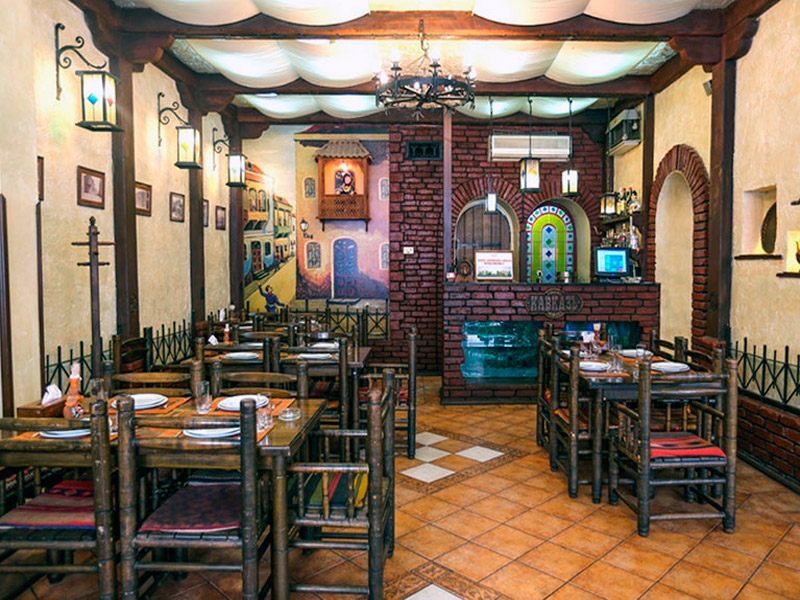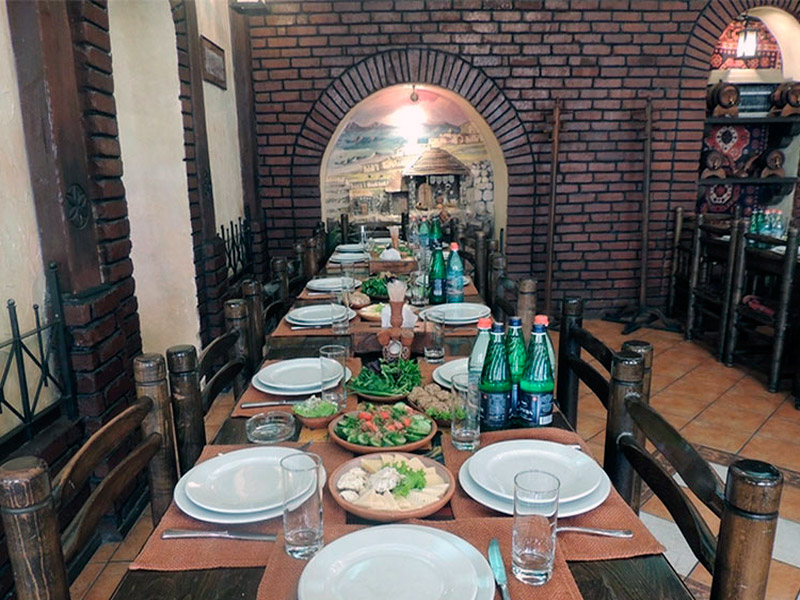 Armenia, being at the crossroads of Asia and Europe, is very often associated with the Caucasus, despite the fact that in fact the county is situated at the Transcaucasia. Of course, the Caucasian culture is very close to Armenians, as well as the cuisine of the fraternal peoples. That is why in Yerevan for more than 10 years is operating a popular restaurant under the proud name of "Caucasus". It serves a variety of dishes of the Armenian, Georgian and Caucasian cuisine. The authentic interior of the Armenian and Georgian halls as if takes you back to ancient Erivan and Tiflis of the Imperial era.
Address: Yerevan, Hanrapetutyan Str. 82
Phone: +374-10-561177, +374-98-561177 (mob)
E-mail: info@pandokyerevan.com
Working hours: Mon – Sun, 24/7
KARAS – National Food Chain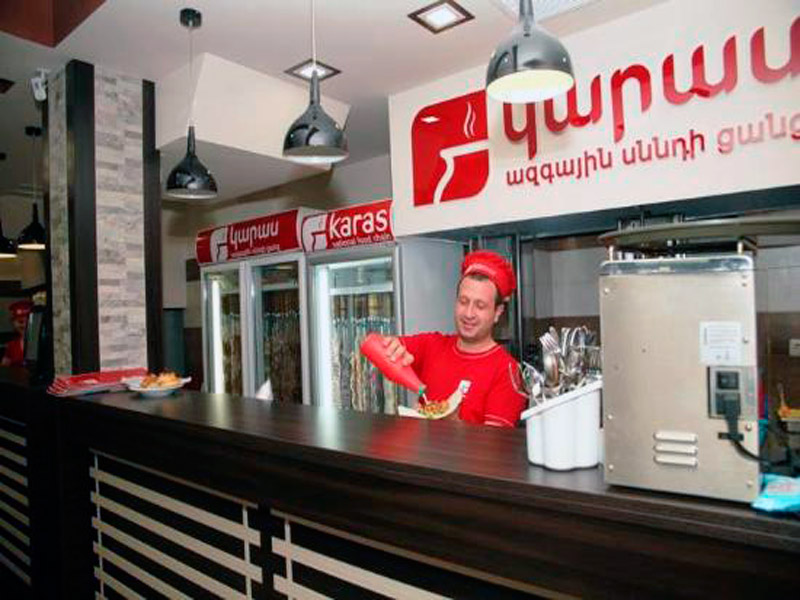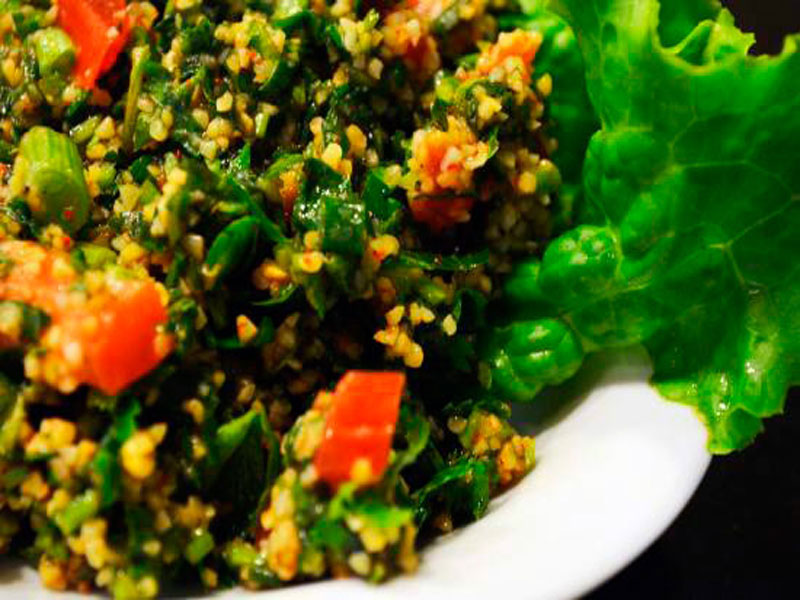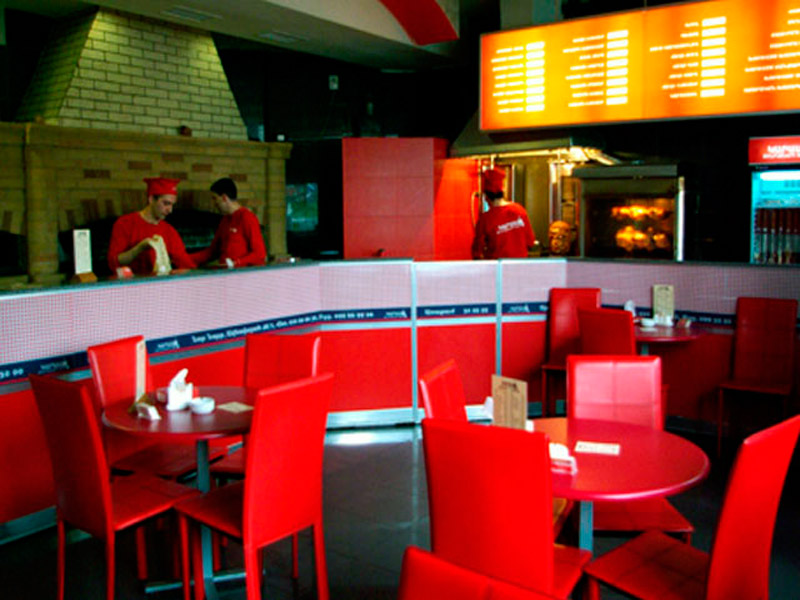 Karas national food chain is one of the most famous and beloved restaurants in Yerevan and outside it. Karas has about 13 outlets in Yerevan and Tsaghkadzor. Karas is known not only for its delicious cuisine and affordable prices, but also as the largest food delivery service in Armenia. Within Yerevan the delivery costs only 300 AMD (0.5 USD).
Address: Mashtots Ave, 20; Abovyan Str. 1/1; Tumanyan Str. 19
Phone: +374-10-325555, +374-99-325555 (delivery service)
E-mail: info@karasrestaurant.am
Working hours: Mon – Sun, 24/7
National Restaurants in Armenia
Below we present high-scale national cuisine restaurants in Armenia. Here, foodies and people with good taste will be able to quench the appetite and spiritual hunger, being introduced to the Armenian culture through rich centuries-old cuisine traditions.
Dolmama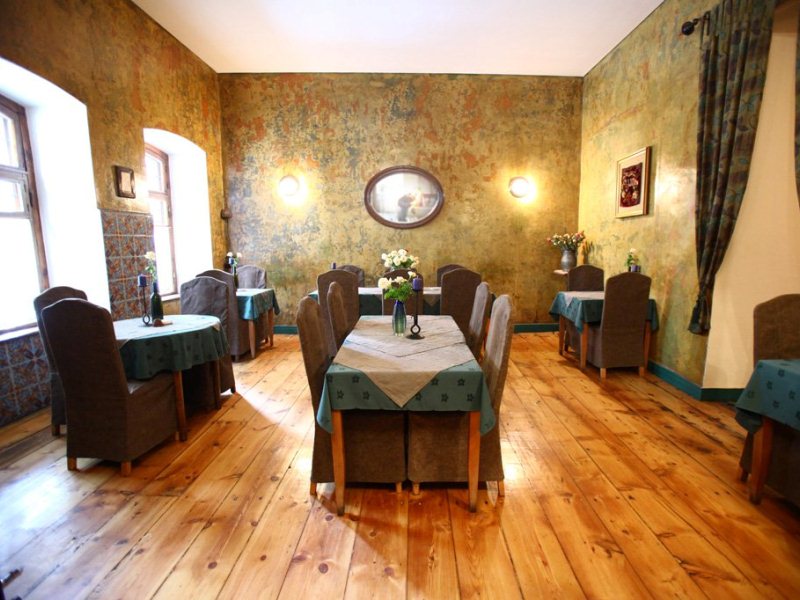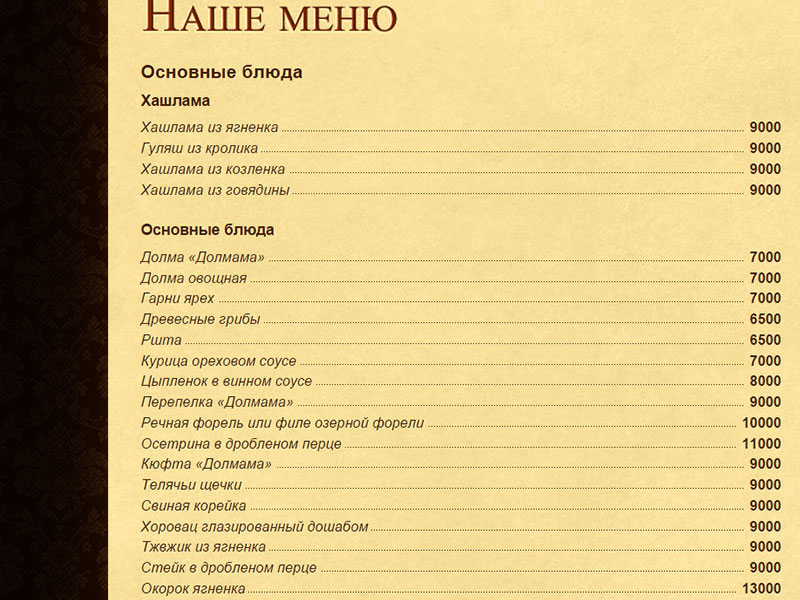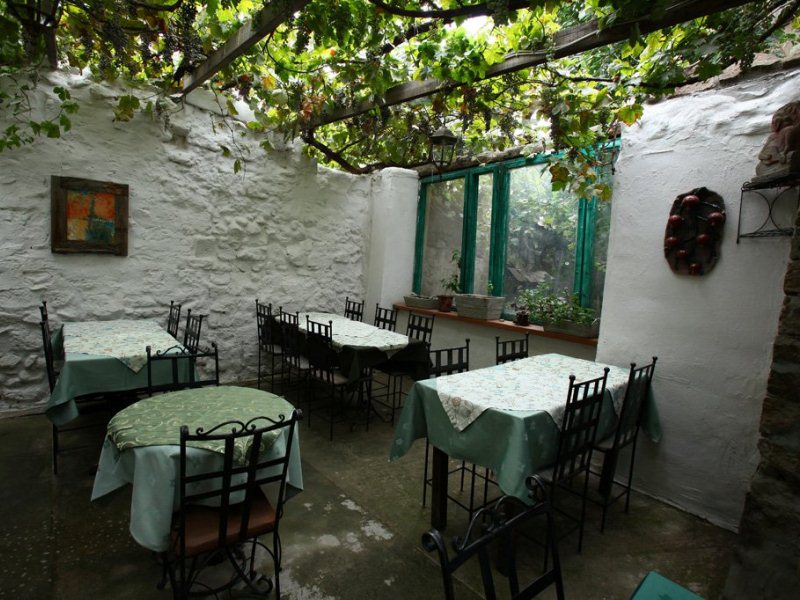 One of the symbols of Yerevan, and a favorite place for tourists is the restaurant Dolmama, which is located in the heart of the capital. The hallmark of the restaurant is a native Armenian dish dolma or tolma – minced beef, seasoned with spices and wrapped in grape leaves. The chef prepares dolma in different variations and according to your taste. The restaurant's interior is extremely atmospheric and colorful, with elements of folk style.
Address: Pushkin Str. 10
Phone: (+374 10) 561 354
E-mail: info@dolmama.am
Working hours: Mon – Sun, (11:00 – 23:30)
Average bill: 10 000-15 000 AMD (20 -30 USD)
Tufenkian Kharpert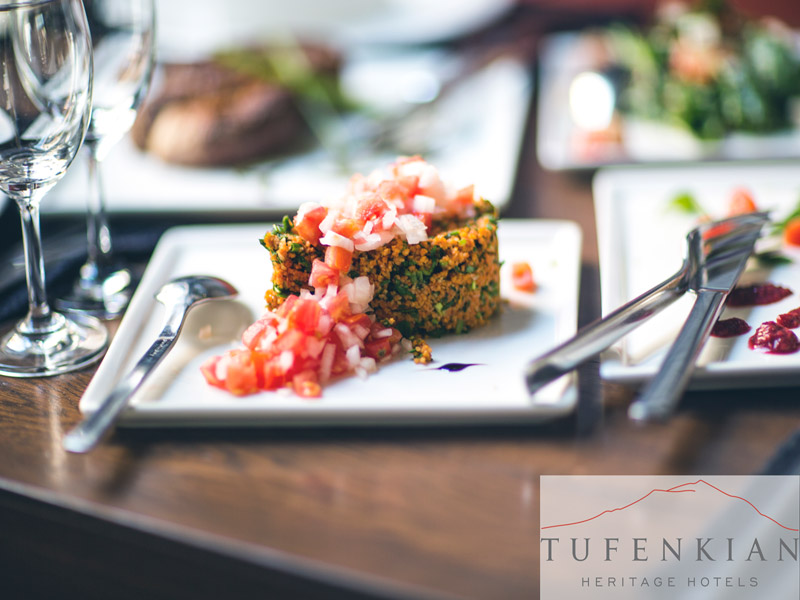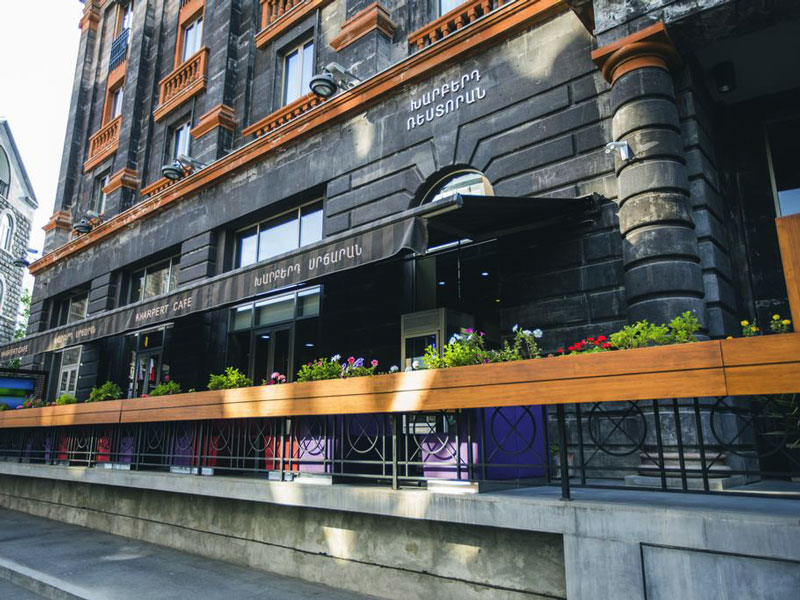 Tufenkian Kharpert restaurant is located in the eponymous hotel of Tufenkian. All the dishes are prepared according to the traditions of historical Western Armenia and only with fresh products.
Address: Hanrapetutyan Str. 48
Phone: +374 60 501030, +374 60 501010
Working hours: Mon – Sun (09:00 – 23:00)
Average bill: 5,000 – 10,000 AMD (10 -20 USD)
Tsirani Garden and Tsirani Home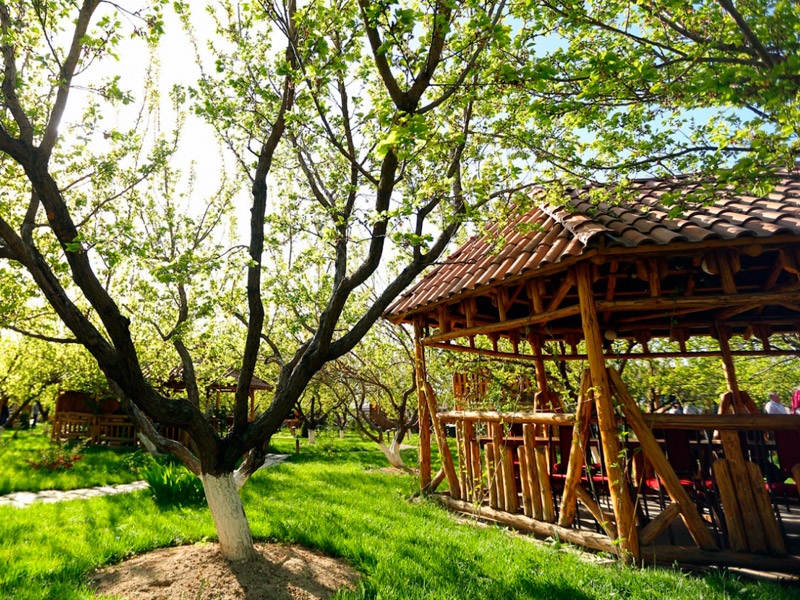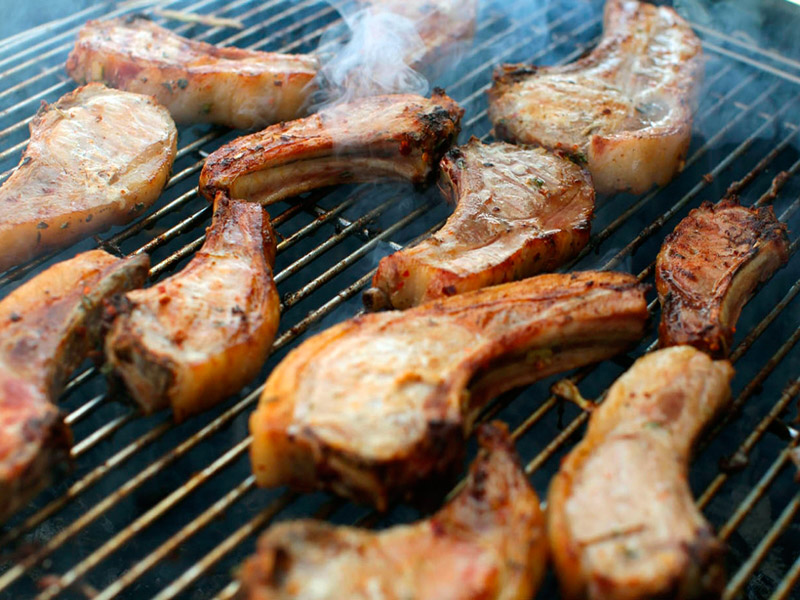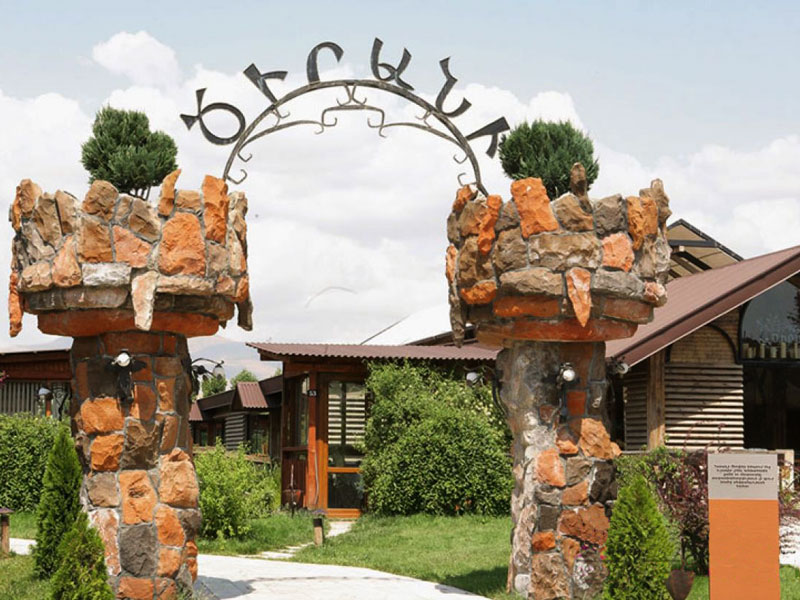 Tsirani Garden and Tsirani Home restaurants are united by the Armenian symbol – apricot, which in Armenian sounds like "tsiran". Tsirani chain has 2 restaurants: Tsirani Garden is located in the countryside, while the Tsirani Home is located on the Northern Avenue, the liveliest place of the capital.
Address: Kotayk, Arinj village, Babajanyan, 3rd str/ 1; Northern Avenue, 5
Phone: + 374-55-850950, + 374-11-850950
Working hours: Mon – Sun (09:00 – 02:00)
Caucasian Captive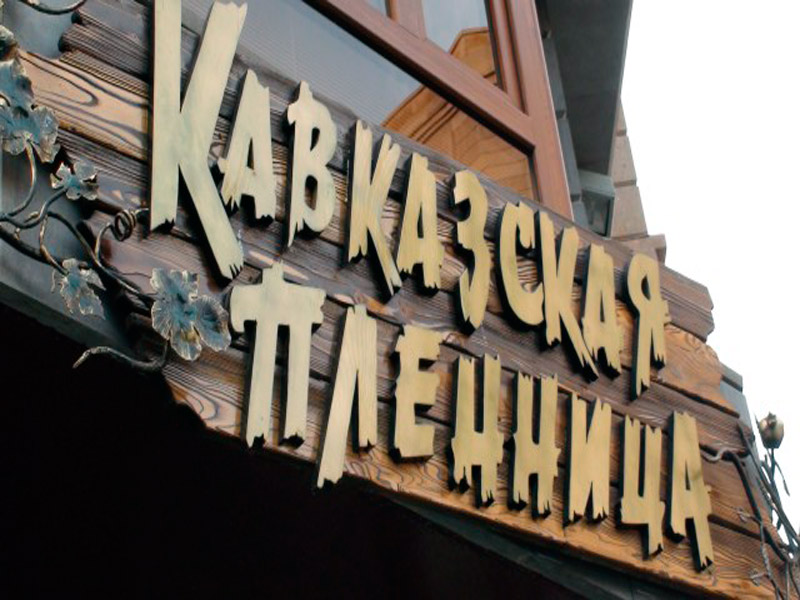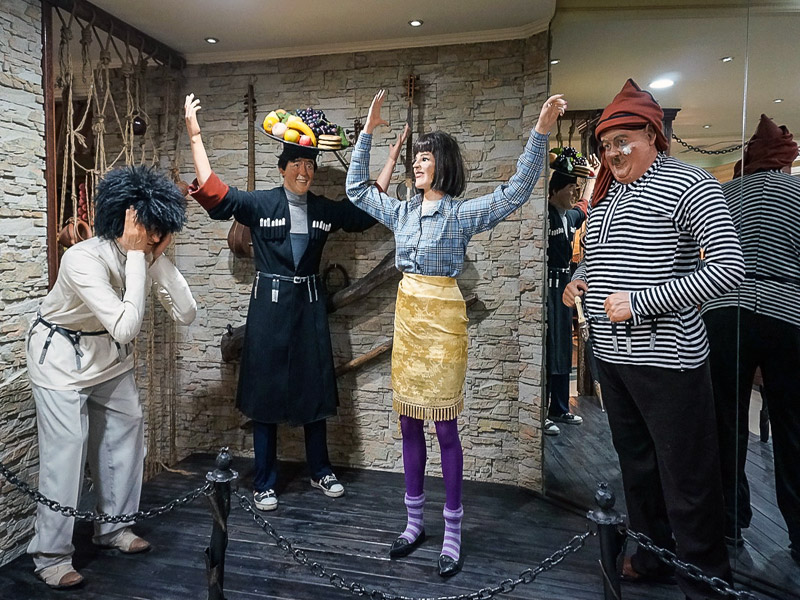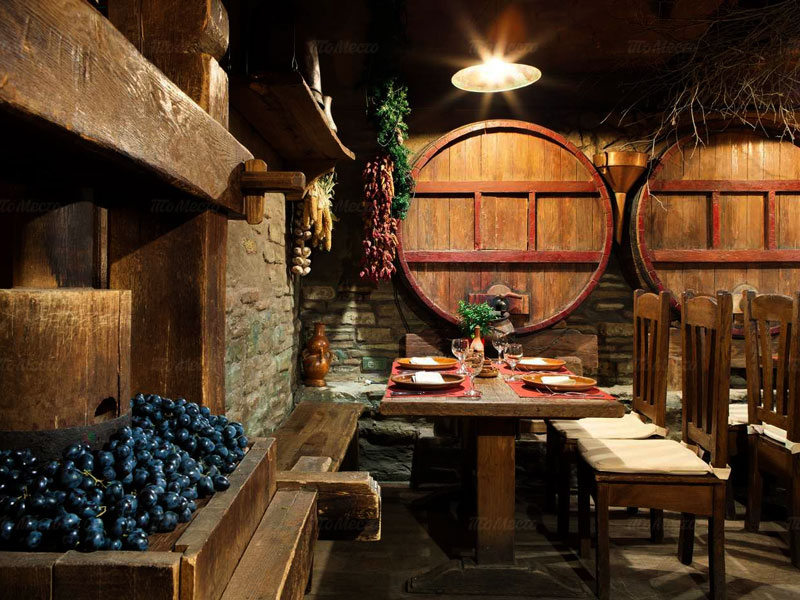 Surely every citizen of the former Soviet republics, at least once in their lives has seen the legendary film by Leonid Gaidai "The Caucasian Captive" (Kavkazskaya Plennitsa") which tells about the Caucasian adventures of a student Nina and Shurik. The film characters are greatly liked by the audience and firmly established in the hearts of people. "The Caucasian Captive" restaurants which can be found in the capital of Yerevan, and at the ski resort of Tsakhkadzor, are the most favorite and popular among tourists and visitors.
The menu is very varied: the specialties of the chef, the dishes of Armenian and Georgian national cuisine, fine wines, all at a very affordable price. The interior is decorated based on the movie: here you will meet the natural-size figures of inseparable Trinity, the komsomol Nina and Shurik. In the evenings, special show programs with national dances and music will make your evening unforgettable!
Address: Yerevan, Amiryan Str.4/6
Phone: +374 10 54 82 91, +374 10 50 77 77
Address: Tsaghkadzor, Orbeli Street 20
Phone: +374 60 57 70 44, +374 10 50 77 77
Working hours: Mon – Sun (10:00 – 00:00)
Average bill: 5,000 – 10,000 AMD (10 -20 USD)
Choose the Tour to Armenia you like most and tour-operator Arara will organize your amazing Holiday in Armenia. Travel to Armenia with the local agency.
Thank you! You have succeeded your payment. Our tour coordinator will contact you the nearest working