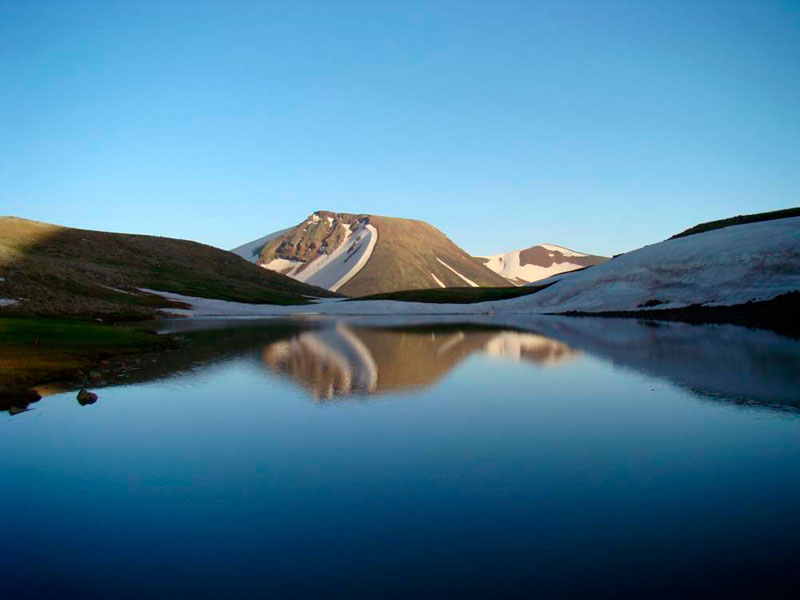 Mount Azhdahak is the highest point of the Geghamа mountain range and one of the most picturesque peaks of the Armenian Highland. The absolute height of the mountain is 3 597 m. It has a volcanic origin and was formed during the Upper Quaternary as a result of volcanic eruptions and lava emissions. The name of the mountain peak dates back to ancient Armenian mythology and means "dragon"; it is also associated with the words "great" and "mighty".
When climbing the mountain, you can meet the so-called dragon plates or stones – called "vishapakar" in Armenian. These huge stone boulders are unique native Armenian monuments of the Megalith era, which are scattered throughout the Armenian Highlands. Stone boulders were mainly installed nearby water reservoirs as a symbol of natural power, unshakable strength of elements, fertility and abundance. Two of such dragon stones are located near the picturesque crater lake on the slope of Azhdahak. In addition to the dragon plates, Azhdahak, like all the peaks of the Geghama mountain range, is rich in ancient rock paintings - petroglyphs. The rock paintings not only depict scenes from everyday life and hunting, but also provide invaluable information about the cults, deities and beliefs of our ancestors. The petro glyphs on Mount Azhdahak date from the Neolithic to the Bronze Age.
The ascent and descent of Mount Azhdahak takes between 6-10 hours, in case of an average sports training and weather conditions. The path to the peak lies through beautiful alpine meadows and desolate desert landscapes. It seems that since the Stone Age no man has ever set foot here, and everyone has the right to feel like a pioneer. Having reached the top after an exhausting climb, each traveler is rewarded with a delightful view of the surroundings and Lake Sevan, which is clearly visible at a glance.
Get acquainted with our tours to Armenia and visit other no less unique sights of the country!
Thank you! You have succeeded your payment. Our tour coordinator will contact you the nearest working