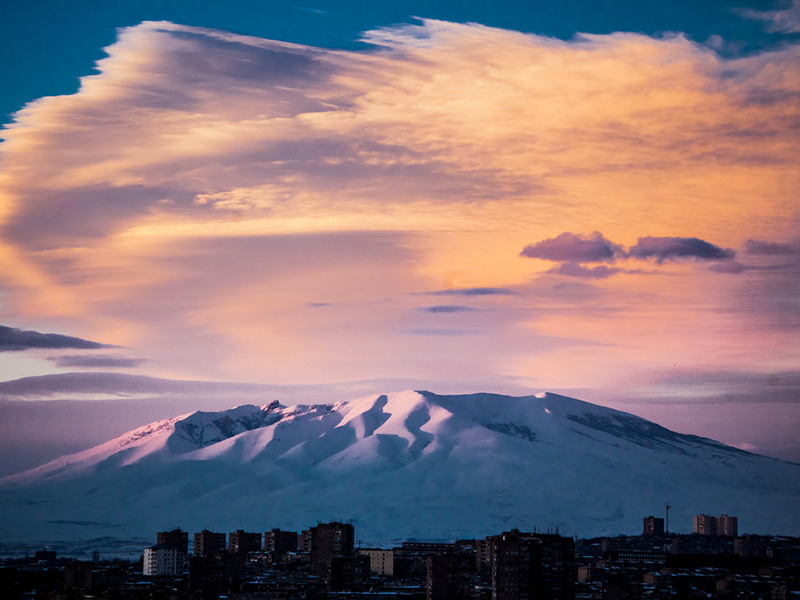 Arailer Mount is located between the Kasakh and Hrazdan rivers in the Aragatsotn region. Arailer has a height of 2577 m and is an extinct volcano. The mountain has an irregular cone shape with a truncated peak and a ring-shaped crater. On the slopes of mountain, there are many gorges. The flora is quite rich - unique plant species grow here, which constitute about 20 percent of the vegetation of Armenia. Arailer is also rich in wildlife. There are numerous species of birds, reptiles, rodents, as well as bears, wolves, foxes and other predators.
There are many legends and myths associated with the history and the name origin of the mountain. According to the most famous, the mountain was named after the ancient Armenian mythical god Ara the Beautiful, who fell at the foot of the mountain in a battle with the army of Assyrian queen Shamiram. People say that when you look at the mountain from afar, it seems as if a man lies prostrate along the summit – this man is Ara the Beautiful who fell dead in the battle. In the western part of the summit as a result of the volcano eruption were once formed pointed rocks that structure the cave of St. Virgin Varvara. According to legend, the Virgin Varvara, being persecuted by her father for the adoption of Christianity, found her refuge and salvation in these rocks. Subsequently, in the cave, the believers established a small chapel to commemorate her life. Inside the chapel from the depths of the rock flows a petite spring which according to popular belief has healing power.
Nowadays Arailer is one of the most adorable peaks among mountaineering, hiking and paragliding enthusiasts.
Get acquainted with our tours to Armenia and visit other no less unique sights of the country!
Thank you! You have succeeded your payment. Our tour coordinator will contact you the nearest working