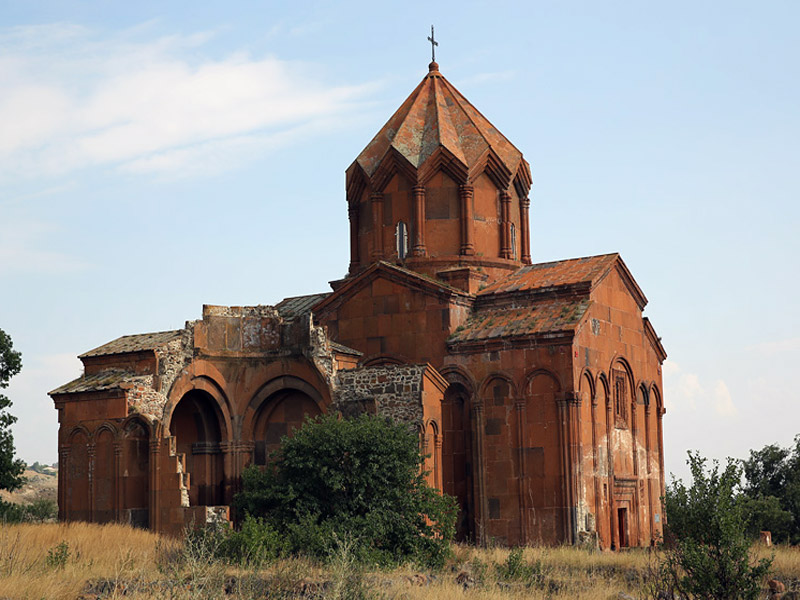 Monastery Marmashen, the second major complex in the Shirak region, is located 10 km from the city of Gyumri. The monastery is located in the beautiful valley of the river Akhuryan and surrounded by thick trees.
The monastic complex was built in the X-XIII centuries and is considered one of the fine examples of the medieval architecture of Armenia. The complex consists of three churches built in different years. The largest of them is the church of Katoghike built before 994 in the time of Prince Vahram Pahlavuni. The porch adjoining the church is now destroyed and only the ruins and the foundation were preserved.
To the north of Katoghike there was built another temple (994-1029). The temple is a bit smaller than the main church, but it can also be considered a unique architectural example. The last small church is located to the south of the main temple, the exact date of the church is unknown. The building is completely destroyed and only few stones are left from the church.
On the territory of the complex are the ruins of the circular church, but it is difficult to determine the date of construction. There are only a few temples in Armenian in similar form all of them belong to the same era (VII c). One of these temples is the temple of Zvartnots.
The monastic complex was built during the existence of the kingdom of Ani, which soon disappeared. In the XI century, the monastery complex was destroyed by the Seljuks, the main church was turned into a fortress, and only in 1225 the complex was rebuilt.
In the XIII century, the monastery was again destroyed, now by the Tatar-Mongols. Since 1870 the monastery began to restore and gain the former greatness. Today it is an active temple and an important landmark in the region.
Get acquainted with our tours to Armenia and visit other no less unique sights of the country!
Thank you! You have succeeded your payment. Our tour coordinator will contact you the nearest working