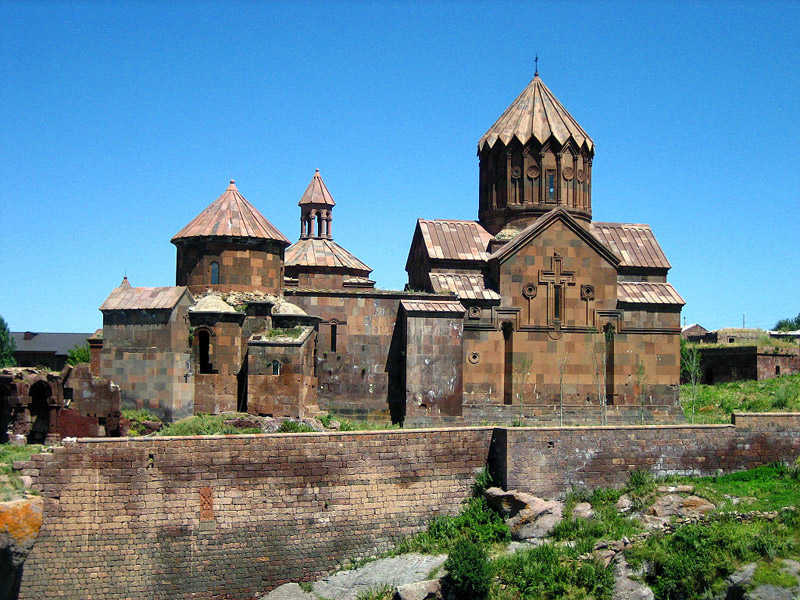 In the Shirak region, in the village of Harich, there is another example of medieval architecture, the monastery Harichavank. The village itself is one of the oldest settlements of the Shirak region, there is a fortress built in the IV century BC in the village.
The monastery of Harichavank was built in the XII century near the cliff, on the site of an older temple. The brothers Ivane and Zakare from the Zakaryan family bought the village from Pakhlavuni and built a monastic complex. The brothers left an inscription on the southern wall of the temple: the name of the hero of the Armenian epos "Sasutsi David" is left on the wall, and this is the first mention of a famous epos in the eastern part of the country. One of the brothers is pictured on the eastern wall of the monastery.
The entrance to the monastery leads through two arches. In the modern monastery complex, there are two churches St. Astvatsatsin of the XII century and the temple of St. Gregory of the XIII century, a porch, a school, a chapel, a bell tower and farm buildings. The main temple is built of different colors of tufa in a checkerboard pattern that looks like a unique decoration on the walls. Moreover, the walls are decorated with ornaments. In the XIX century, the complex was reconstructed, several buildings were added. At one time the monastic complex was the center of the book-writing, and also the science center with a school. Later Harichavank became the summer residence of the Catholicos.
Due to the location (2000 m above sea level) in summer, it is cool here, while in the Ararat valley it is unbearably hot. Near the cliff, there is a small chapel on the "Swinging rock". In a strong wind, it seems that the chapel is about to collapse. Locals believe that if you make a wish and get a stone in a small hole in the chapel, your wish will come true.
Get acquainted with our tours to Armenia and visit other no less unique sights of the country!
Thank you! You have succeeded your payment. Our tour coordinator will contact you the nearest working