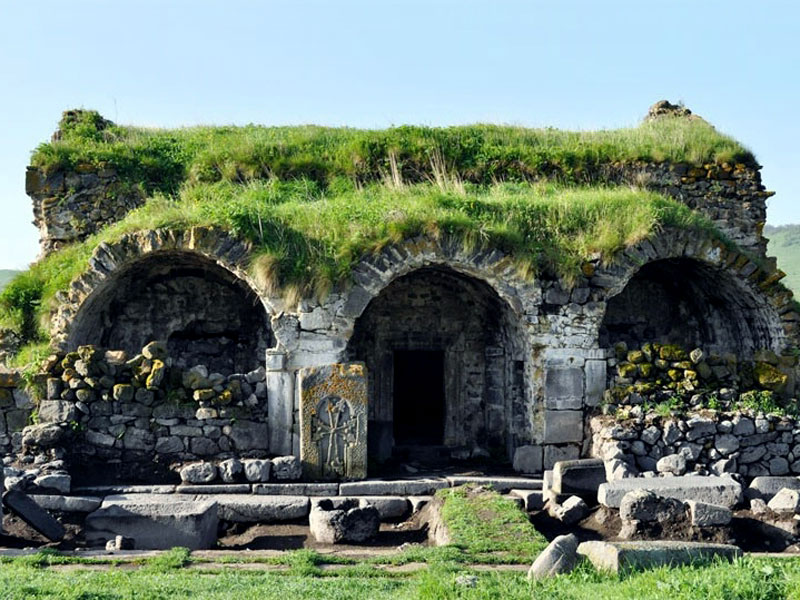 The Lore-Berd fortress was built around 1005-1020 by King David Anokhi, who was the representative of the Bagratuni princely family. Lore-Berd fortress is a valuable monument of the Bronze and Iron Ages of Armenia. The fortress is located 5 km from the city of Stepanavan, in the Lori region, on a hill between the Dzoraget and Urut rivers. Originally the fortress occupied an area of about 35 hectares. Due to the deep gorges on three sides, the castle was difficult to reach for enemies. Fortress wall with a length of about 215m with successive round and rectangular towers stretched along the relatively unprotected north-west side of the castle, and had only one entrance. The width of the wall reached 20 m, height - 20-25 m. Lore-Berd, located on the northern trade rout, was a major trading center of medieval Armenia from XI-XIII centuries. It had a population of about 10 thousand people.
First, the Kyurikyan princes, then the Zakarians and their followers erected palaces, churches, baths, khachkars, and constructed bridges over the gorges. In the course of archaeological researches conducted in the area since the 1966s, many valuable artifacts and buildings were found. Scientists unearthed 2 baths of the XI-XIII centuries, which consisted of a changing room, 3 swimming pools, a stove and a reservoir for cold water. Surprisingly, even in those times far from modern civilization, the inhabitants of the settlement had access to drinking water, which was supplied into the city through clay pipes from springs located 5 km from the fortress.
Mild climate, fertile black soil, forested mountains and natural resources (copper, gold) contributed to the continuous expansion and development of human activity in this area. That is why the area had been inhabited by the mankind since time immemorial, as evidenced by numerous finds and ancient entombments. In total, many ancient artifacts were found in the area: tools, jewelry, various clay vessels, tubes, glassware, porcelain, ceramics etc. All this testifies to the advanced civilization and rich craft traditions.
Lore-Berd as an important military outpost had repeatedly passed into enemy hands: from Persians to Turks, sometimes to Georgians. At the end of the 18th century, the fortress lost its military-strategic purpose.
Lore-Berd is also popular thanks to one of the most famous monuments of medieval Armenian architecture - the ancient bridge, built in the XI-XII centuries on the Miskhana River. The bridge is built on large rocks and has a length of about 9 meters. It offers unforgettable and stunning views of the whole neighborhood.
Get acquainted with our tours to Armenia and visit other no less unique sights of the country!
Thank you! You have succeeded your payment. Our tour coordinator will contact you the nearest working