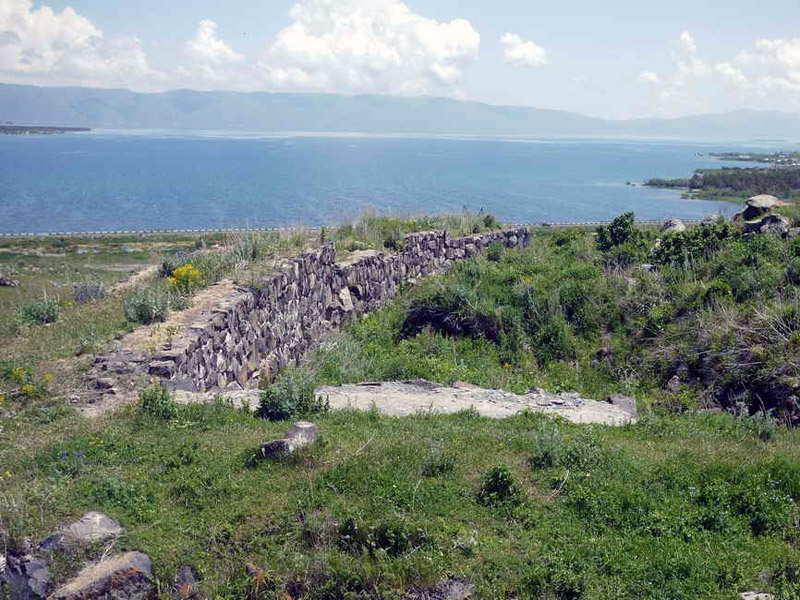 Lchashen is one of the oldest settlements in Armenia. The modern village of Lchashen is located on the northwestern shore of Lake Sevan, on the edge of the Geghama mountain range. For decades, during archaeological excavations, prehistoric settlements, a cyclopean fortress, ancient graves and tombstones dating back to the 1st – 3rd millennium BC were discovered here.
The famous cyclopean fortress of Lchashen occupies an area of more than 55 hectares, stretches along the slopes and gorges of 15 hills, reaches 50-100 meters of height from the hill to the surrounding area. The total length of the outer walls of the castle and the village is about 5000 meters. The terrain is very stony, and the fortress and its environs are practically dehydrated. The fortress consisted of two citadels and 22 small and large towers and stone hillocks. On the territory of the fortress, there are many ruins of settlements.
Archaeological excavations have shown that the castle and the settlement of Lchashen were surrounded by high and wide fortifications. The stones were untreated and not hewn but skillfully adapted to each other, so that the walls looked more or less smooth from the outside. The width of the wall was three and a half meters, and in easily vulnerable places, as well as at the entrance to the fortress, the width reached 5 meters. The walls of the fortress were not built in a straight line to enable better defense during enemy attacks.
Lchashen also received worldwide recognition due to the ancient burials of the Bronze Age, found 3 km southwest of the village in the 1950s, as a result of the decline in the level of Lake Sevan. The ancient cemetery occupies quite a large area of 8 hectares and contains the ruins of some 800 mausoleums (tombstones and catacombs, mostly stone burial). During the excavations, scientists discovered a copper smelting furnace at the beginning of the 3rd millennium BC, with the help of which brass, copper, and tin products were cast. In Lchashen, there were found more than 25 types of valuable bronze figurines in the form of bulls, horns, lions, birds, as well as jewelry from pure tin. Among the historically valuable finds of Lchashen, it is necessary to mark the cuneiform plaque, which belongs to Urartian king Argishti I. All the findings of Lchashen are stored and exhibited in the State Hermitage (St. Petersburg) and in the Historical Museum of Armenia.
Get acquainted with our tours to Armenia and visit other no less unique sights of the country!
Thank you! You have succeeded your payment. Our tour coordinator will contact you the nearest working