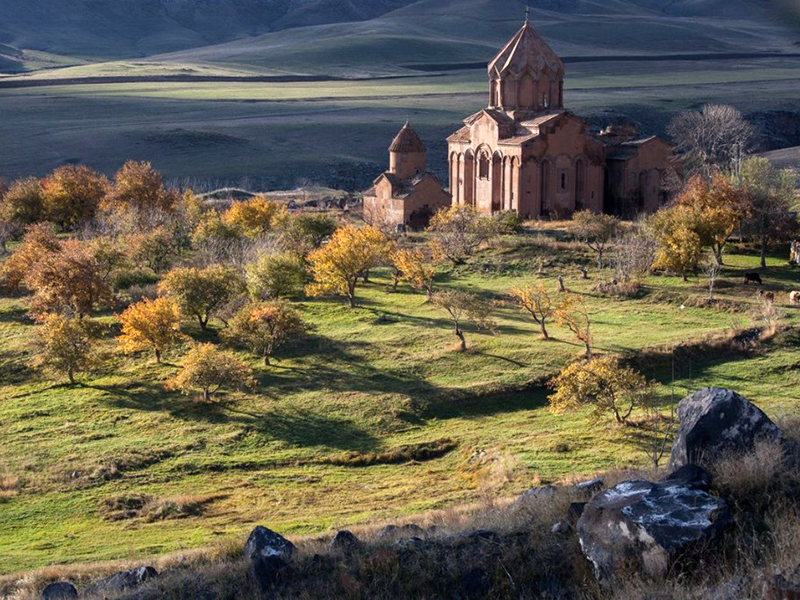 The church of Karmravor or the temple of the Holy Virgin is located to the north of Ashtarak city and is considered one of the most beautiful historical monuments of the VII century in Armenia. The cross-shaped domed church is in excellent condition. Moreover, Karmravor is the only historical monument that has preserved tiled roof. This is a beautiful building with a traditional style of architecture of medieval Armenia. There were times when the church was a convent. Today it is a popular attraction with unique khachkars.
An interesting legend relates to the temple. Three sisters fall in love with one guy named Sarkis. Two older sisters decided to sacrifice themselves for the sake of the younger sister's happiness. Sisters, disguised in apricot and red, rush into the gorge. Learning about the sacrife, the youngest sister dresses in white and also rushes into the gorge. After that, three churches appeared on the edge of the gorge, the church of Spitakavor (white), Karmravor (red) and Ciranavor (apricot).
Get acquainted with our tours to Armenia and visit other no less unique sights of the country!
Thank you! You have succeeded your payment. Our tour coordinator will contact you the nearest working