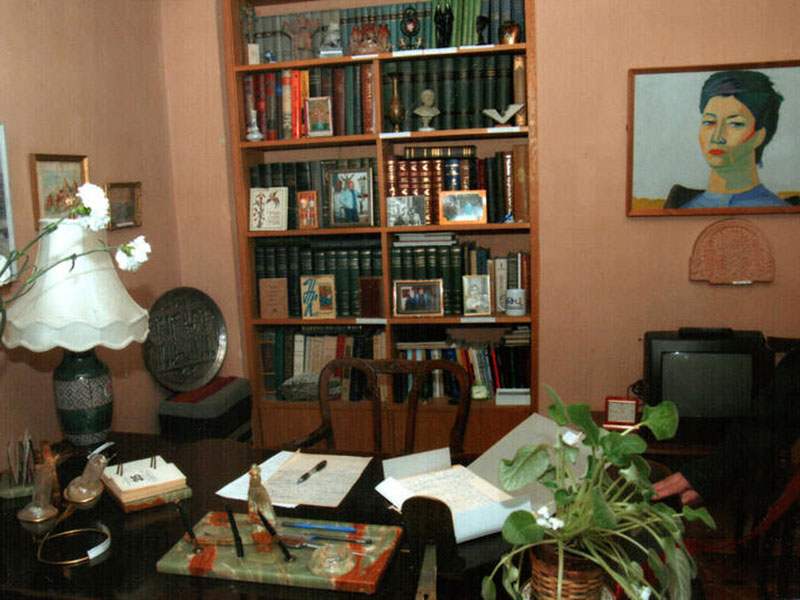 House-museum of Silva Kaputikyan (the greatest Armenian poetess of the XX century, writer, and publicist) was opened after her death in 2009, in honor of the poetess' 90th birthday. The museum is located in the apartment where she lived for 30 years, and all the personal things that she used during these years, are left untouched. In her will, the writer demanded to leave her apartment and personal things just the way they had been during her lifetime.
The first thing that catches your eye in the museum is a metal plate with the poem "Words to my son" engraved on it. In the apartment walls, furniture and personal things are injected with the spirit of the authoress. The whole apartment is a kind of museum of unique accessories. The museum presents gifts and personal things including a fragment of the pharaoh's necklace, which is more than 3000 years old, a tray with grapes and a pomegranate presented by Sergei Paradzhanov, silver spoons (a gift from the poet A. Isahakian), a unique collection of books and etc. In the center of the museum, there is a huge desk with personal things and books left in the same way they were during Kaputikyan's life.
Opening Hours: Tuesday-Saturday 10:00-17:00, Sunday 11:00-16:00
Address: Yerevan, S. Kaputikyan st., bld. 1, apt. 26
Phone: +374 10 52 09 30
Get acquainted with our tours to Armenia and visit other no less unique sights of the country!
Thank you! You have succeeded your payment. Our tour coordinator will contact you the nearest working