Travelling promises not only unforgettable moments but also considerable expenses. And probably, the most important thing to do is to plan the budget for the future tour. The South Caucasus region will delight you not only with its picturesque nature, the rich culture of ancient peoples but with the relatively low prices for all services as well. As your virtual guide, we will try to provide all the necessary information for a budget tour in Armenia, Georgia and Azerbaijan.
Budget Tour in Armenia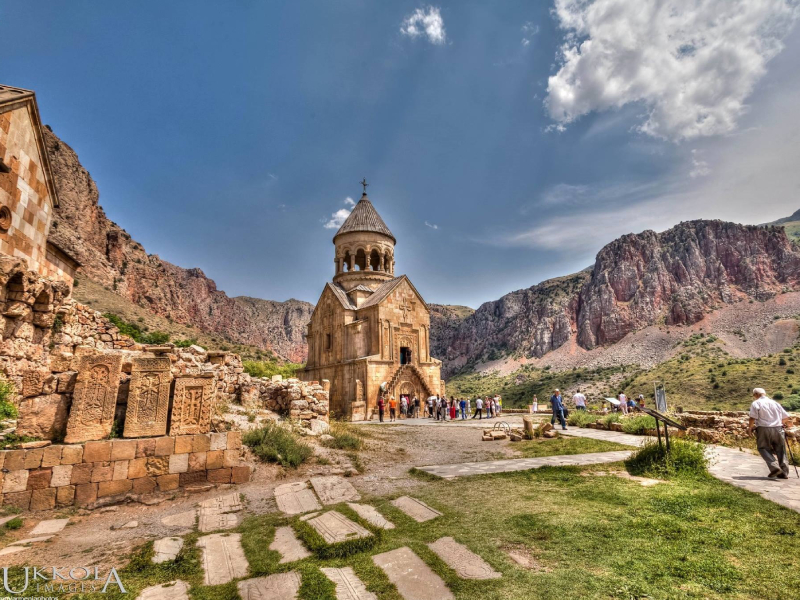 Armenia is one of the most comfortable countries for tourists, and it is not only about affordable prices for services. The most important thing about Armenia is the high level of safety both in the capital and in remote areas. The absence of a language barrier is also an important factor for the comfort of guests.
Where to stay
Both in the capital and in resort towns, there is a huge selection of both luxurious five-star hotels and affordable options like B&B and hostels. In Yerevan, the most famous hostels are located in the centre, within walking distance from the central square. The average price for hostels including breakfast is $ 20. The very first thing that guests in Armenia notice is a high level of service, regardless of whether you have chosen an expensive hotel or a budget hostel. All popular hostels can be found at booking.com with reviews and photos.
If you are travelling in a small group, it is best to rent an apartment through the Airbnb application or find an apartment on the website list.am. The average price for a comfortably furnished apartment is $ 35.
Transport in Armenia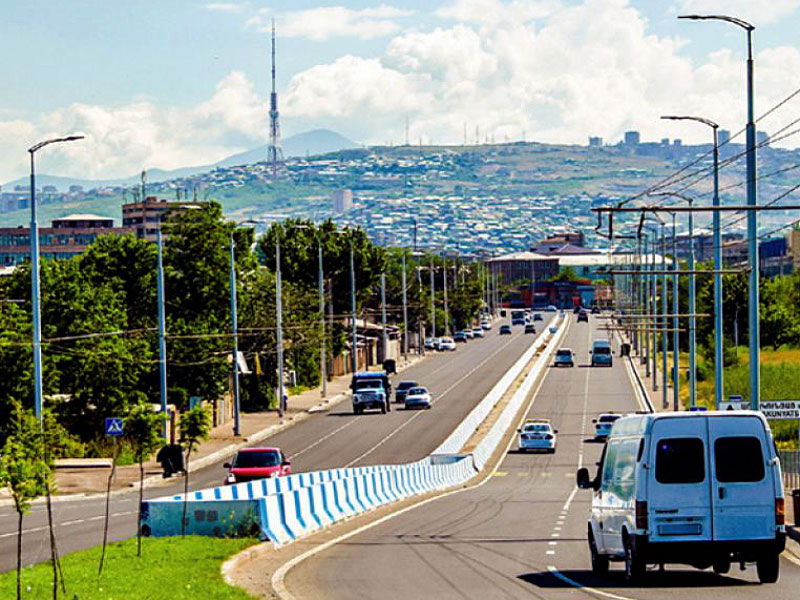 Public transport is the most accessible for movement both in the city and in other remote areas. Travelling by bus, minibus or metro costs about $ 0.20. Large buses are quite comfortable, but during rush hours, both minibuses and buses are overcrowded. Taxis are also relatively cheaper; the price for a ride is about $ 0.20 per kilometre. The easiest and most convenient way to find a taxi is the Yandex, gg, Utaxi mobile applications, which show the fare. Prices for inter-city transport vary depending on the destination (in the nearest cities the price is about $ 1, in remote areas is $ 3). From Central and Northern Stations, you can get to other cities of Armenia, as well as to Georgia and Artsakh.
The roads of Armenia are perfect for cycling tours, and if you are lucky with the weather, you can save on transport and at the same time enjoy the beauty of the mountain peaks of Armenia. The popular YerevanRide mobile application will help you find a free bike in the city.
Armenia is a small country, and the main attractions are located not far from each other. Having reached one point, you can take a hiking tour and explore the surroundings on foot.
Entertainment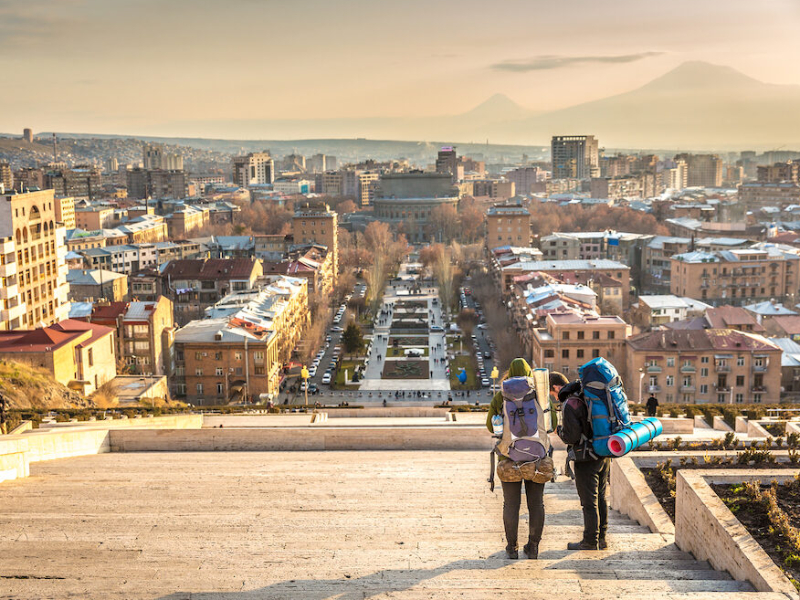 In Yerevan and other central cities of Armenia, you can find a huge number of restaurants, cafes, pubs and clubs. Such a large selection eventually implies affordable prices. The average bill price in a cafe without alcohol is $ 11. In Armenia, the bill also includes 10% of the service. Fast-food chains such as KFC, Burger King, Black Star Burger are available only in the capital. You can get acquainted with the prices of restaurants and cafes and order takeaway on menu.am website.
The main attractions of Armenia are historical monuments, monasteries and churches. Admission is mostly free. It is worth visiting the main storage of the ancient manuscripts of Matenadaran ($ 3), a ride on the highest cable car ($ 15) and a visit to the pagan temple of Garni ($ 2).
Budget tour in Georgia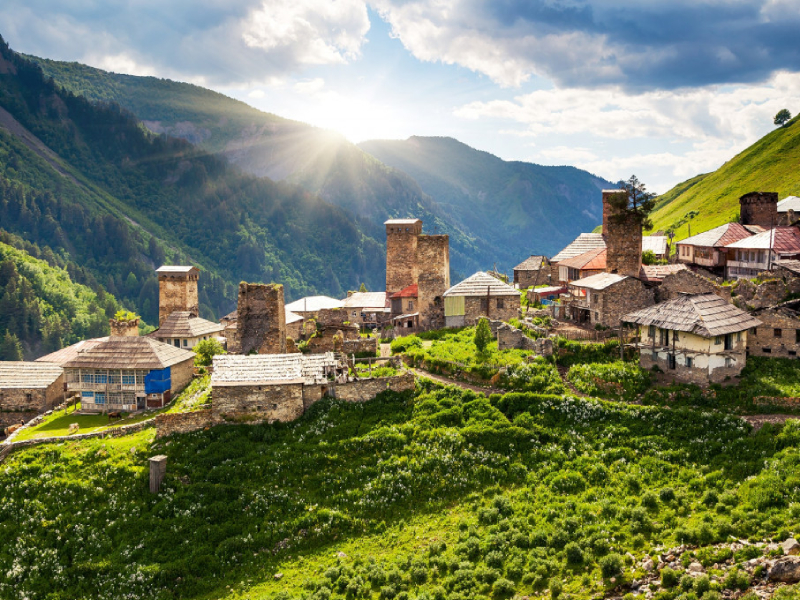 From Yerevan to Tbilisi, Kutaisi and Adjara you can get by train and minibus. A more budget and convenient option are eight-seat minivans ($ 15 to Tbilisi and Kutaisi, $ 19 to any city in Adjara).
In a country with more options, you can easily travel with even the most limited budget. The main thing is to know where to look.
Where to stay
In Tbilisi, you can find hostels at $ 10-15 per night. If you want to get a lot of impressions and meet interesting people, "Fabrika" hostel is the best to choose (Ninoshvili St. 8). This is more than a place to overnight; it is a kind of community of like-minded people. If you book in advance, you can find a place in a 10-bed room for $ 10.
In winter resort towns such as Gudauri and Bakuriani, prices are relatively higher, as expected. Prices in the hot season the cheapest option will be $ 25 at a guesthouse or hostel.
Adjara is the best place for a summer vacation. The Black Sea resort region will delight not only with its clean beaches and the mesmerizing nature of the Caucasus Mountains but also with surprisingly low prices. The last couple of years in Batumi, the capital of Adjara, small hotel-type apartments have been very popular. These apartments can be booked on the Airbnb website. A 4-person room overlooking the sea will cost $ 25-30.
Transport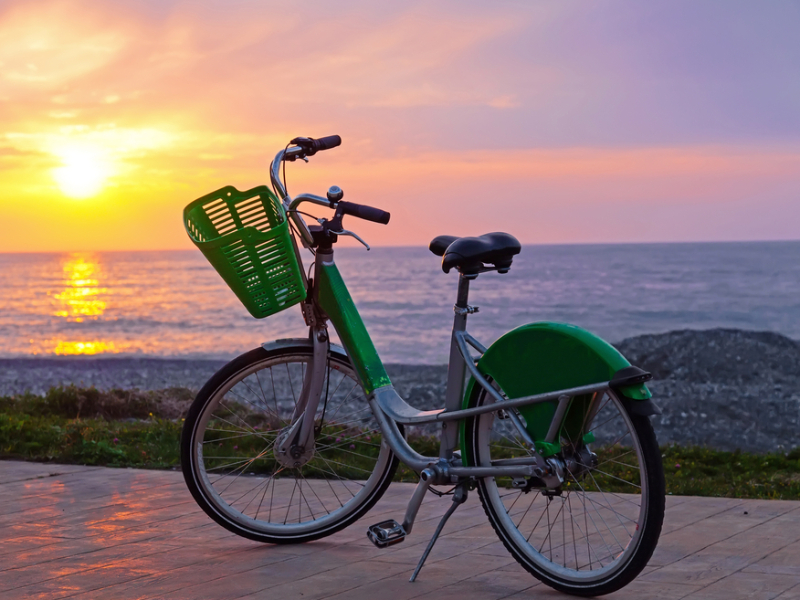 The most affordable way to get around Tbilisi and other cities is by public transport. Buses and minibuses cost about $ 0.20 - $ 0.35. Transport is valid until midnight, but buses run irregularly in a late hour. Metro is available only in Tbilisi. For payment, the "Metro money" card is valid ($ 0.67), the ticket price is $ 0.20. The Metro money card can also be used for bus tickets. The price of intercity transport depends on the destination; the average fare is $ 7.
Biking is the most popular way of travelling among tourists not only in the capital but also in other resort cities. For example, in Batumi, a bicycle path with bicycle stations along the promenade is separated throughout the city. Payment is made by card, $ 0.70 for one hour and $ 3.50 for 10 days of rental. In Tbilisi, bikes can be found and booked on bikes.ge website.
Finally, hitchhiking is a very popular way to travel in Georgia. It is not only about saving money, but also a great chance to chat with local people and learn interesting stories.
Entertainment
Georgia is a pure source of inspiration for hiking and camping enthusiasts. Visiting historical sites is either free or at a symbolic price, so transport will be the main cost.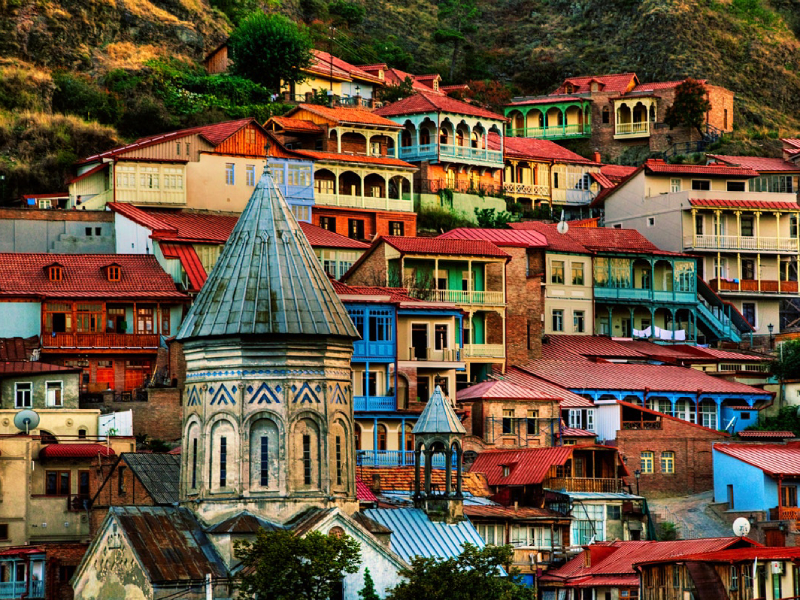 In Tbilisi, you should definitely take a cable car ride ($ 1) and enjoy the sunset on Mount Mtatsminda. The most interesting entertainment in Georgia is the tasting of all national dishes and wines. For budget tourists this is a real paradise; in a restaurant and café, you can order khinkali, khachapuri and spicy meat stews and pay no more than $ 15 for everything. Saving on food, you can now take a small wine tour in Kakheti and visit one of the wine cellars. The trip will cost about $ 40 including accommodation in one of the cities of Kakheti.
Budget tour in Azerbaijan
From Tbilisi to Baku can be reached by plane, train and bus. The cheapest way to get to the last destination is a bus ($ 11). International buses depart from Ortachala Station in Tbilisi.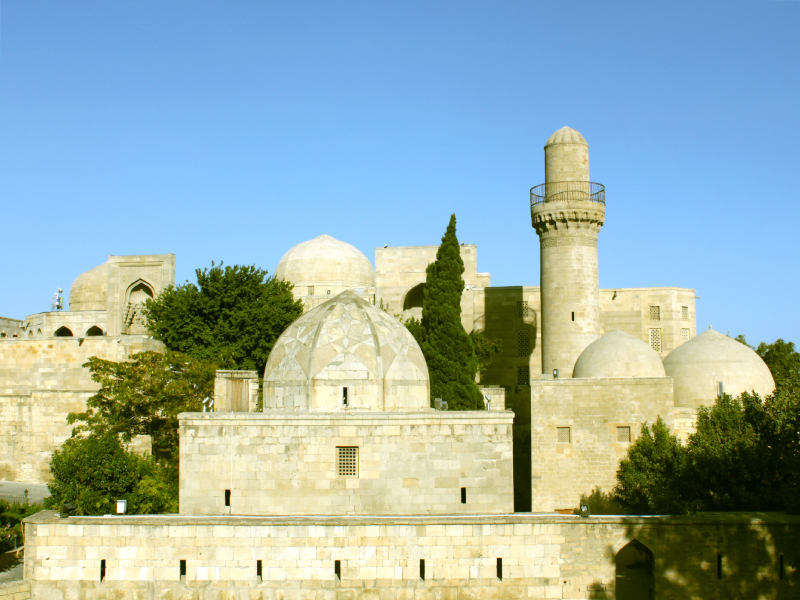 Azerbaijan is a country of colours, oriental sweets, chic and brilliance. In a rich country, it is difficult to arrange a budget tour, but still possible. The state is developing tourism in all directions and ways, investing considerable resources. Budget options for travel and leisure in Azerbaijan are also starting to gain popularity.
Where to stay
Baku is rapidly changing and developing, and every year new and more luxurious hotels appear. The choice of cheap hostels is still poor; the main option is guesthouses and hostels of $ 20-25 per night. A more comfortable room in a 3-star hotel will cost about $ 45.
It is almost impossible to find a hotel or hostel in the provinces unless it is a large resort town like Naftalan or Shahdag. In remote areas, tourists stay with locals. This is about not only saving money but also home comfort and communication with the locals.
For winter holidays in Azerbaijan, Shahdag is the best choice. The new chic resort area attracts thousands of freeride fans. The only "minus" of the ski resort is the limited choice of accommodation. Shahdag offers mostly chic spa hotels with prices above $ 100 per night. Cheaper hostels are located 10-15 km from the resort ($ 40-45 per night).
The same choice is available in the health resort Naftalan. In addition, if you decide to visit Naftalan, you should definitely go through several procedures with medicinal oil. The lowest price per night in the resort will cost about $ 75, not including treatment procedures.
The coast of the Caspian Sea is the best place for a summer vacation in Azerbaijan. In Baku, the coast is not suitable for swimming; the perfect place the nearest resorts of Novkhan, Madakyan, Lankaran, Bilgya and Zagulba. Modern beaches are equipped with all amenities for relaxation: wi-fi, bars and cafes, comfortable sunbeds and umbrellas, recreation areas for children. Prices in hotels correspond to this type of resort area; however, you can find a convenient option for $ 30-35 per night.
Transport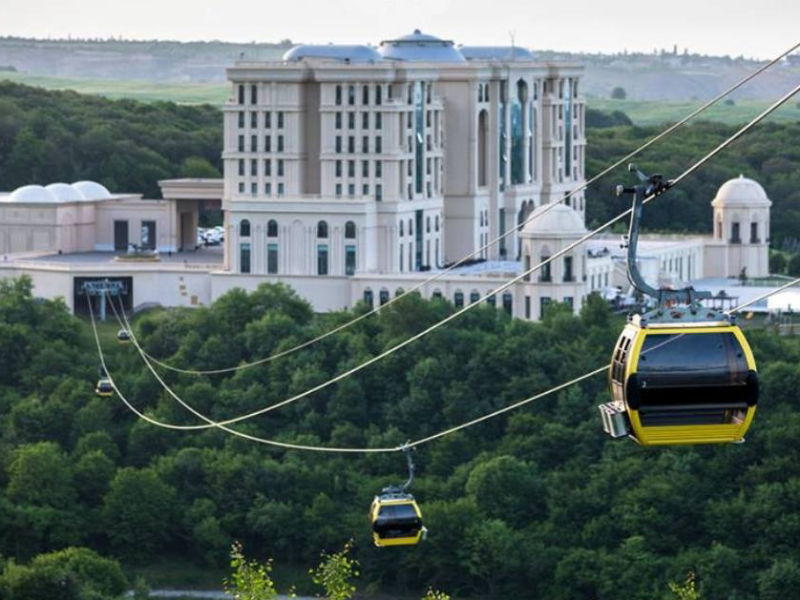 Despite the high prices for accommodation, public transport is cheaper than in other countries of the South Caucasus. A bus ride in the city costs $ 0.12; outside the city, the price for the trip is $ 0.50. Baku also has a metro with three stations. The fare is paid by plastic card, the fare is $ 0.12.
Taxi in Baku is a real culture. For a moment, you might think you are in London. Retro cars in black and violet colours immediately catch attention. The fare will also surprise you (approximately $ 0.40 per 1 km).
Entertainment
In the historical district Icheri Sheher, Baku, there are several interesting sights definitely worth a visit. Include in your expenses a visit to the Maiden Tower ($ 4) and the Shirvanshahs Palace ($ 2). For a better view of night Baku, ride the Baku Eye Ferris wheel ($ 2).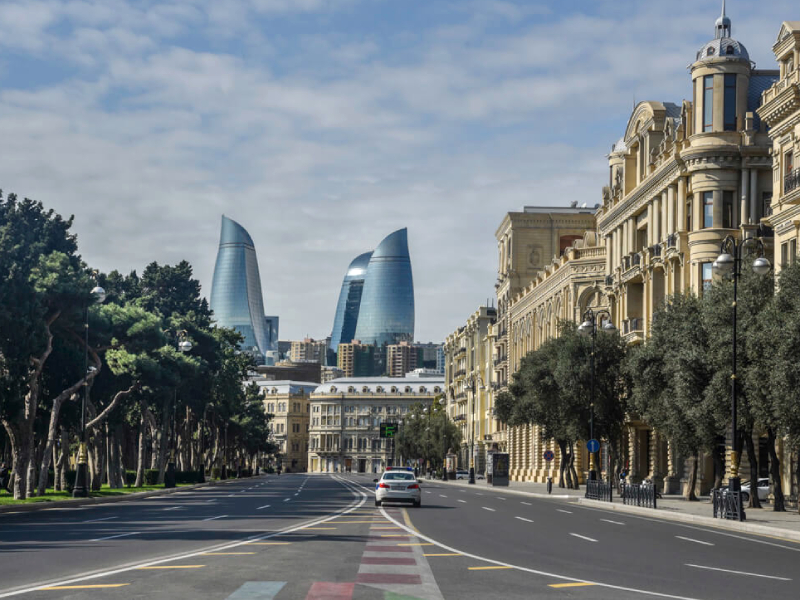 All the most interesting and beautiful things are hidden outside of Baku. The first stop is Gobustan National Park (entrance to the park costs $ 1) with mud volcanoes and traces of prehistoric civilizations. The farther from the capital, the more authentic life becomes. It is worth going to the province on hiking tours, staying in mountain villages and enjoying the silence.
Choose the Tour to Armenia, Georgia and Azerbaijan you like most and tour-operator Arara will organize your amazing Holiday in the Caucasus.
Thank you! You have succeeded your payment. Our tour coordinator will contact you the nearest working